September road trip part 1: From Sweden to Slovenia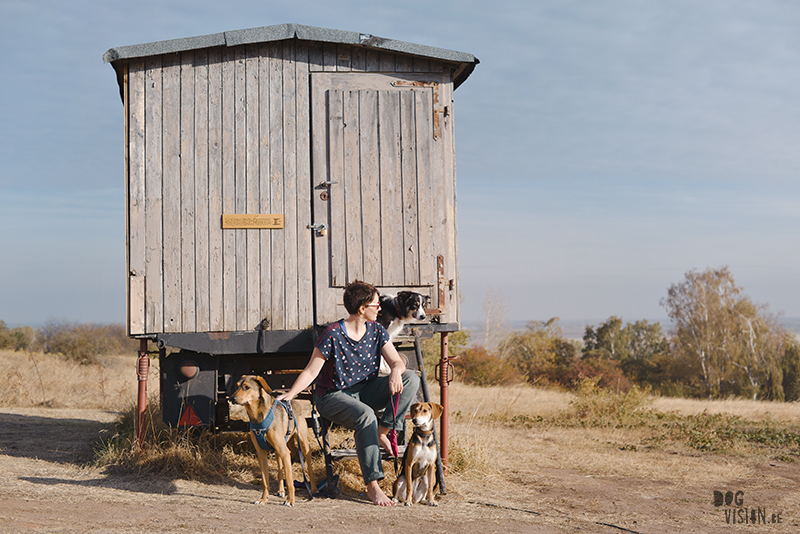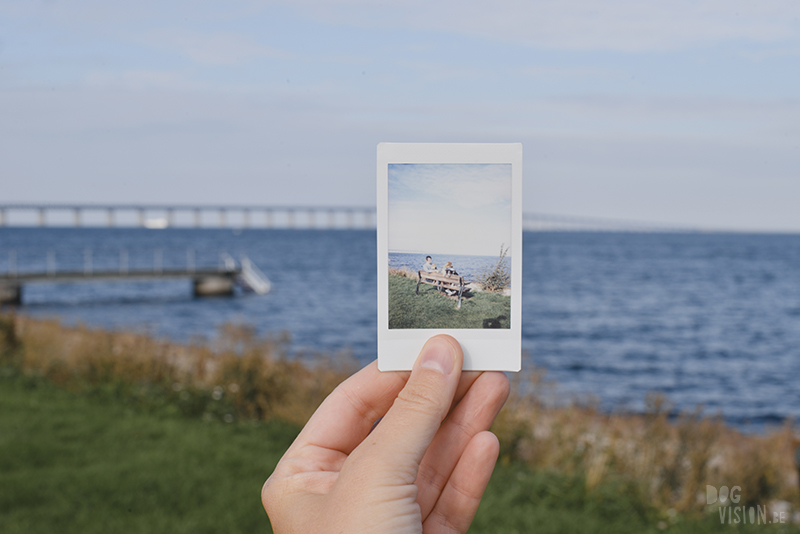 Early September and quietly fall sneaks up. From north to south we got fresher air, chilly nights and trees that dip their tops in golden paint. We got our travel bags out and packed them with everything we would need for 3 full weeks on the road from Sweden through Denmark, 2 nights in Germany, then further through Austria to Slovenia for a week, then a few days in Austria again for an appointment and to round off a few pasta-days in Italy.
We left a little last-minute because until 2 days before departure it was uncertain whether we would be able to travel. Just the weekend before, Joeri was ravaged by back pain so violently that I drove him to the emergency room. The verdict: kidney stones. But, the doctor said: "In Slovenia they also have doctors, so you will be fine." And so drove south for the first time in years.
Before I start bombarding you with photos, a big thanks to sponsors who prepared our dogs for this great adventure: Dog Copenhagen, Hiro & Wolf and Ruff & Tumble drying coats.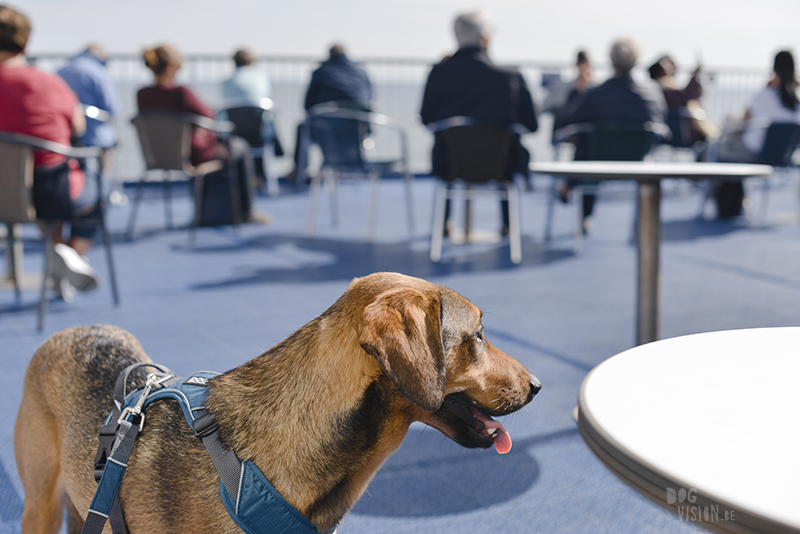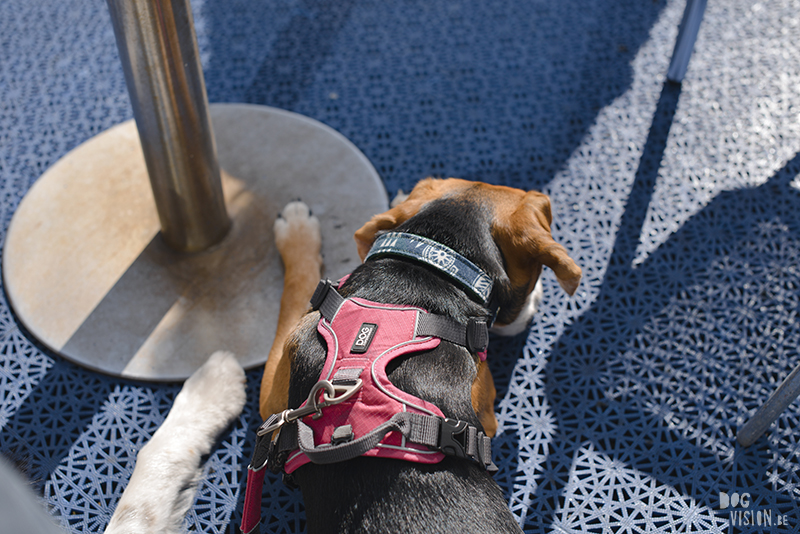 After the first night at a campsite in Malmö, we crossed The bridge and said goodbye to Scandinavia for a few weeks. Adieu fluffy clouds, Hej då early autumn! Off to new adventures!
In Germany, it was remarkably warmer, especially in the evening the difference was immense but nice, of course. East Germany was new to us and the open fields, the small villages and street-art protests here and there really appealed to me. The more I saw of remnants from the war or the time before the wall, the more I wanted to see and discover here. But it's something I need to take my time for, not just while passing through. It's not always about the beauty of a place, often it's about the stories, life, and history. The power of ugliness and endurance. Also remarkable, Scandinavian gardens are often pretty minimalistic (I might even call them boring), but in Germany, I suddenly spotted creative solutions and decorations with wood and stone everywhere. Very inspiring!
We found a quiet campsite in Malliß where the dogs were welcome without any problem, made a walk with hundreds of cows in the background, washed the green from Mogwai and then crawled into our sleeping bag. So tired!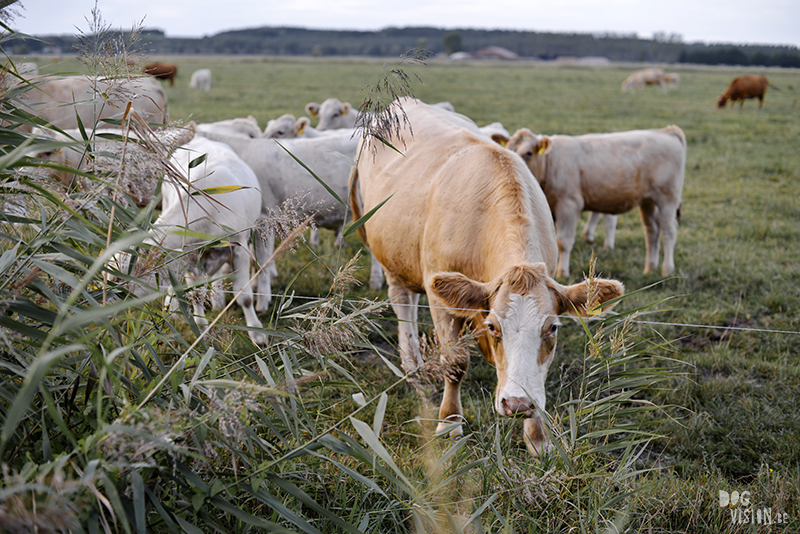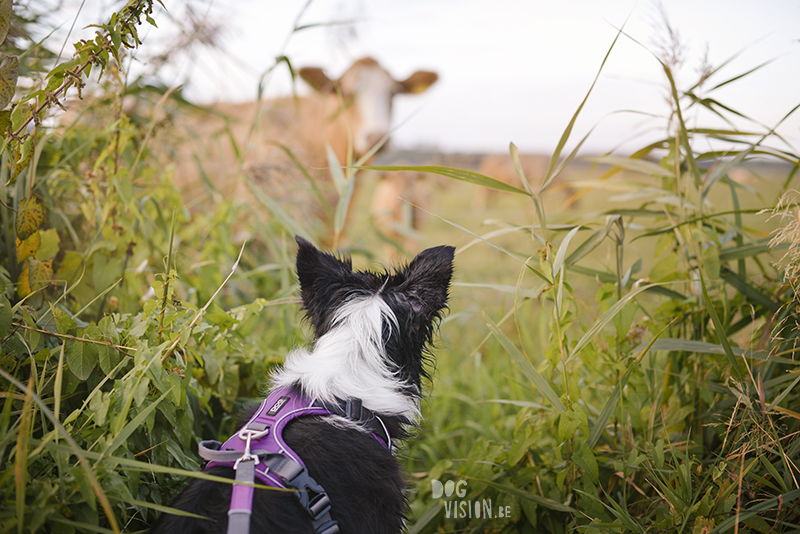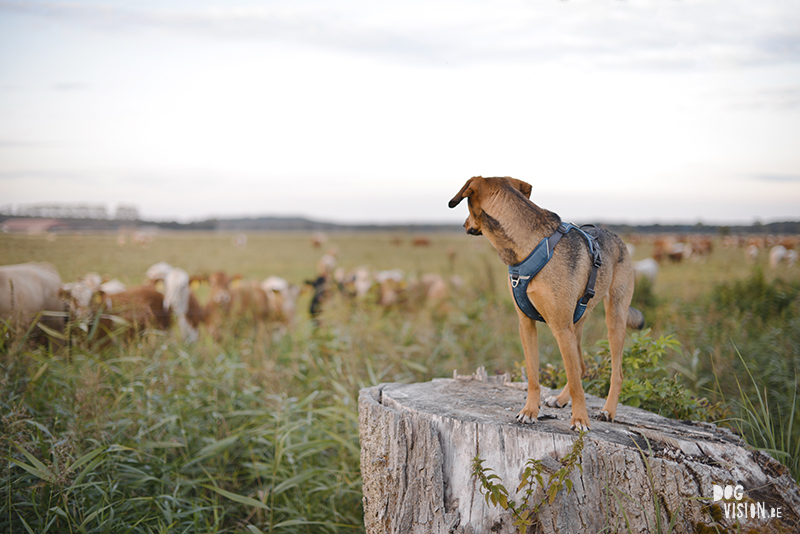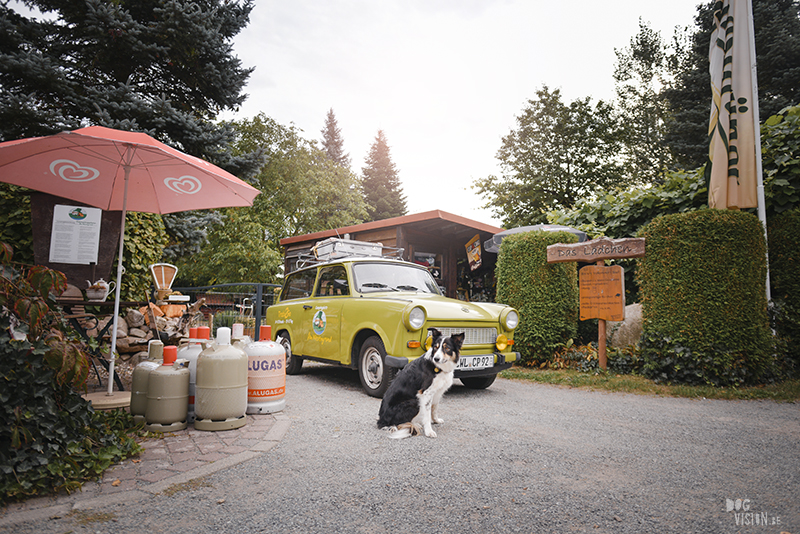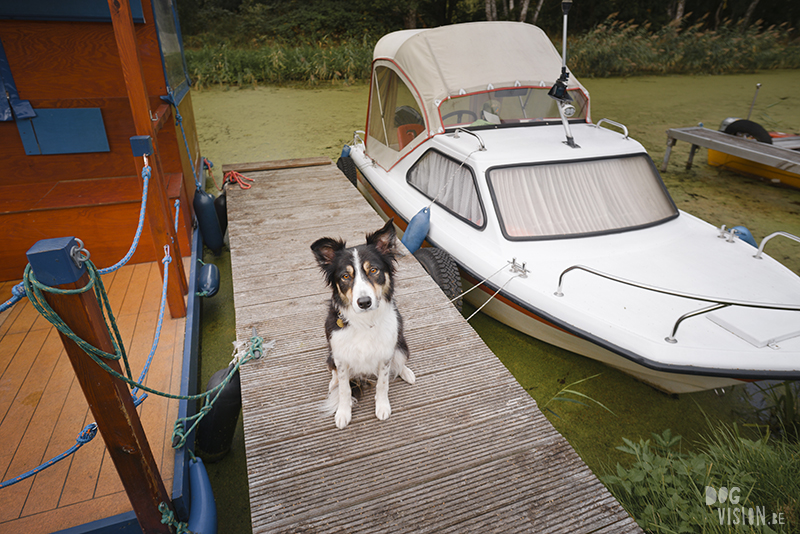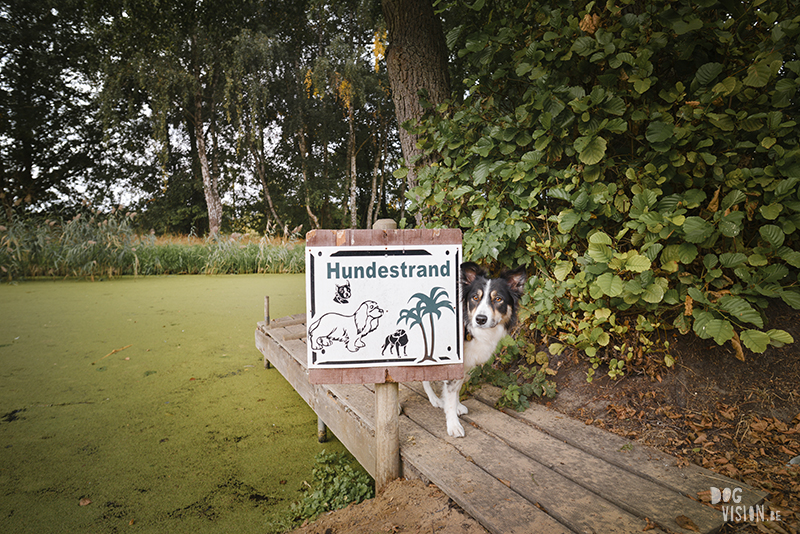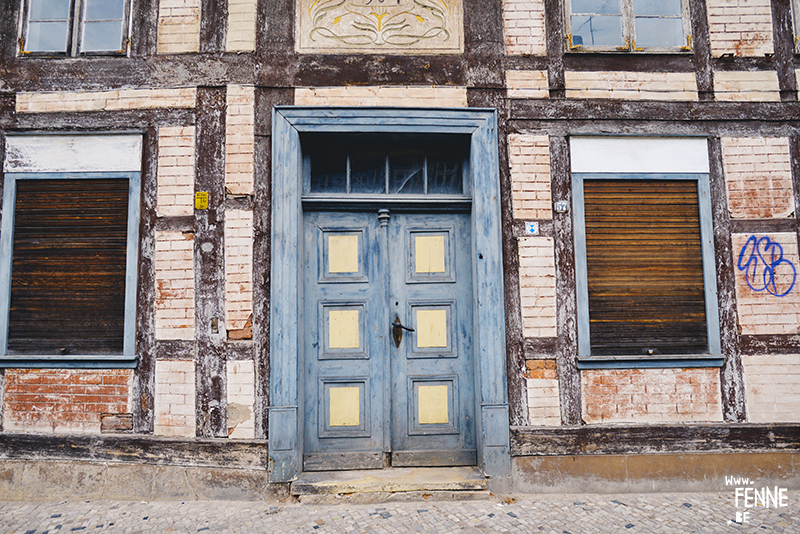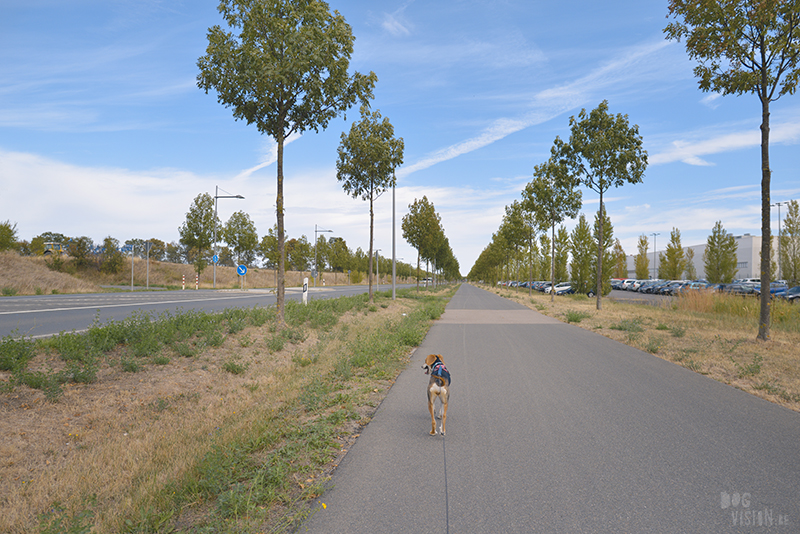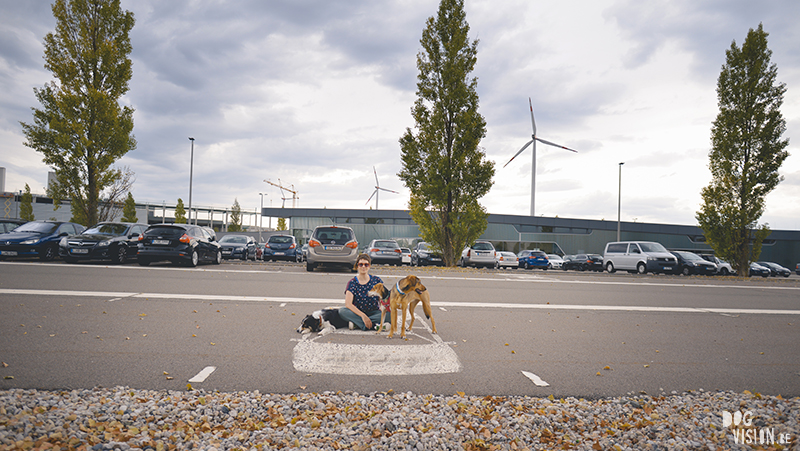 The more we drove south, the warmer the weather. And I had to get used to summer vibes again 🙂
And then suddenly, DAMN! an odd noise coming from the car alarmed us and given the many miles on our schedule, we plaayed safe and looked for a garage that could help us. I remember how we once sought help when we had problems with the VW California, nowhere did they have the time or we could come back 3 weeks later, or they did not feel like it. We almost returned home, almost defeated. This time was completely different. The car was immediately taken for a test drive (and there I was in travel 'uniform' with 3 dogs on a factory site), the staff went straight to work, I was offered coffee and tea and even for the dogs, there was a bowl of water and biscuits provided!
I tried to scratch a chocolate spot from my trousers – just a little bit embarrassed…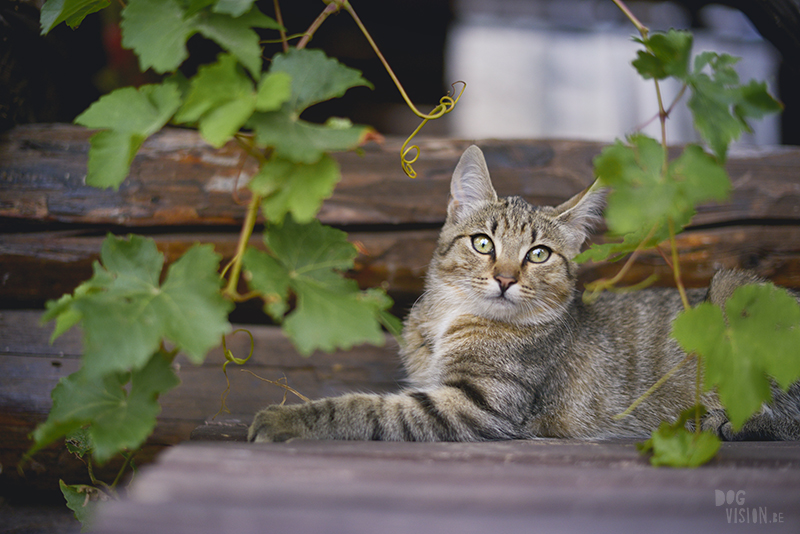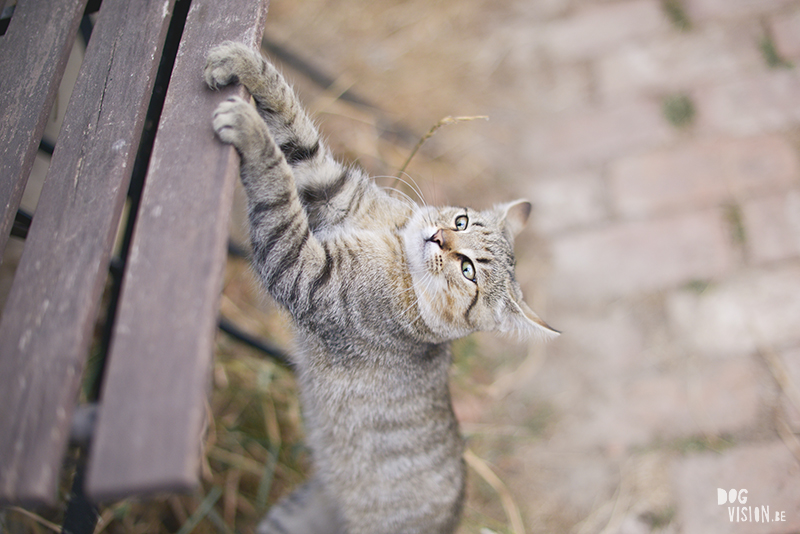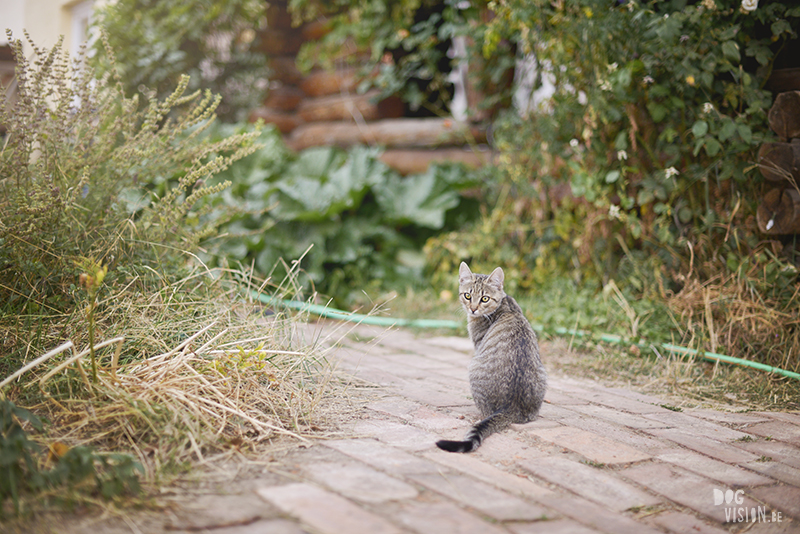 The campsite with the super cute/comical cat was in Löbejün, a beautiful location on a hill with charming old trailers for the night. Especially after the beautiful sunrise between the hills and the apple trees, I was completely in love with this place but it was a coincidence that we spent the night here. We had, after all, quite a last minute, adjusted our route to meet Melanie and Tula from Pines and Bones. Our very first Instameet! So it was Melanie who gave us this campsite as a suggestion. Thanks, Melanie!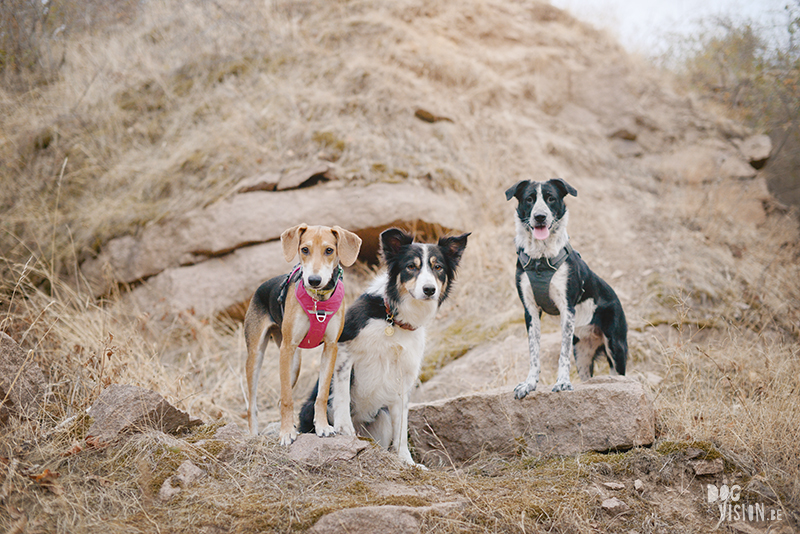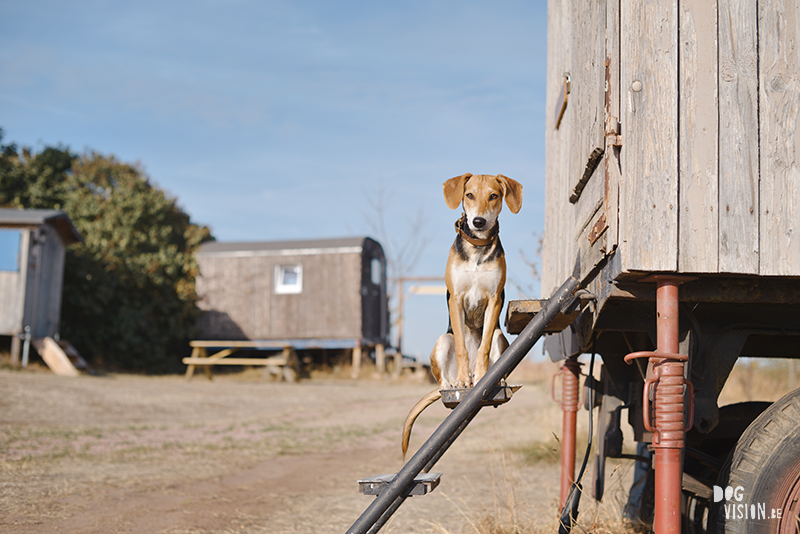 Because Oona is sometimes difficult with new dogs (she can bark like a dog from hell) and Tula can also be insecure, I decided to introduce only Mogwai and Lizzie. Good agreements make good friends (we say) so Melanie and I came up with an action plan that provided space for all dogs to settle down before they would greet each other more closely. Mogwai was off leash, Lizzie and Tula on a long line. Once the biggest craziness was over and we reached an open field surrounded by steep mountain walls, it seemed like the ideal place to let them run and meet.
It was very unfortunate that we were so late because of car breakdown because got dark rather soon. But on the bright side, it's didn't ruin the fun. The dogs played catch while we talked and talked even after the walk we were chatting for a long time until we were only two voices in a pitch black night. Suddenly an alarm went off in the village down the hill. The sound made the hairs on my arms and in my neck stand up like someone grabbed me by the neck. "An alarm from the war," Melanie explained, "that they now use for the fire brigade." And yes, a couple of fire trucks flew with howling sirens.
At the very end Melanie surprised us with a nicely packed gift for the dogs!! Oona got a new tag for her collar, Mogwai a new toy and Lizzie her big dog collar with name tag, all handmade. Wow!
I went to bed with a head full of rushing thoughts. Thinking about how amazing it was to finally meet the faces behind Pines and Bones, how we could be talking all night. How weird and cool it is to connect to people that live so far away and all the things we've been talking about.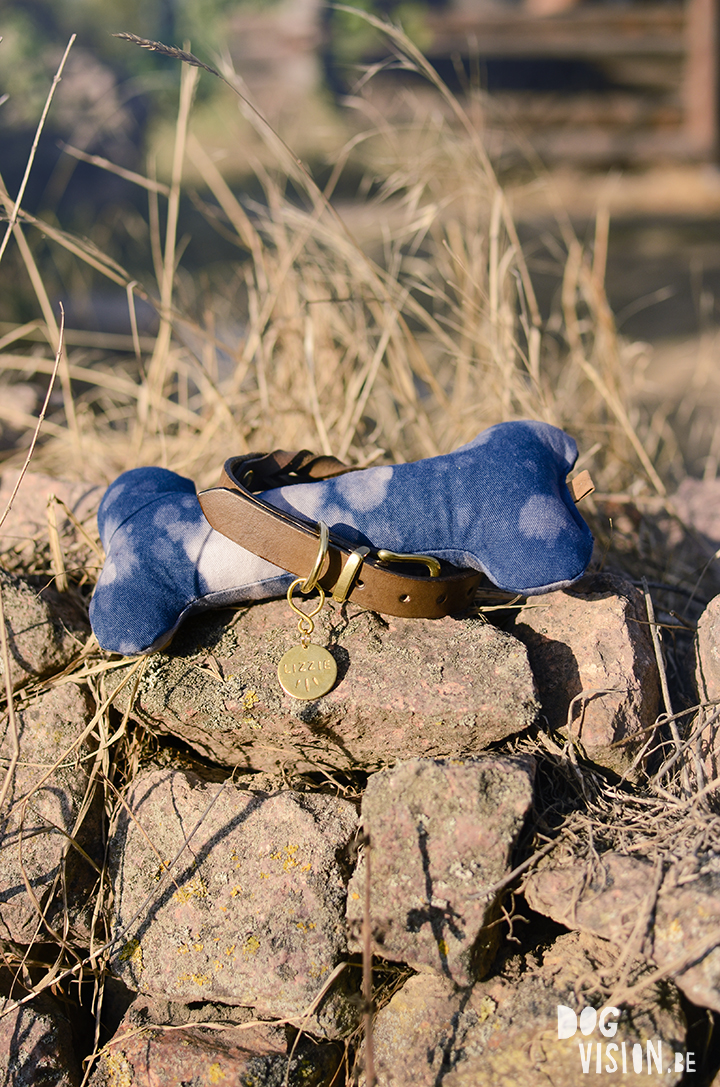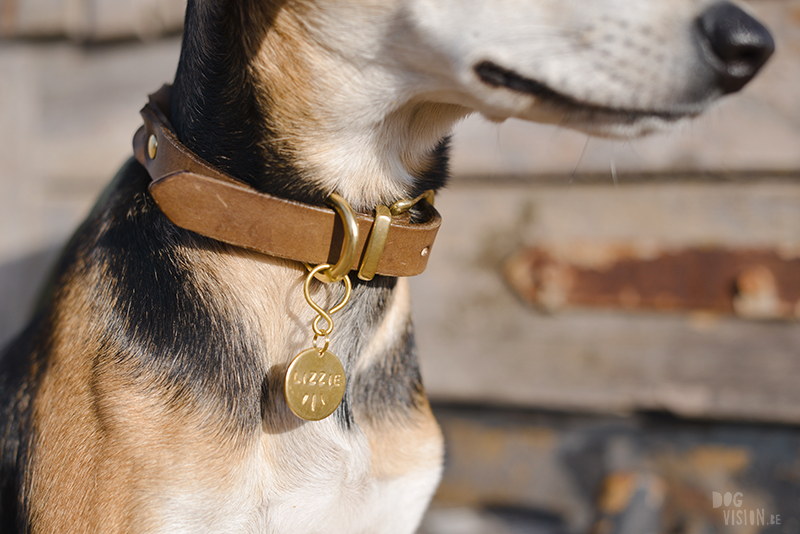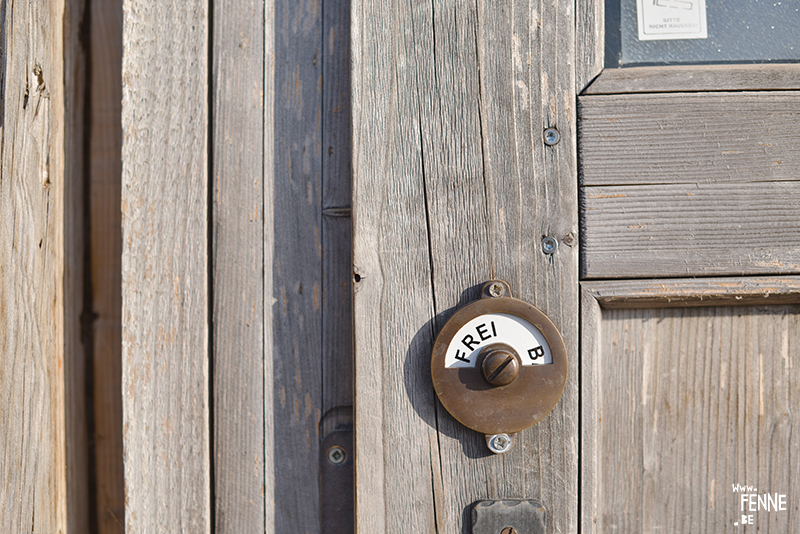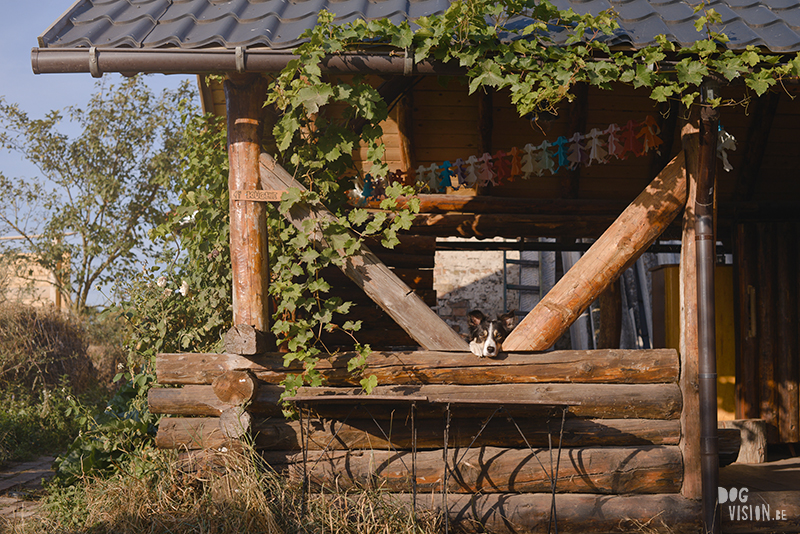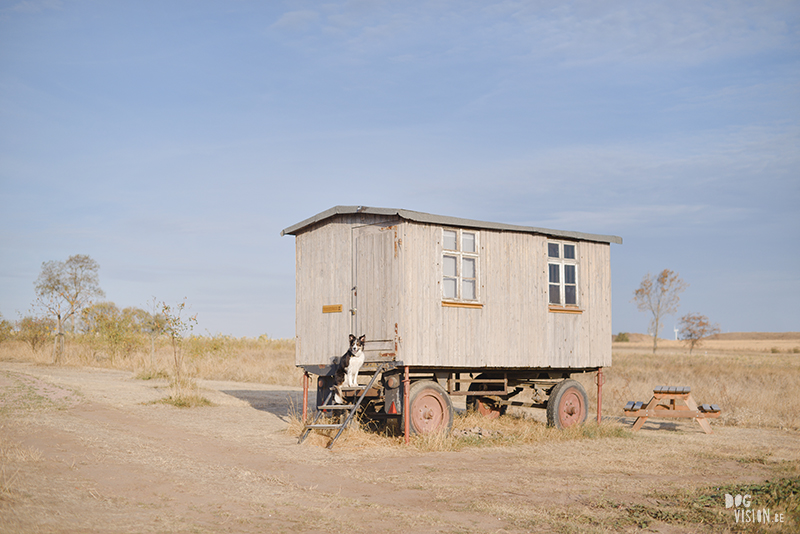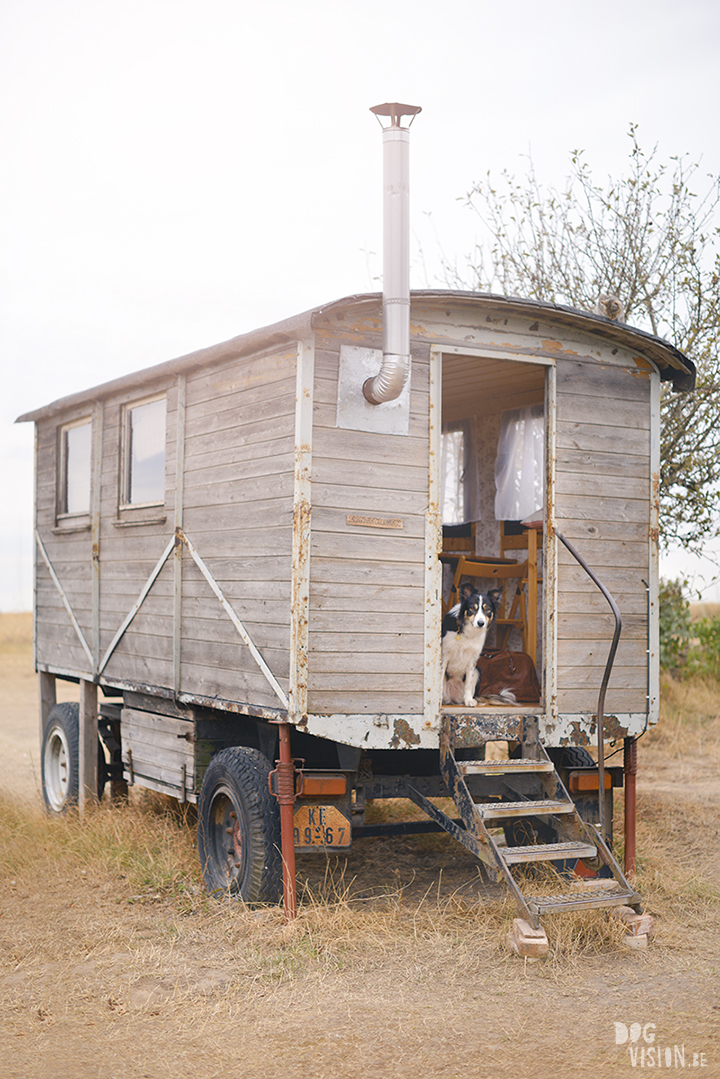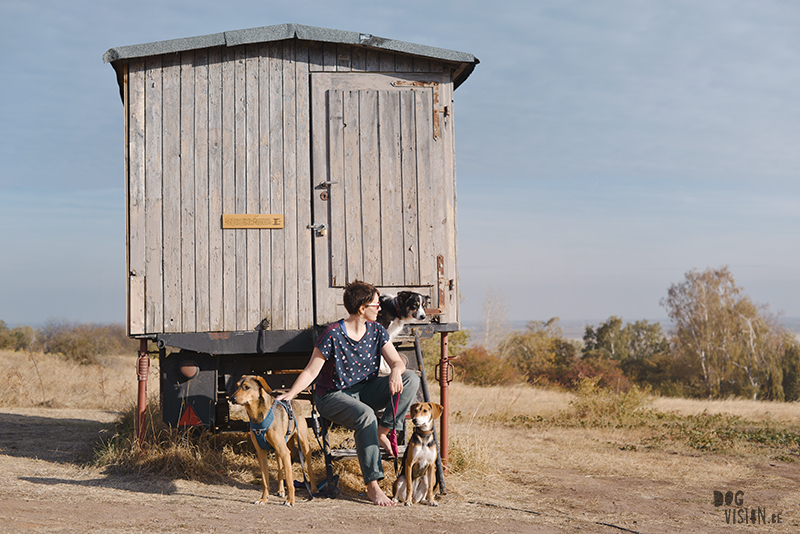 And then in the morning, after waking up in the sun with a view of the valley, it was time to pack our bags and start the longest journey of our trip: from Germany through Austria to Slovenia.