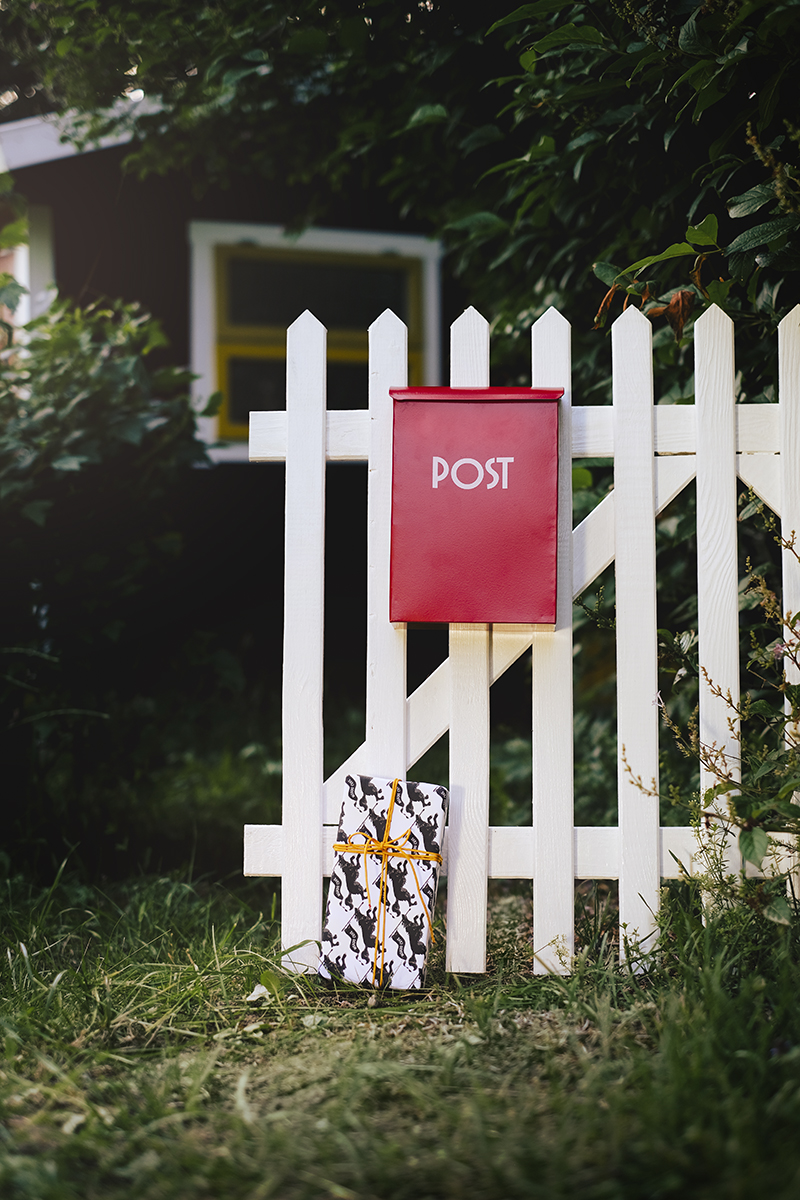 "It's so hot, I think I'm going to melt," sighed Oona. The sun was shining bright and the clear blue sky was buzzing with hungry insects and singing birds even though it was still very early in the morning. Of the three dogs, Oona was always the one who reached melting temperature first, making her the complete opposite of Lizzie who lives for sauna sessions in winter, wears two coats at the same time, and can't imagine a day being too hot. Lizzie definitely tries to keep up with the others when they have late-night campfires or autumn walks in the rain, but even with the best will in the world, it turns out to be absolutely impossible to hide the shivering and the need for warm sweaters. But now, on these summer days, she was stretched out in the sun, snoozing until she had to relocate because the sun had moved. 
Mogwai had an idea:" How about going to the lake instead of being lazy and eating ice cream all day? We can even take some peanut butter sandwiches for lunch." By the end of her sentence, Lizzie had already grabbed a towel. "Ready!!" she shouted cheerfully and totally ready for action.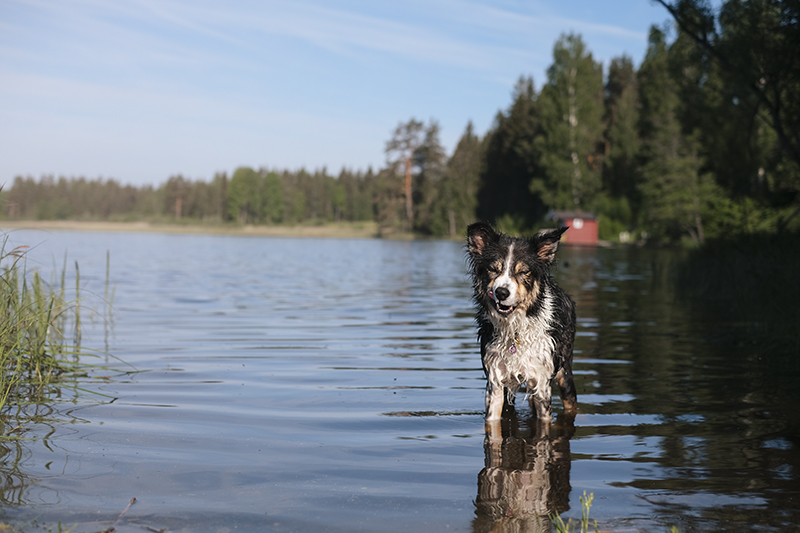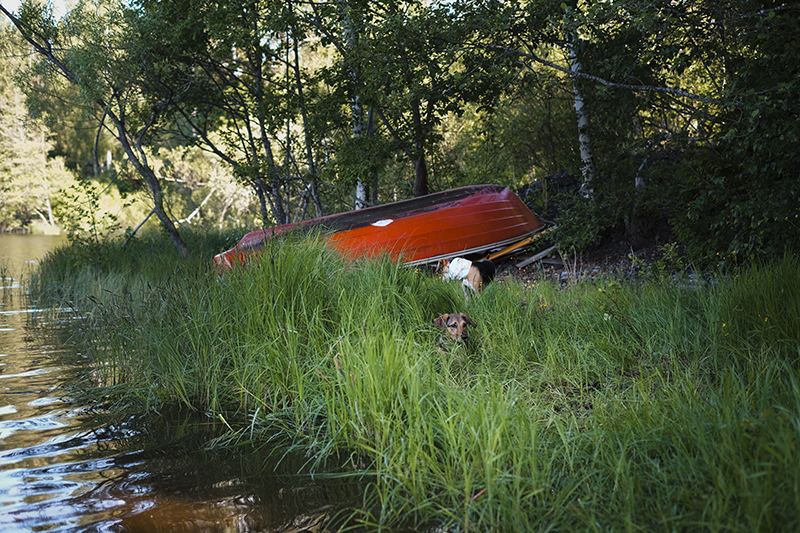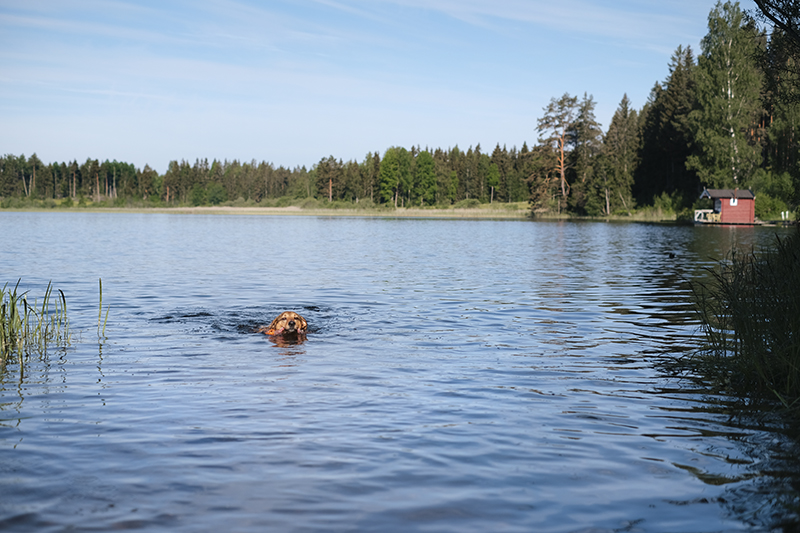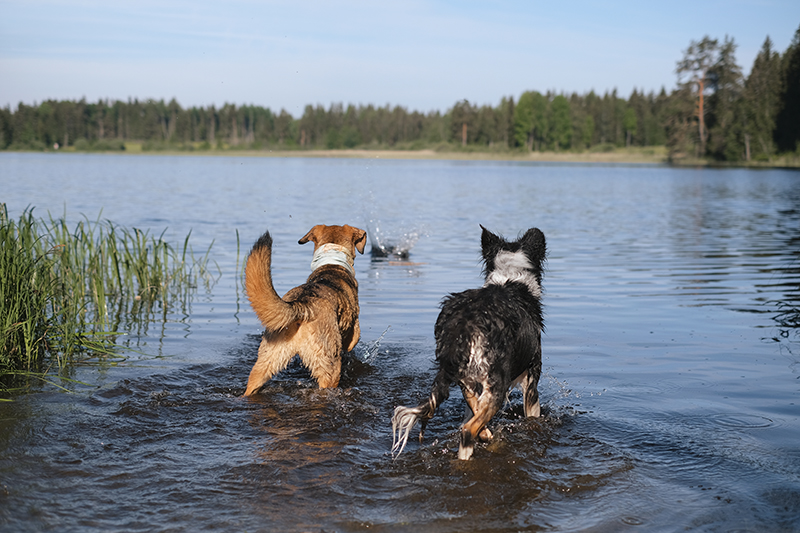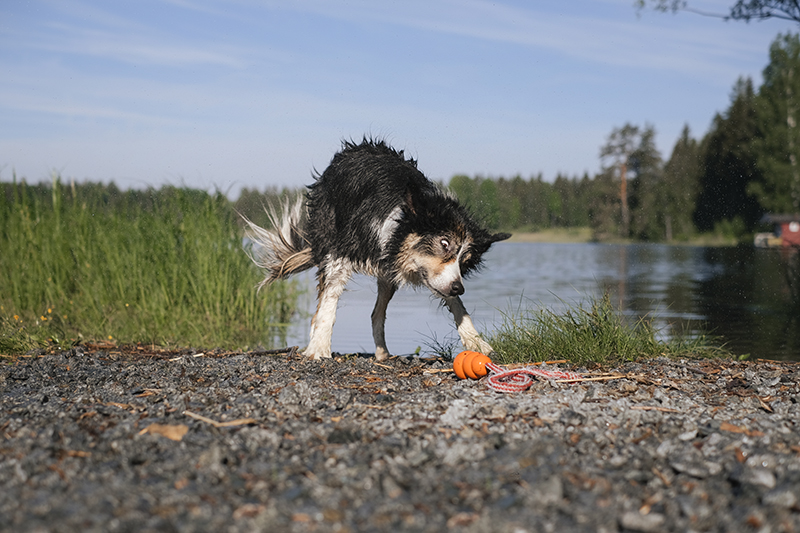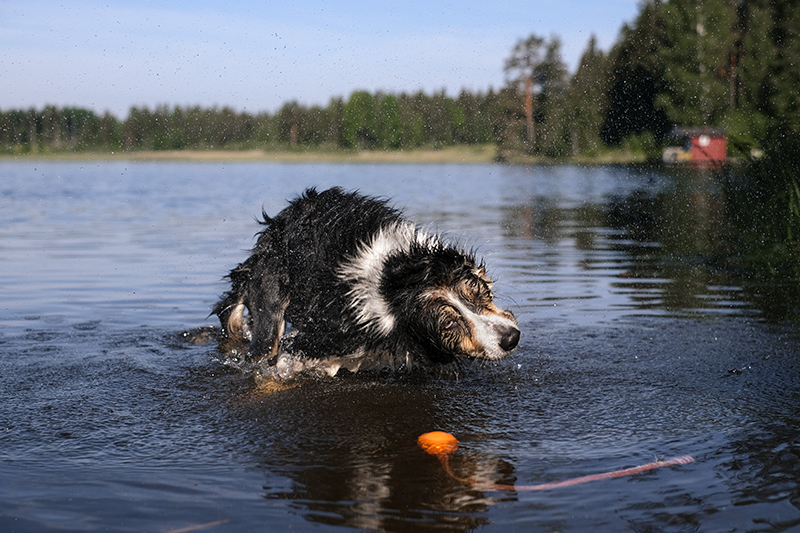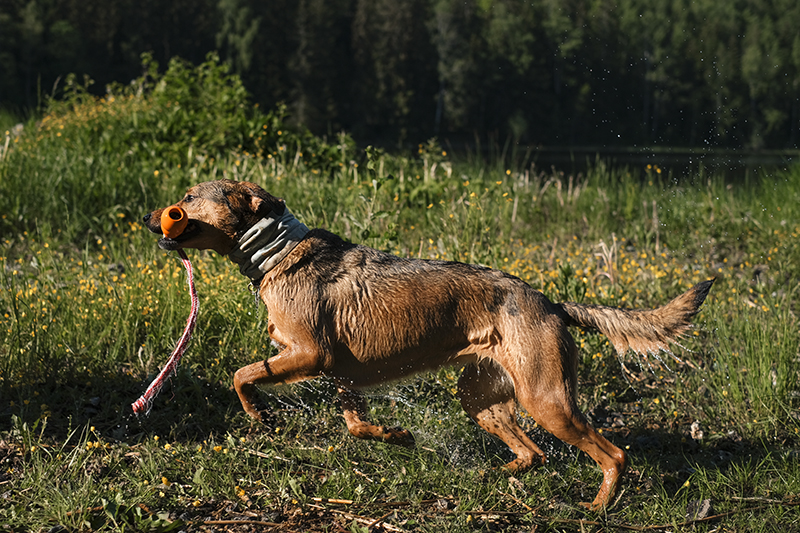 Some days, the lake looks black and gloomy as if it would swallow you if you'd dare a jump in the deep, but on this beautiful day, the water looked magnificent and deep blue, with small waves reflecting the light in all directions. Lizzie spread out her towel en continued sunbathing while the other two rushed to the cooling water for a refreshing swim and some games. Oona ran back and forth on the dock, hoping to be able to catch the ball, but Mogwai was still the only one who dared to jump off. With all the sun and fun, the dogs forgot all about time and the letter that they have been waiting for.
It was only when their stomachs started to mumble again that they thought about going back home, hoping that dinner, or at least fika, would be ready. After all this swimming and running around, food was all they could think about on their way home and they would dream out loud about a delicious spaghetti or maybe pizza. Ooh yes, pizza was definitely number one on the drool-list!
"Woofers! Look!" screamed Lizzie when they were almost back at the cabin, and she instantly dropped everything she was carrying to rush to the mailbox. Mogwai and Oona, who were a bit behind her and still chatting about jumping off docks, started running to catch up. The package got almost ran over and ripped apart, towels flew in the air and Oona almost bumped into a tree, that's how curious and enthusiastic they were.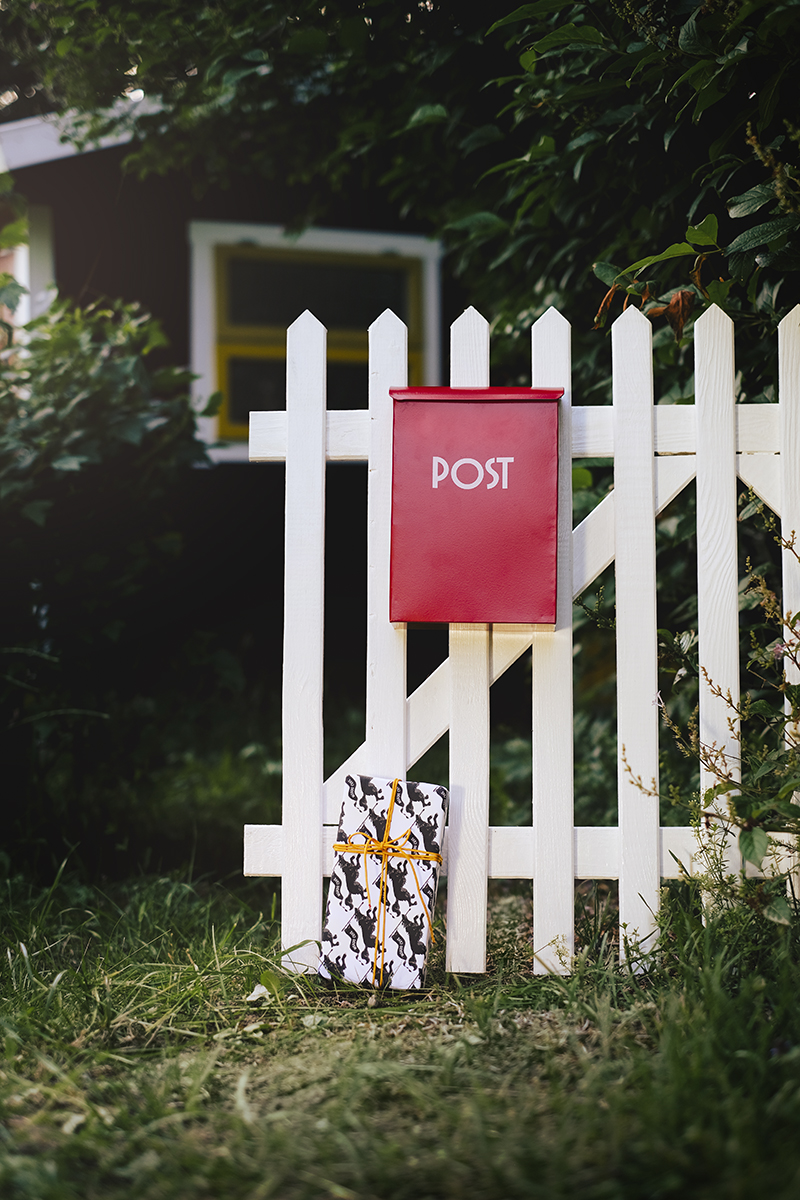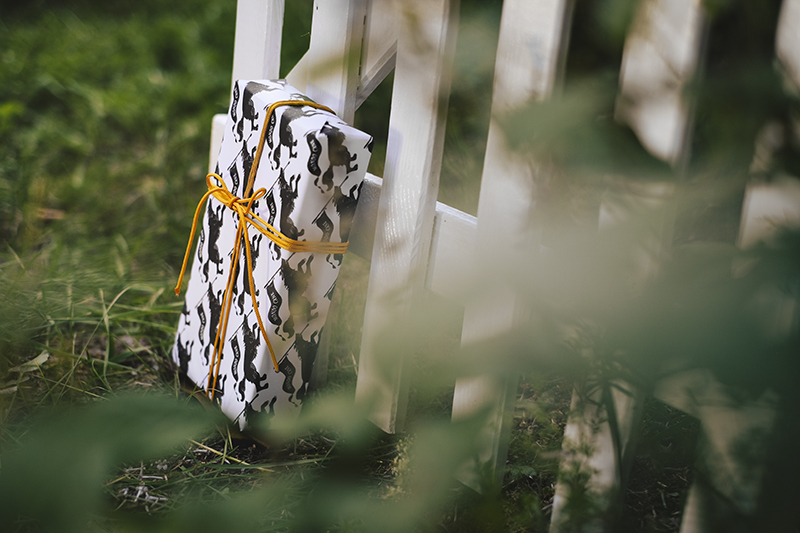 "Stop!"Mogwai's sharp comment made the other two freeze right away as if under a spell. A small piece of paper fluttered down slowly and landed softly right onto Mo's nose, but Oona and Lizzie didn't dare to giggle. Instead of ripping everything to pieces, Mogwai decided to carefully open the package. She didn't want any information to be destroyed by some mad pups and she knew that every detail matters.
Carefully she unwrapped the rest of the package, spreading out everything carefully so that everyone could take a look. " It's already a bit of a treasure," whispered Lizzie as she watched the golden stickers, keychains and a strange object were displayed on the table.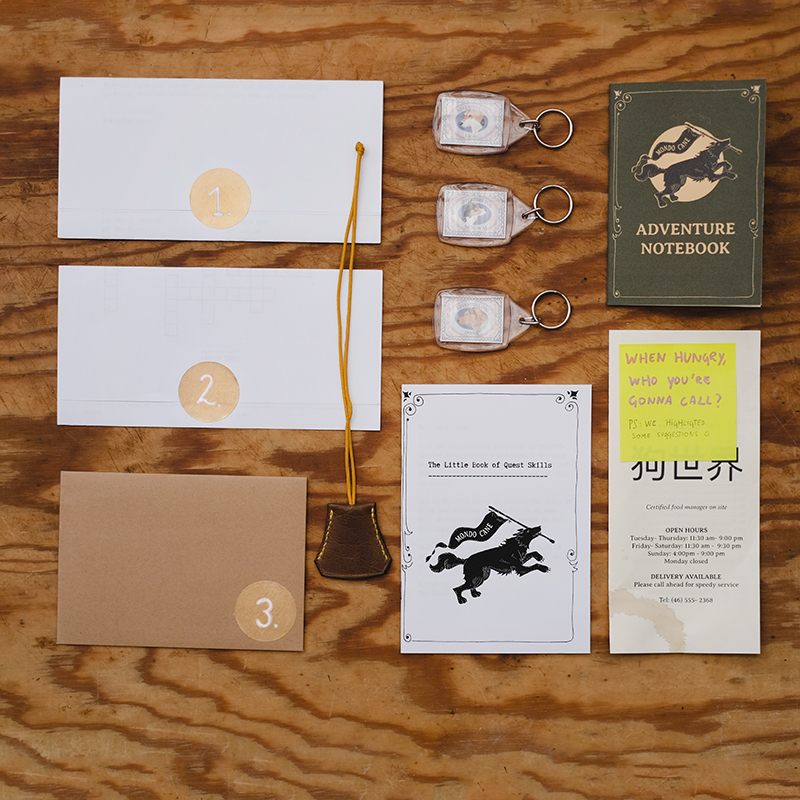 They all took a deep breath as Mogwai peeled off the golden sticker of letter number 1 so she could read the instructions out loud. 

Together with the first letter came their first challenge: a scavenger hunt! One that has to be completed before they could unleash their curiosity on the next letters. Still tired from the exciting day, they decided to go to bed extra early so that they could start fresh and spry the next morning. They curled up onto their pillows and immediately surrendered to the sandman.
Downloads (will be uploading them soon):
– Welcome letter
– Scavenger hunt (join if you like!)
– Menu
– Little book of quest skills
– Printable cover to make your own adventure notebook.