An Unexpected Sup-Adventure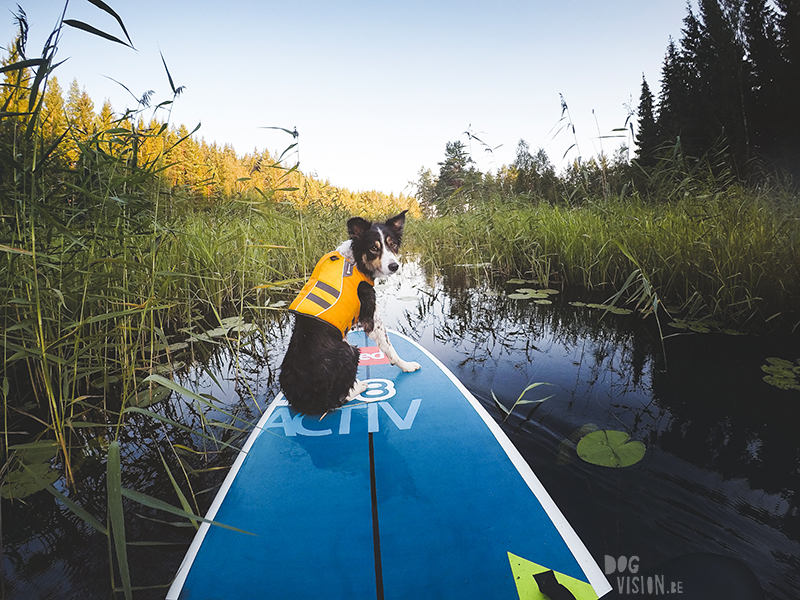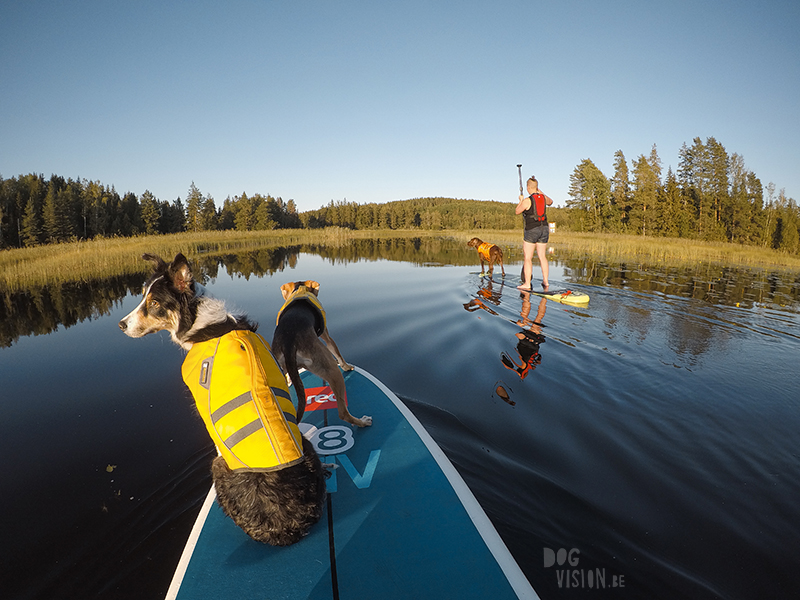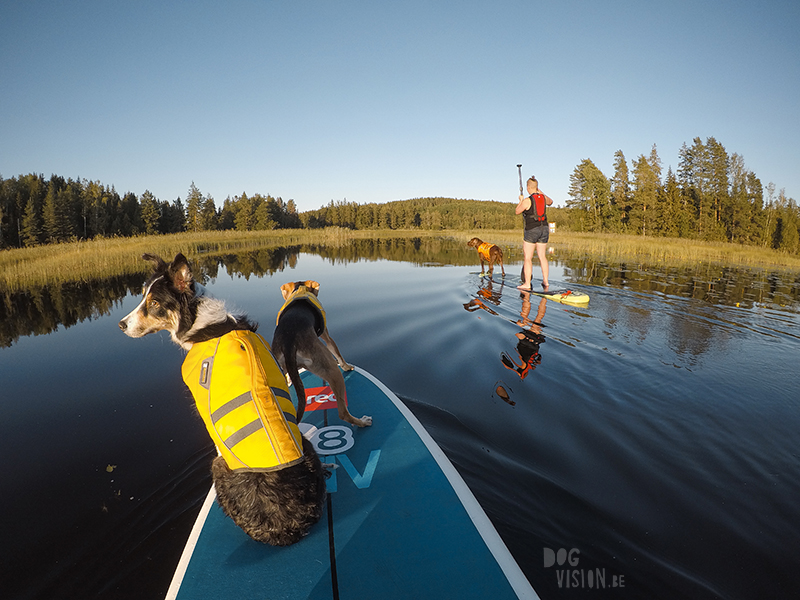 I had an idea- that's how most adventures start 🙂
Last week was super warm, the lakes were calm and the sun was out until late at night. That's the time of the year where I just look at maps en try finding new places. Often I end up somewhere far away in the forest but especially when it's warm, I look at what might be nice water to explore. A few times I paddled around lovely lakes and tiny islands, but after exploring a connecting canal between two lakes with a friend, I got an interest in the weird shapes and hidden possibilities.
So the idea was checking if I could start at our favorite bathing spot (number 1) and paddle all the way to the second lake (number 2). Joeri didn't think it was possible but I thought that even if I had to carry the paddleboard a bit, there should be a way to get there… When we arrived at the bathing spot, most people were just leaving, and so was another couple with a paddleboard. They told me about the lagune and looked a bit confused by my plan. Just like Joeri they didn't think it was possible as they didn't see any water leaving that lagune. Just to be safe, I put my phone in a protective case so that I could call Joeri in case of emergency or rescue needs :-).
But I was rather convinced that I would be back within 15minutes. But well, you have to give it a try, right?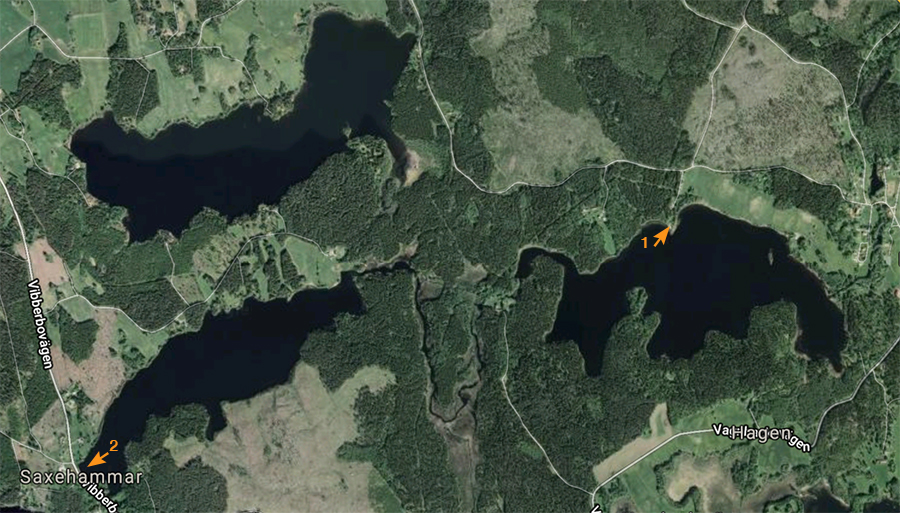 Up to the lagune, the water was smooth, the warm evening sun was shining, it was super lovely. I didn't take any photo as I thought to make a few on my way back as that would be better with the light. I had been there before, the open place full of water lilies but what I missed last time was a small exit, hidden behind a bit of grass. I paddled towards it and had to dive down for a fallen tree just when the water found some speed over a rocky river bed.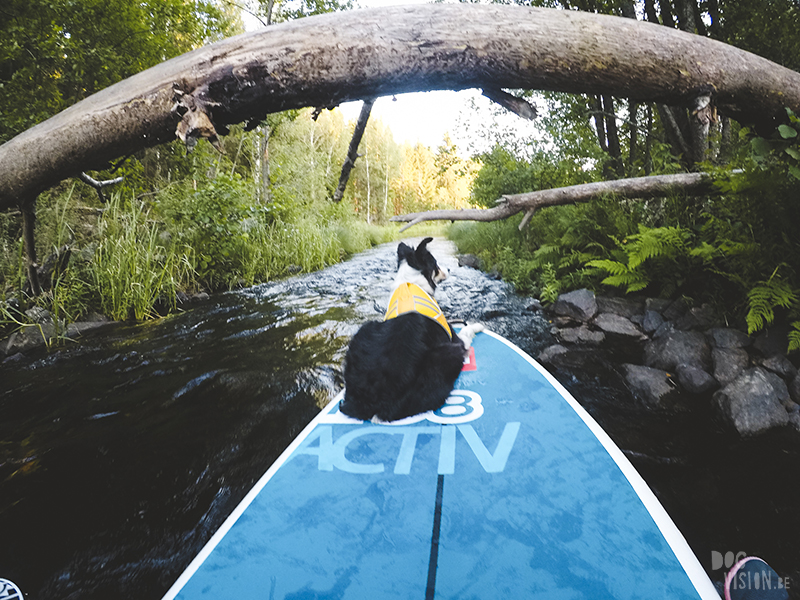 "Alright, cool, this is fun!" I thought when the water slowed down again and a tiny stream showed me the way.
Then, suddenly, I heard the sound of what could be a small waterfall or a dam, just behind this corner: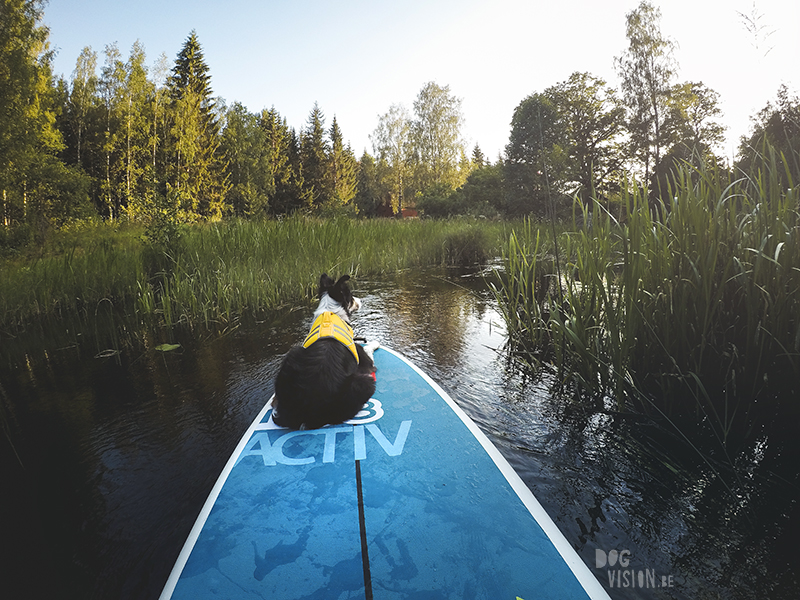 I quickly steered towards the bushy side, found some rocks, saw that there was indeed a dam but also a house. The shoreline was full of bushes and weeds but I managed to let Mo jump off first and then pull the paddleboard up to the side, hobbling towards a flatter part of the waterside that turned out to be a garden. A bit further, behind the corner, I spotted a few people and since I had no idea where I was, no idea where I could go back into the water and no way that I could go back in at the dam, I left Mogwai by the paddleboard to say hi and ask for some directions haha.
In my very best attempt of Swedish, I must have looked like a wet foolish ghost coming out of nowhere while these innocent people were enjoying a summer evening in their super quiet and hidden garden. After explaining my issue- finding water- they asked me if I was alone, just at the time that Mogwai ran up to me. "Yes, but with Mogwai, my dog" I replied. These friendly people, however, had no clue if my plan would be possible. not even where I could get the paddleboard back in the water, but they quickly got up and searched for a spot where I could continue my quest.
"Lycka till!"(good luck)they shouted while they waved me goodbye.
The paddleboard, which is rather sensitive to wind and water movement, twisted and turned on the nippy water that came from the dam but after only two turns it seemed like I was out of luck. Suddenly there was no movement in the water, I ended up in some kind of pond surrounded by wetland and felt slightly defeated. Going back would be extremely difficult and the idea of dragging the paddleboard all the way back to that house seemed daunting so I kept thinking "There must be a way out, I just have to find it."
With lying still for a little while, I suddenly saw a bit of water movement in a corner of the pond. Not sure if it was from an animal or the stream, I pushed the paddleboard in that direction and found out that however narrow that stream was, there was something (I made a few wrong turns too). I kept pushing the paddleboard through the grasses, collected some insects and mosquito bites, had to pull Mogwai back up a few times and ignored her annoyed face that looked like she was saying: "Please, get your driver's license, you're bumping into stuff!"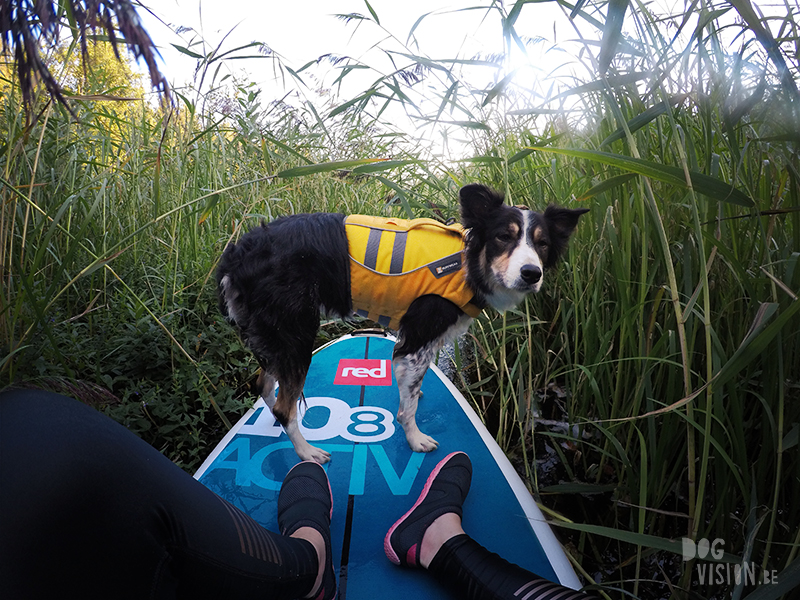 A few times I tried standing up, hoping to get an overview of the location but the tall grass made it impossible. Then I noticed some sounds and movements which might be beavers and since reading that they are rather territorial and have a nasty bite, I started singing- I considered it the best way to scare away any living being haha. Turns out, even the grass runs away from me, because a bit later, the stream got wider and deeper, allowing me to actually paddle.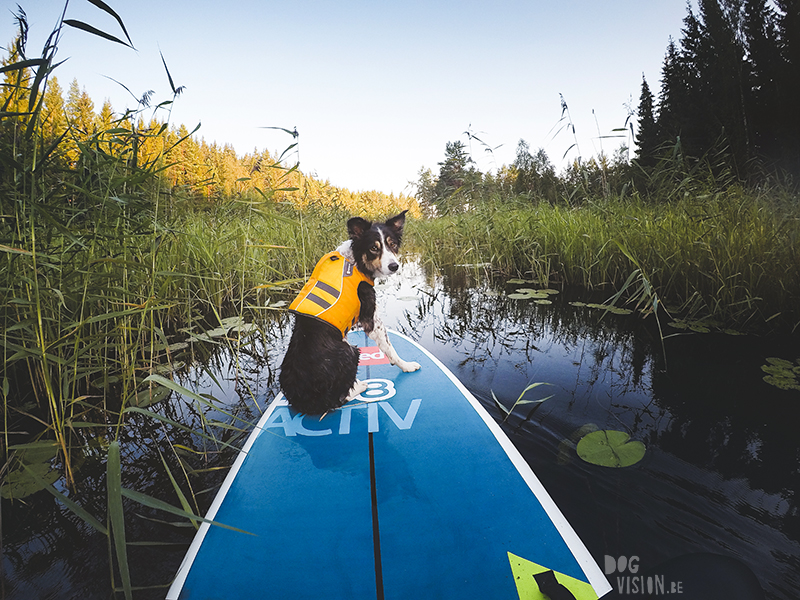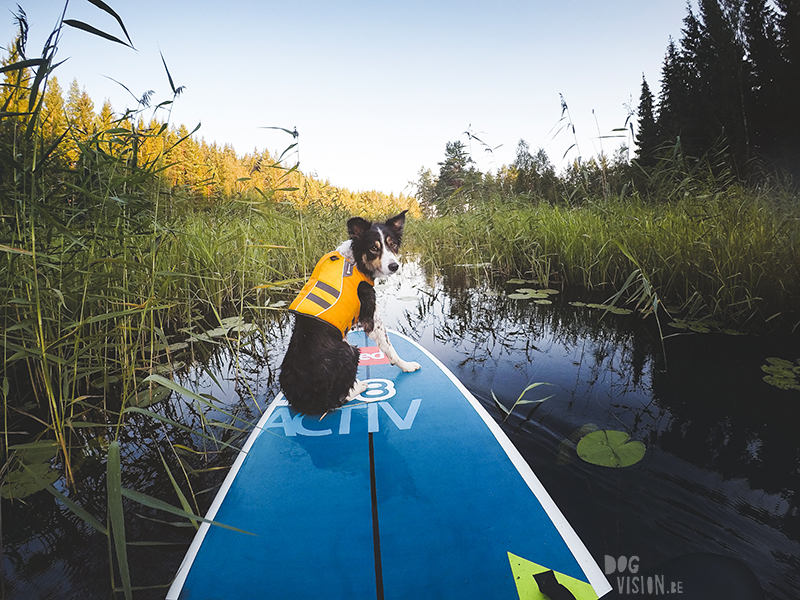 Slowly but surely the stream got wider and wider, I heard a moose and saw some crane fly up and then suddenly, just before sunset, I arrived at the second lake!
As you can see on the map, it's still a bit of a distance but at that point, I thought I would find a spot to go on land before reaching the others side. Turns out that there are either holiday houses or unwelcoming bushes so I crossed the entire lake that was smooth as a mirror- a real pleasure to paddle.
At the endpoint, I texted Joeri who picked us (and the paddleboard) up with the car.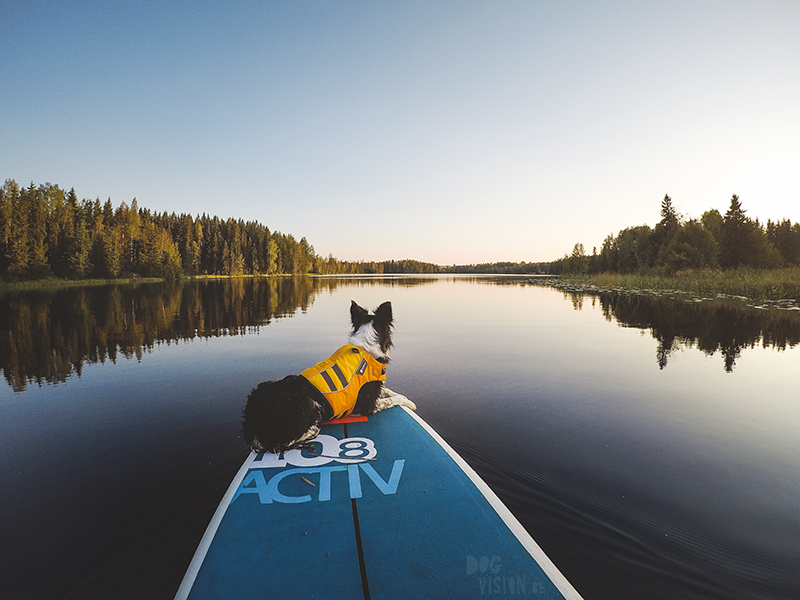 This little paddle trip didn't turn out as I imagined and I met a lot of unexpected obstacles that made me wonder if I could make my idea into reality. But exactly those obstacles, and pushing through makes this such a fun memory. I like unexpected and I like challenges. And I kinda like it that I proved that it is possible even when others think/say it's not.