Christmas photoshoot ideas for dogs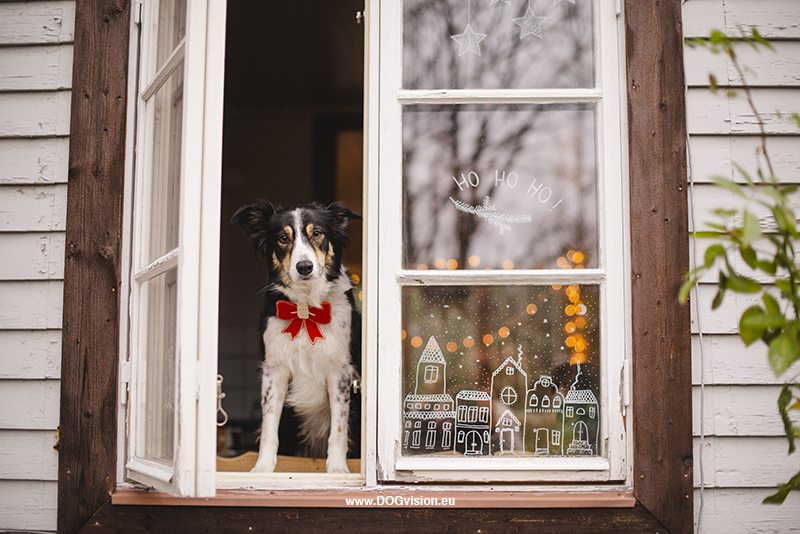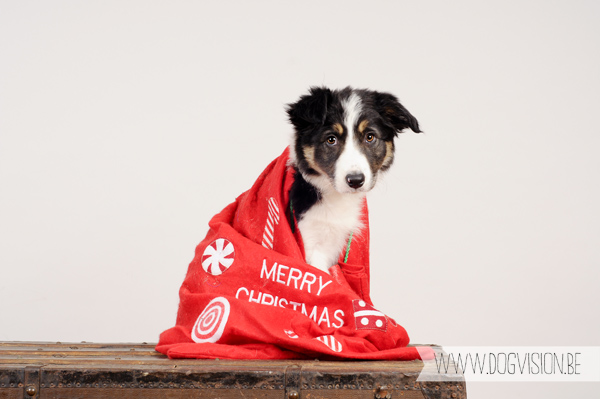 Get your camera ready because the festive season is on its way and creating some holiday-inspired photos with your dog(s) is a super fun way to get started with this cozy time of the year.
Whether you are like us and still love real holiday cards sent by mail, sent them digitally, have a blog where your pets shine too, or just want to have fun, I've collected some ideas for you.
Important note:
When photographing dogs with props, it's important to keep their character and well-being in mind. If your dog has never seen shiny bells and you put a whole wreath around his neck, it might scare them- and this will both damage your relationship and trust as well as look off in a photo. If there is an idea that you particularly like and your dog is not ready for it, the key is to slowly introduce the objects to be able to work towards your goal.
It also works much better for their confidence (and how it will look in a photo) to let them get onto/into a prop on their own. Sure, you can help and assist when necessary, but do not push and drag and use any force.
Photoshoot inspiration:
1. Christmas lights.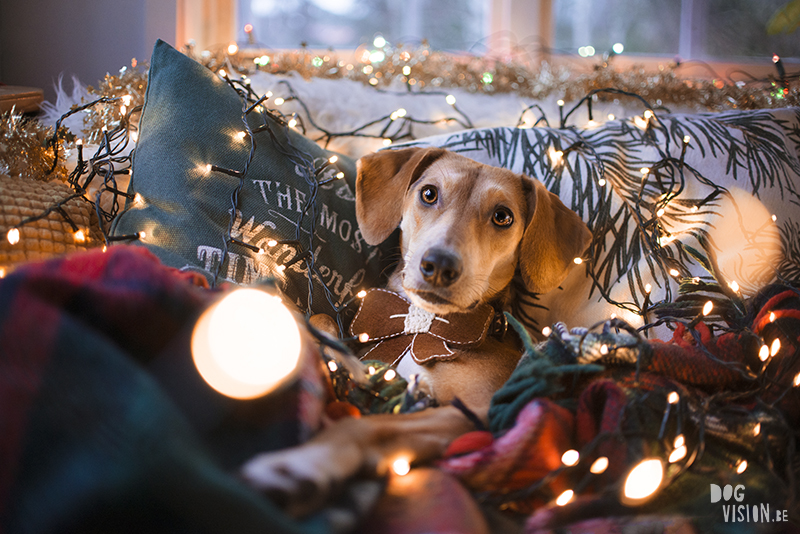 2. Getting ready for the party with a beauty nap (and lights)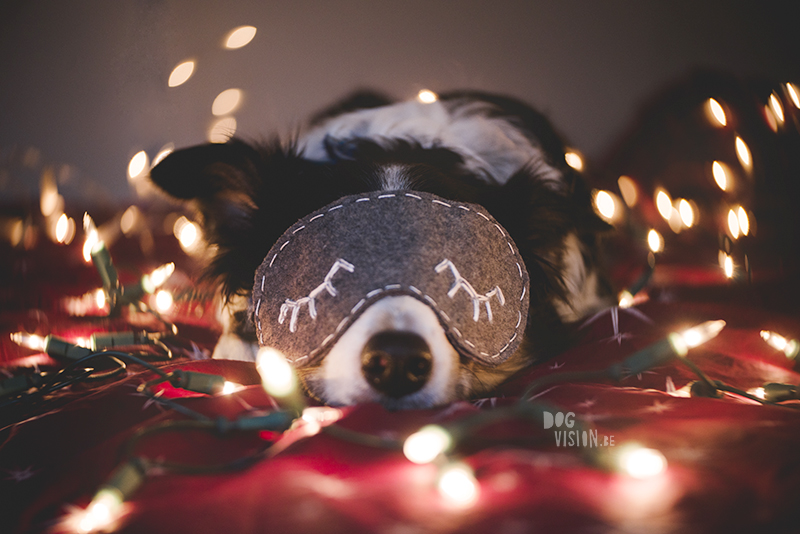 3. Santa's bag.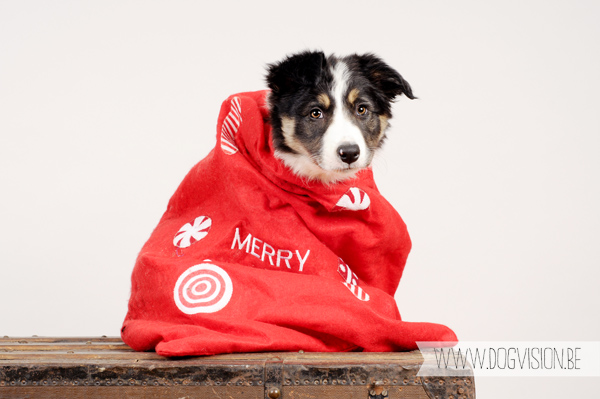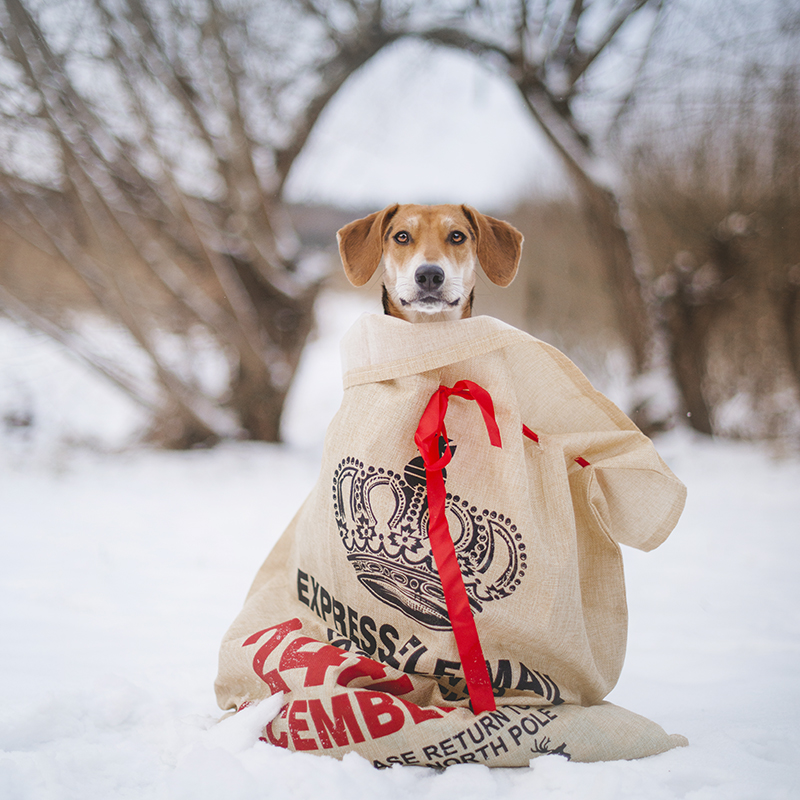 4. Holiday tie/bow/bandana.
Color inspiration: red/white stripes, green, red, gold.
Fabric: flannel, velvet.
5. Window drawings (and some extra lights in the background.
I love white Posca markers for this but they are available in so many different colors (even metallics and pastels). Once the paint dries, it stays on very well and after the holidays you can scrape it off.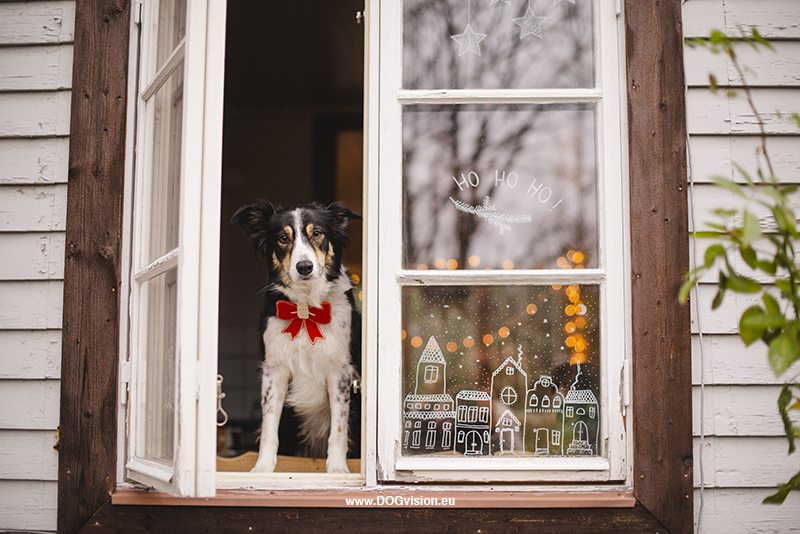 6. DIY Gingerbread house.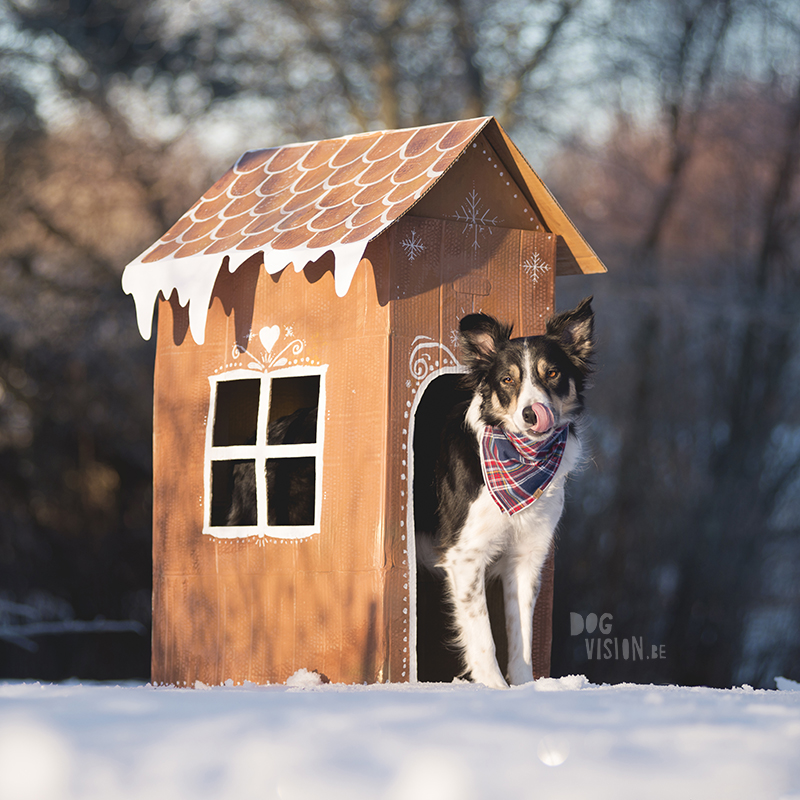 7. Santa's mail(box).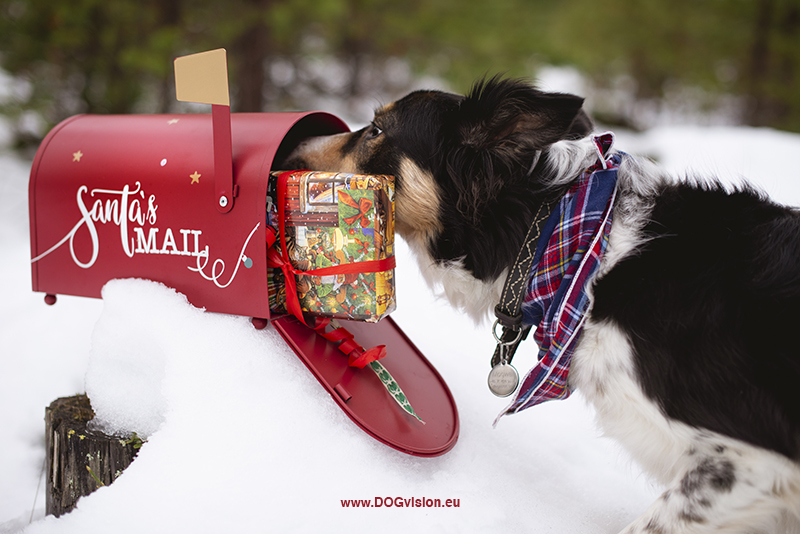 8. Christmas candy.
To get this shot, I leave the candy in the wrapper. It makes the candy far less attractive and they don't take the sugar in.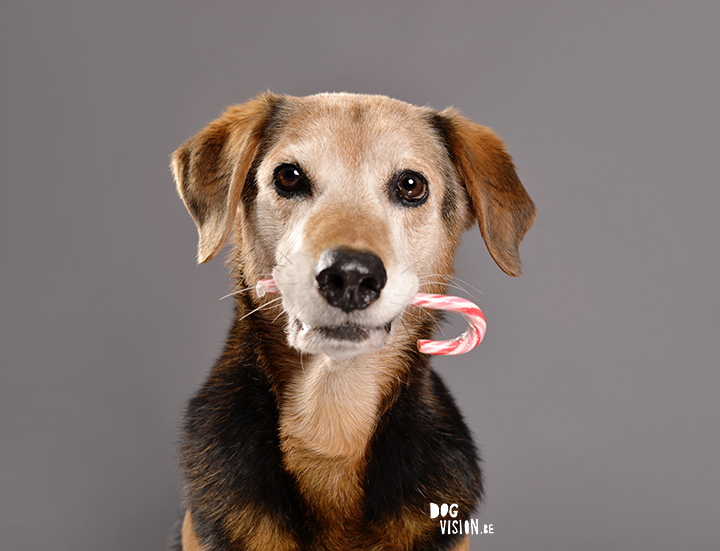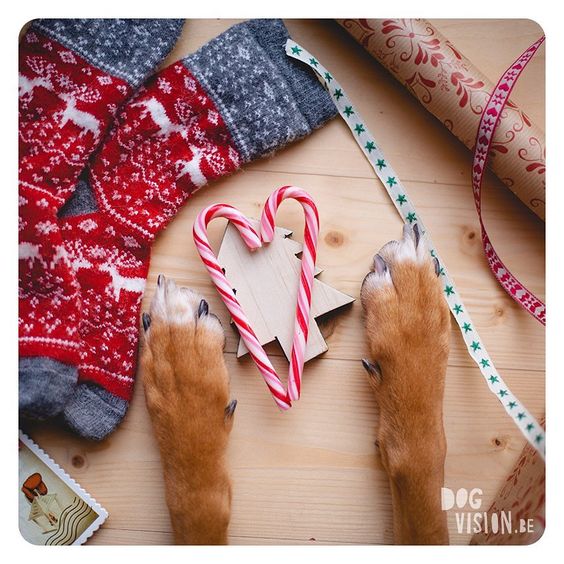 9. Studio shot with light background.
I remember having very little time when I made this shot, but the design of the sign definitely needs a bit more.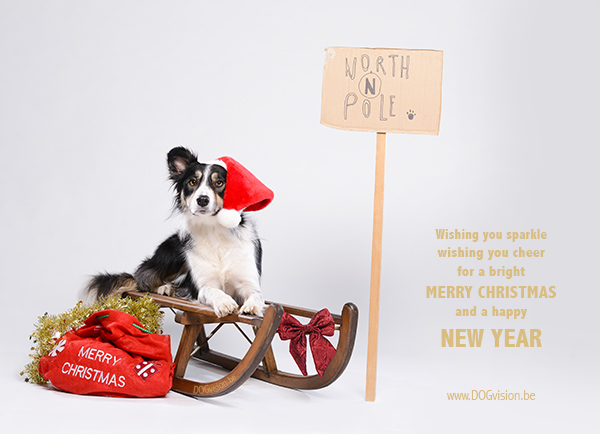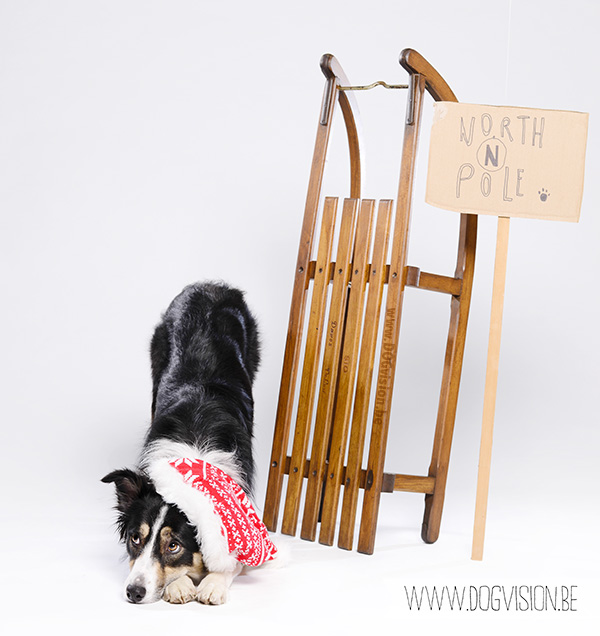 10. The day after 🙂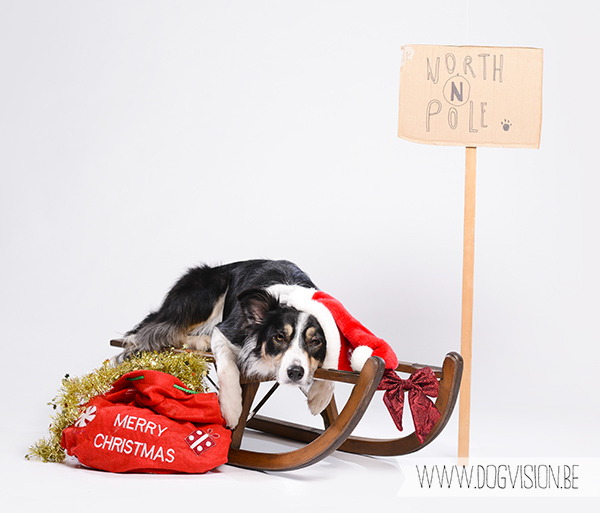 11. Holiday message.
Here I used cardboard letters that were painted red with golden glitter.
You can also:
– Write your message on a wall with chalk
– or on your window with the Posca markers.
– lay a message with candy or cookies.
– make cardboard/wooden signs.
– …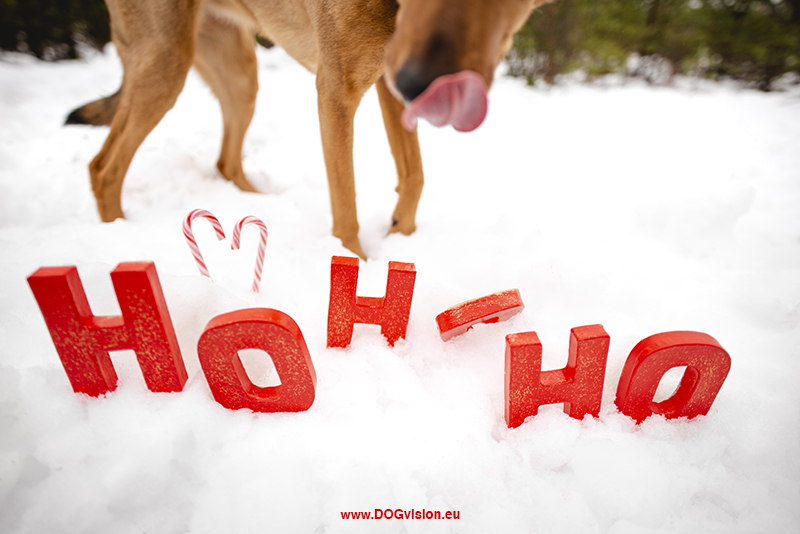 12. The reindeerdog.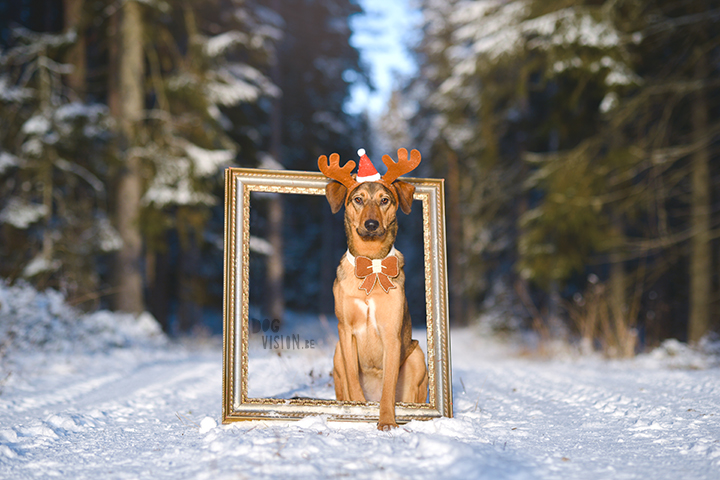 13. Calling Santa.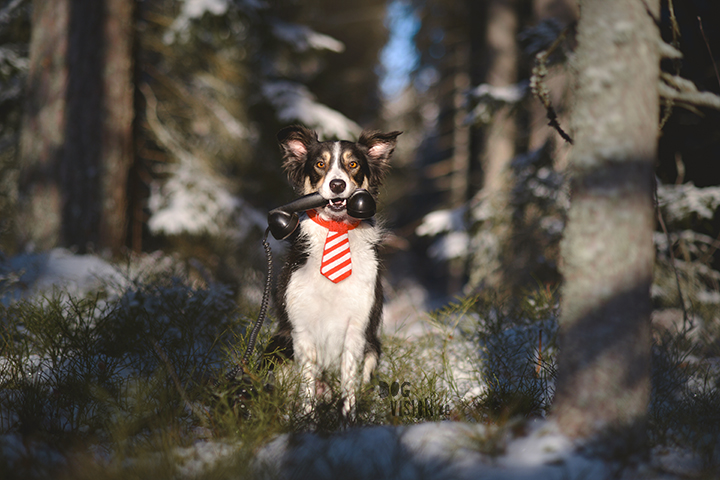 14. Group shot on a spark/sleigh.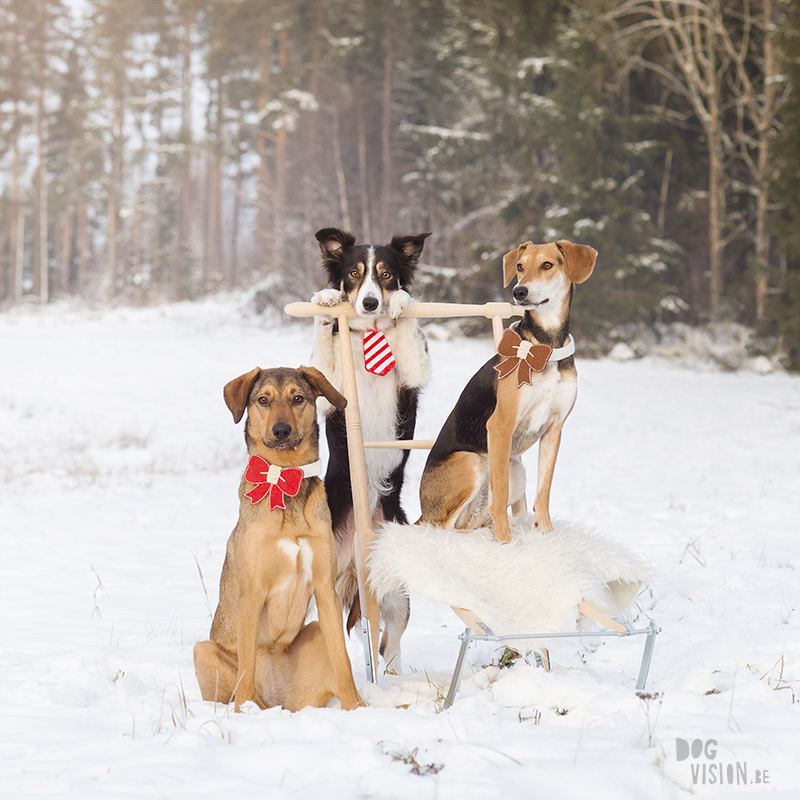 For some dogs the snow can be too cold so for senior Ravasz (the black dog on the right), I added a blanket and some extra insulation to make it easier for him. I also set up the shot and did some tests before I brought the dogs out.
With younger dogs, like Lizzie for example, I let them play and run in between shots.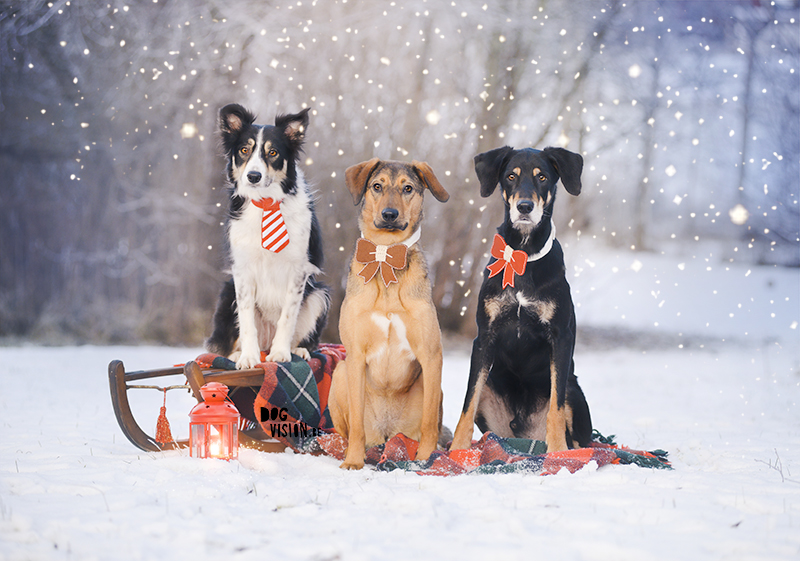 15. Holiday decorations.
While you might want to protect those inherited fragile treasures, there are a lot of wooden/plastic/fabric/… decorations that can handle a dog shoot.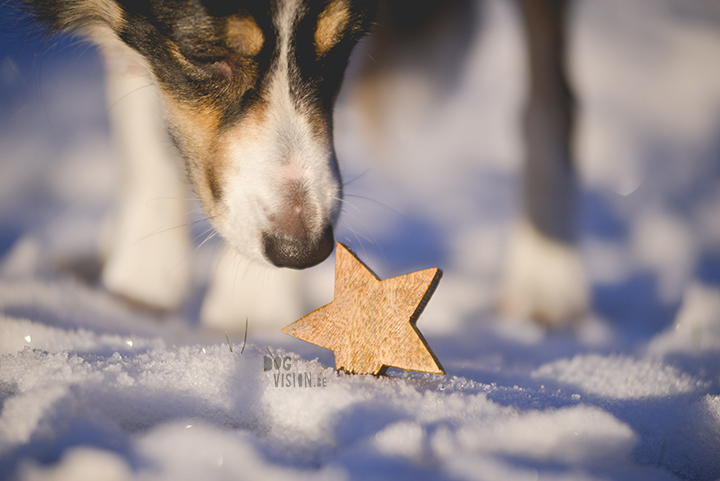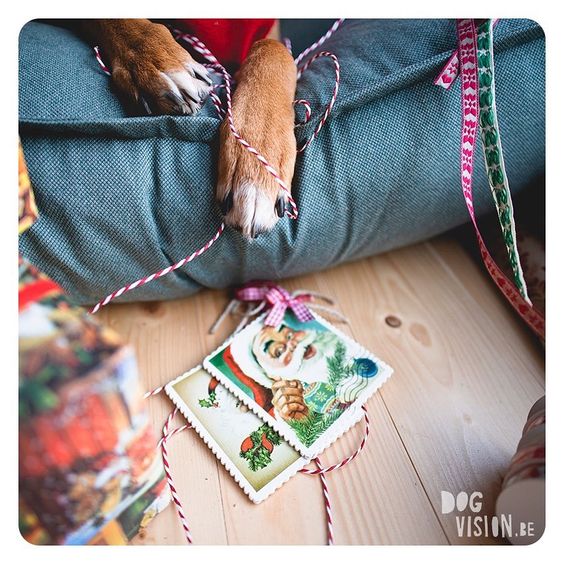 16. Stockings.
A fireplace is probably the ultimate place to hang these but if you're like us and… no cozy fireplace, then you have to invite Santa in another way, right? I love stockings as outdoor decorations too, especially in the snow it's so pretty.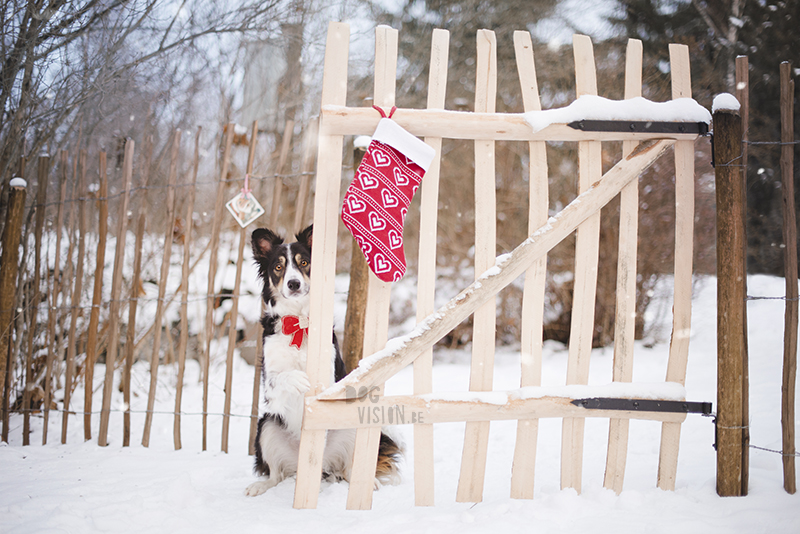 17. Wreaths.
For my dogs, those big beautiful wreaths would be kinda intimidating but a smaller version, here with bells, works very well. It's super light and I love the subtle gold with Oona's fur.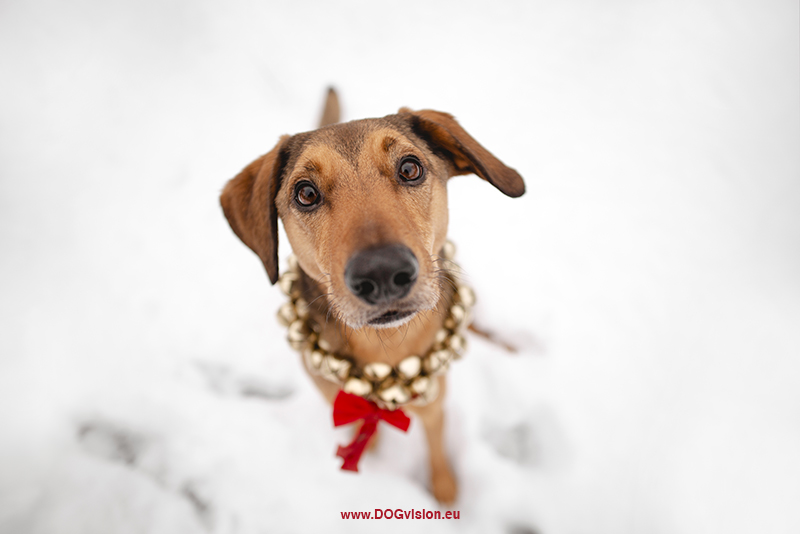 18. Minimal outdoor shot.
Because sometimes you don't have to go all-in on bells and whistles.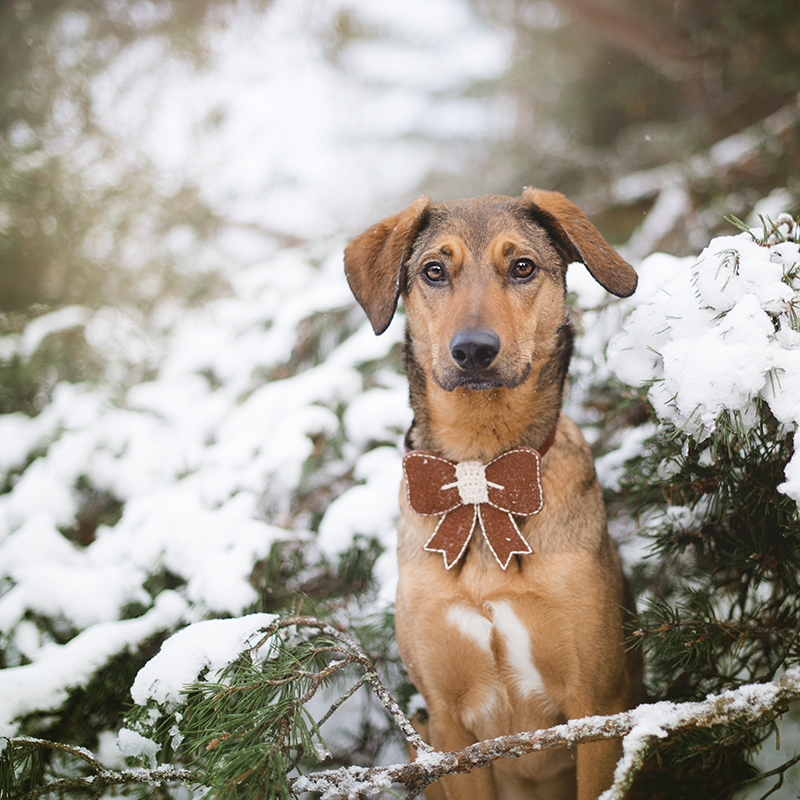 19. Decorating a tree…outdoors.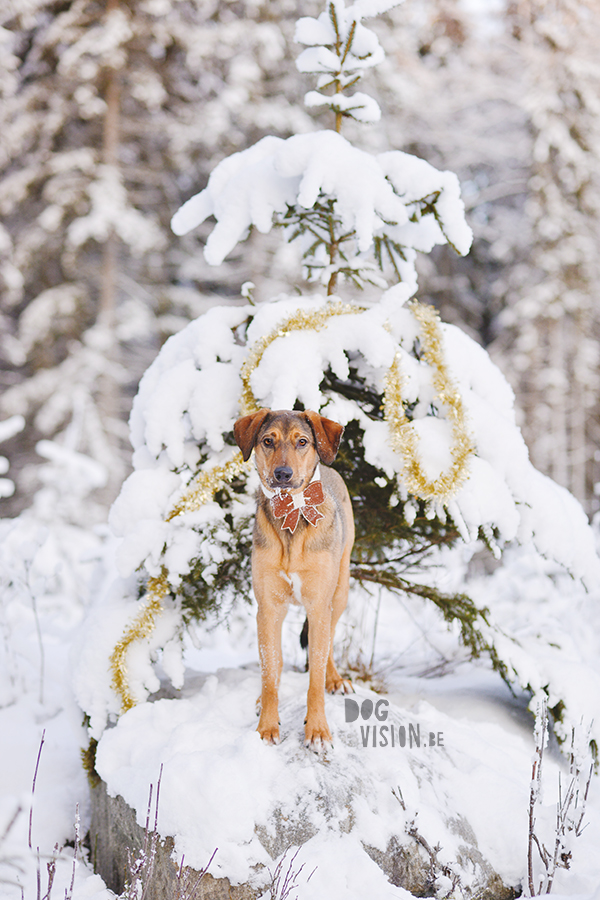 20. Gifts everywhere.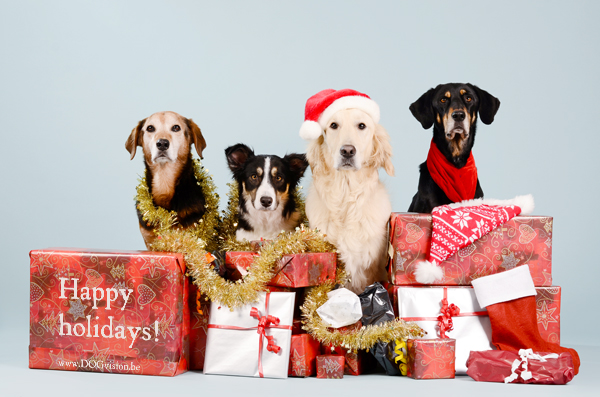 21. Holiday drinks (with a dog twist)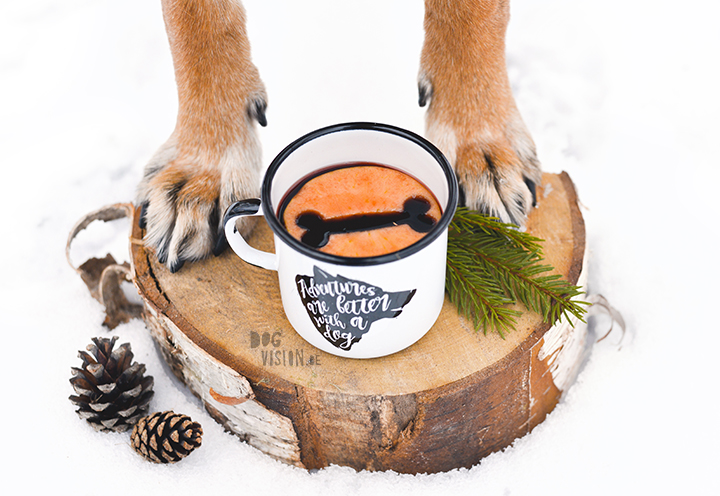 22. Santa hats.
Also loving the fails 🙂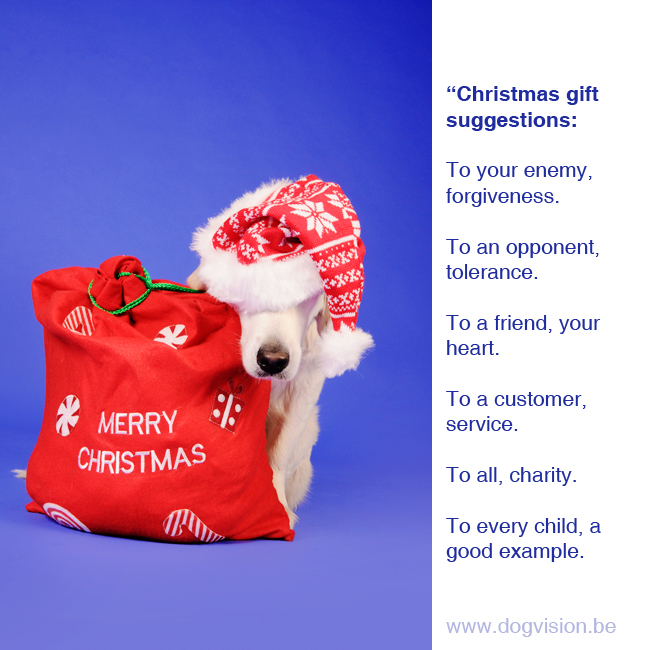 23. Chimney.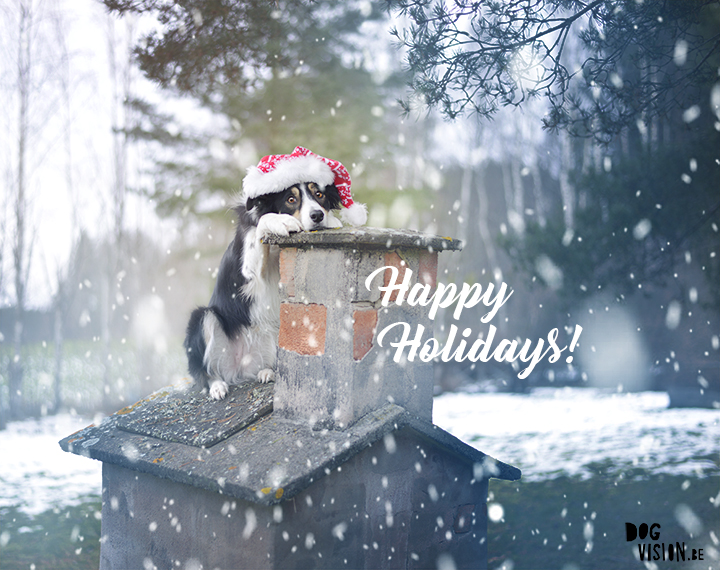 24. Chalk drawings.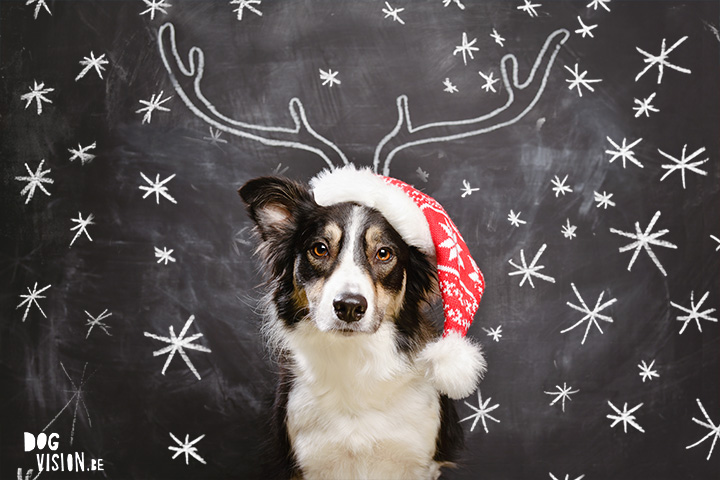 25. Minimal accents.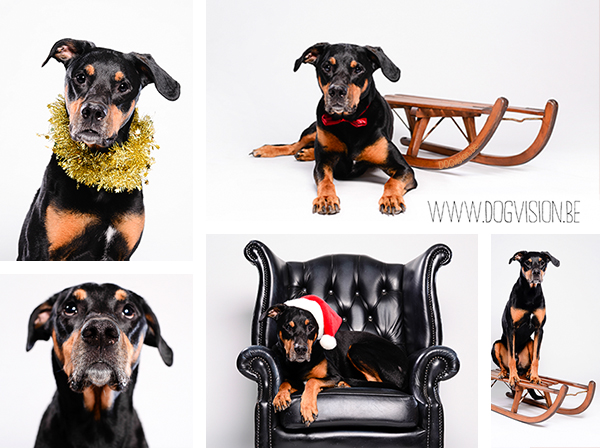 26. The red nose reindog.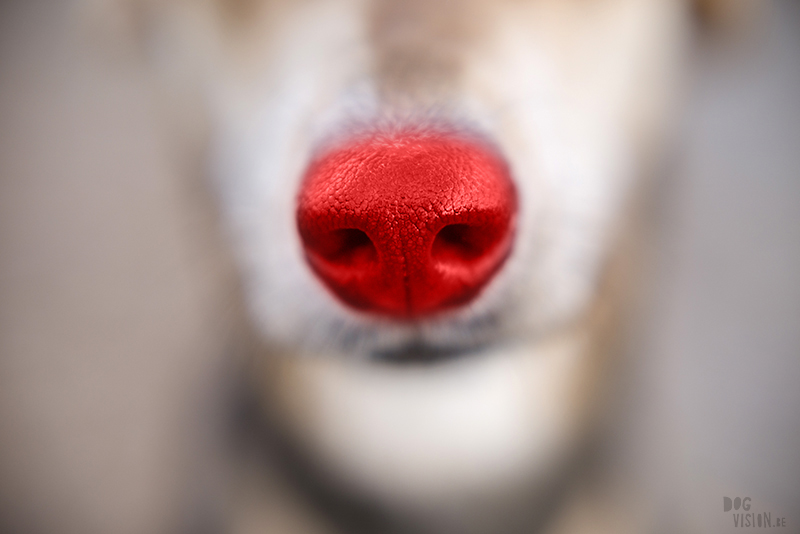 27. Christmas socks.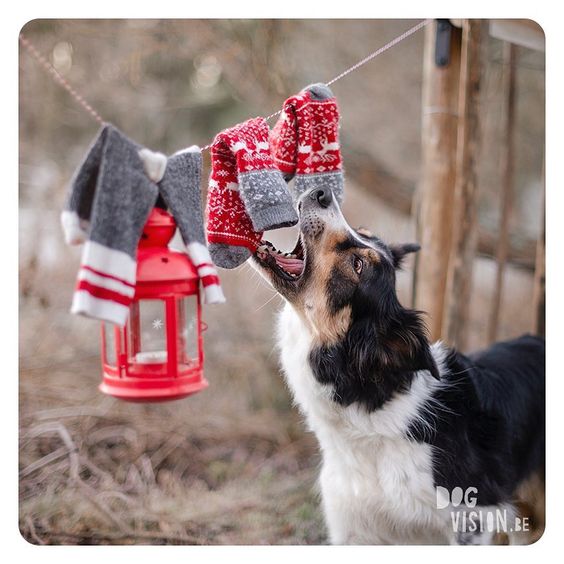 Other ideas:
– Matching pajamas.
– Back of the truck/with a tree.
– Together under a blanket.
– Baking dog cookies.
– Snowman fun.
– Santa's hands in the picture.
Did you find an idea to try?