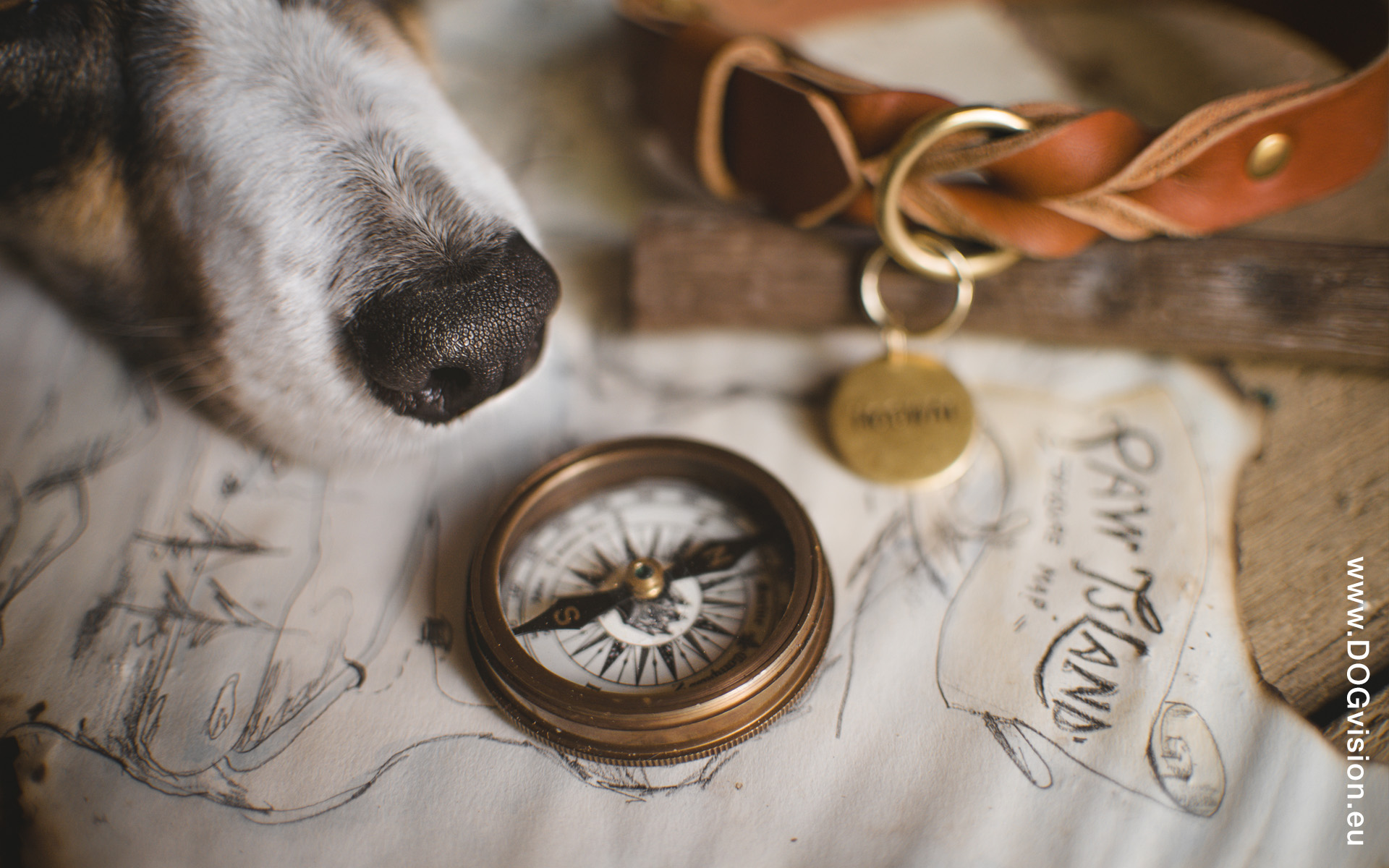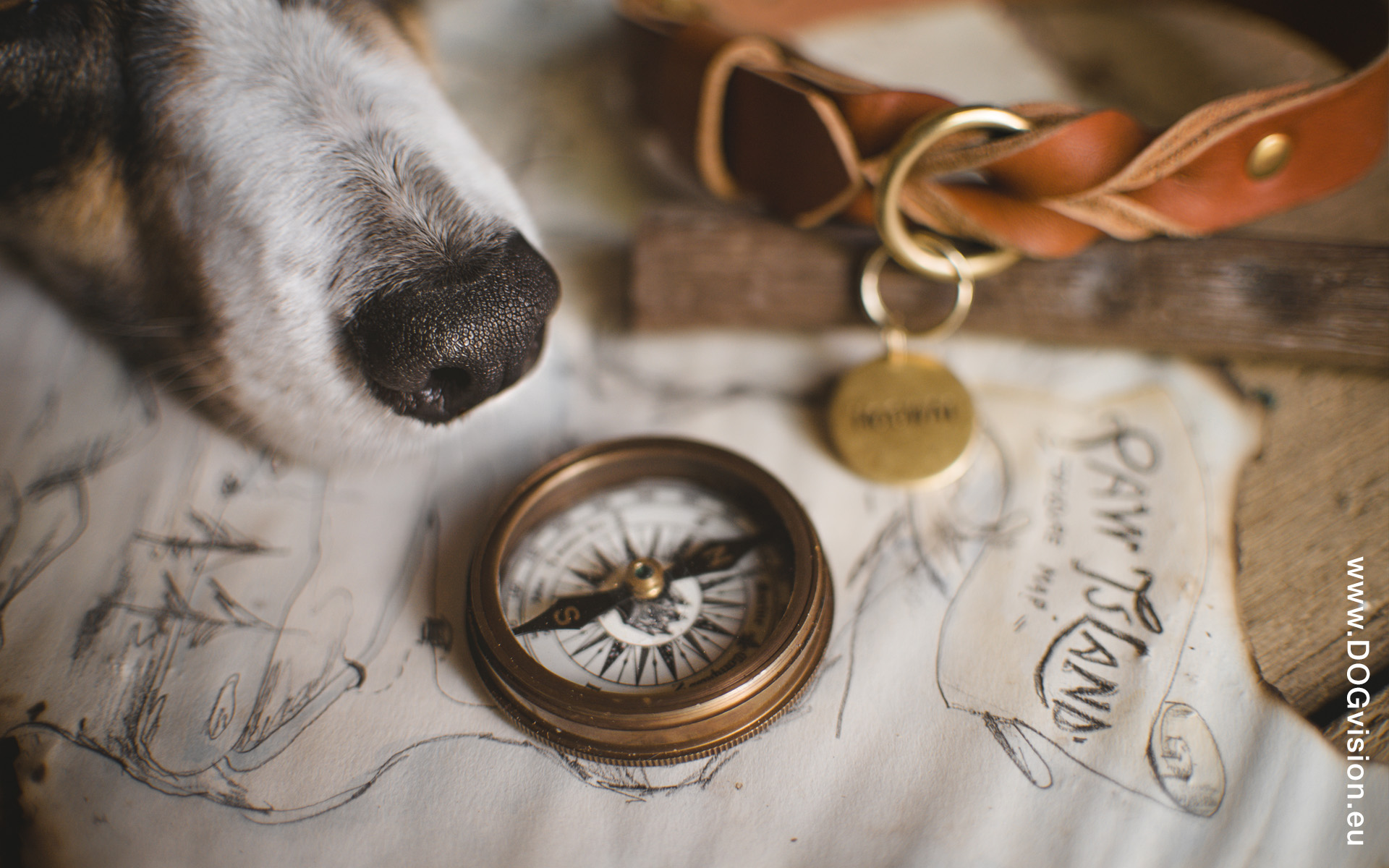 I love the natural look of my dogs without any collar or other stuff and that is how I sed to take most photographs too, but living here in the countryside up north, traveling, wandering around in the woods, there is a need for extra safety, visibility, and identification.


One day, a big dog showed up in my garden. Yes a dog, despite Joeri's first thought was a wolf. I carefully went outside with some dog biscuits and a leash to capture the impressive but very friendly beast. She was wearing a collar but no ID tag or anything on her. When this happened in Belgium, I mostly just visited some neighbors or any place like the vet to get a chip read. So together with the friendly girls, I started to visit the people in our village, asking them if anyone knew this dog. No one did. In the end, one of my neighbors suggested bringing her to a police station- but he laughed when I thought there would be one in the next village. No no, it's further away, and he suggested taking her. By the time she would be identified, many hours had passed since she probably disappeared from her home. And that feeling must have been terrible for the owners. We had this issue too, with Oona when she was younger and suddenly got the door open and ran into the night. There isn't much traffic here but the woods are endless and interesting smells never-ending.
Except for Mogwai who never leaves my side, Oona and Lizzie will barely ever be fully naked but always wearing some kind of tag. And yes, they have a microchip but just in case they end up somewhere in the village, anyone will be able to contact me without having to look for a scanner (which can be a challenge here).
Throughout the years, many types have been tested but for durability and aesthetics- because well, I'm still a photographer 🙂
The first type that we quickly got from a shop after Oona's run for freedom, was the old-fashioned tube with a piece of paper in. Perhaps that works for pigeons but my dogs lost them rather quickly. I'm pretty sure that by now there is a tree growing in a forest somewhere that had our number as leaves. I also didn't find them nice-looking in the pictures as they are very reflective but not pretty. Since Oona had some more attempts at embracing her wild nature, I also wrote our number and my e-mail on the inside of almost all her collars.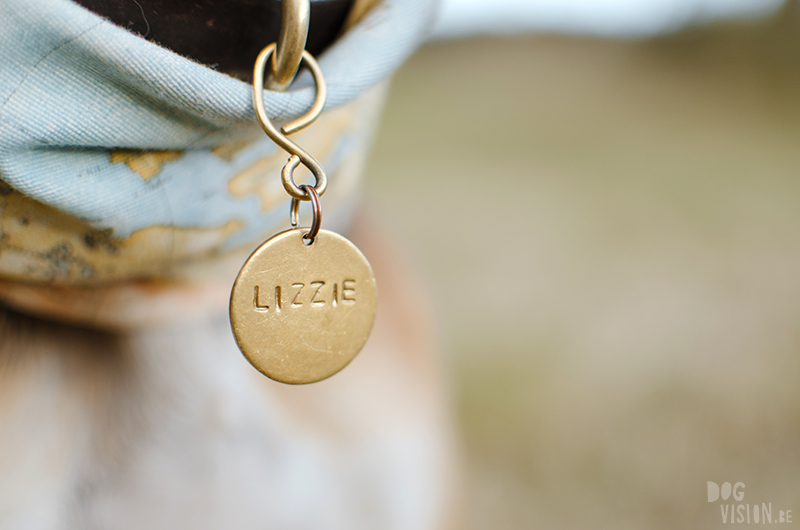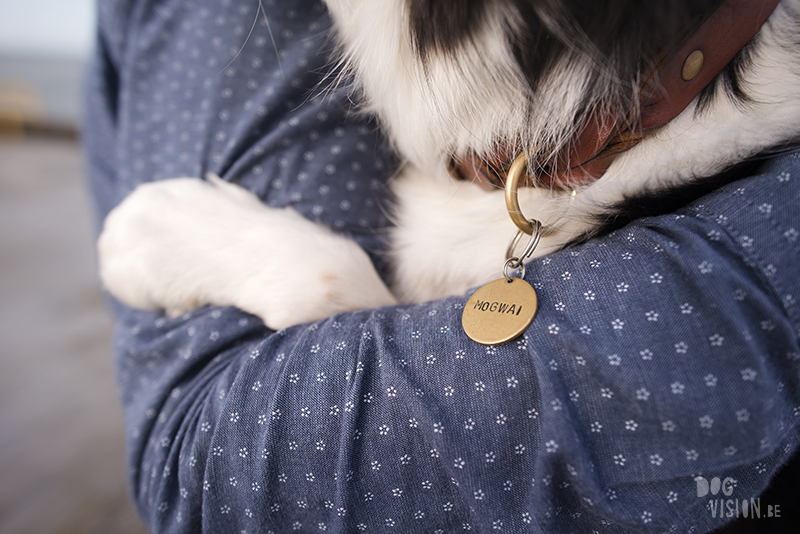 So we browsed the internet, looking for options and there are now 2 types that we like to use. My favorites are hand stamped metal tags that have their name on one side and our phone number on the other side. They are simple yet beautiful and I especially love them with a leather collar. The ones we have are all by Pines and Bones. However pretty, they do need some care to keep shining so when I clean and moisture the collars, I also polish the name tags. It's not that much work and I find it oddly satisfying 🙂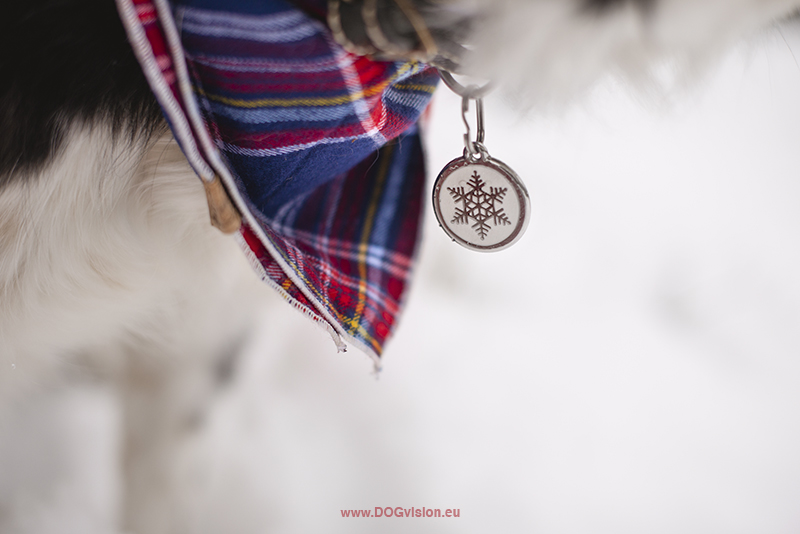 The second type is a fun and quirky type by Red Dingo and we have them with snowflakes, bugs, and paws. They don't need extra care (only check if the rings are still good) and they have more lines with information. The big ones, for example, also have my e-mail on them. I think they look best combined with fabric collars or their tick-repellant collars. I had great fun picking designs and colors that would match each of my dogs.
I know that many photographers prefer a dog without a collar in the pictures, but I have a different approach. When I did shoots, I noticed that for many of my clients, the collars were a treasure, just like they are for my dogs. They often last many years and many adventures, they soak up memories and when our friends cross the rainbow bridge, it's something we keep and cherish. That's why I rather spent some time looking for the right collar and tag than editing them out in every image or stopping the moment to take a photo without the collar. To me, photographs shouldn't just be pretty stills that capture a dog as if he were a soulless object. No. I want my photographs to capture real moments, emotions, stories, and memories to keep for later.
That's why I've been looking at ways to incorporate collars and tags into photographs.