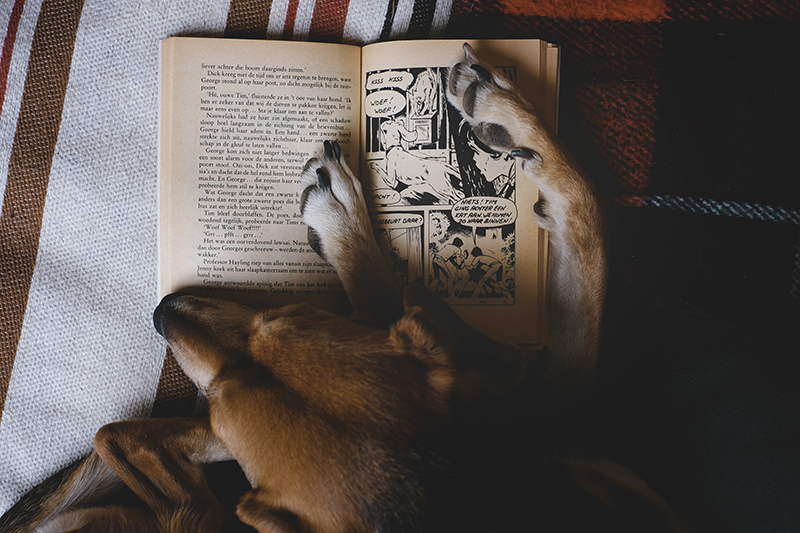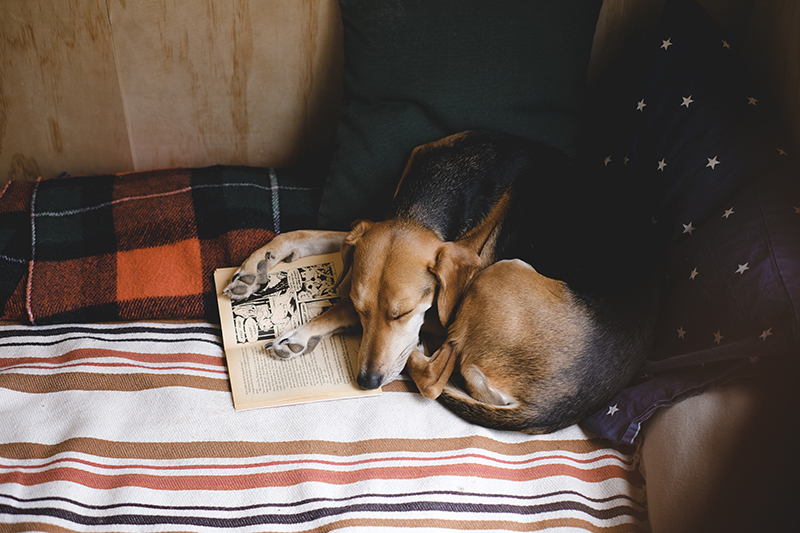 Not a dog was moving in the little cabin in the woods. Curled up on blankets and piles of pillows, Mogwai, Oona, and Lizzie listened to the patter of the rain on the roof until they fell asleep. Big drops rolled down the large windows, but inside it was nice and warm.
Curious Lizzie had found an old book that she secretly started reading, getting more and more absorbed by the mystery unfolding- but most of all, wanting to know all about Timmy. Soon, however, the relaxing rhythm of the soft drumming of the rain made her eyelids heavy, her breathing slowed down, and off she went to the land of dreams.
…But not for very long.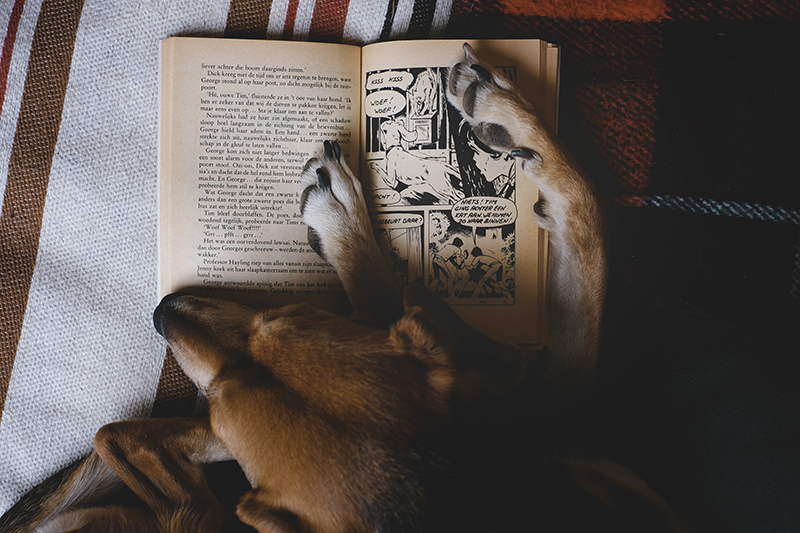 "Hey, what's that?" asked Mogwai, the oldest of the three, and the one who always wants to know what you're doing. Sometimes the intense look in her eyes intimidates the others, but this time, Lizzie was too excited about what she found to not share the story. After all, a book isn't really like finding a smelly antler or bone in the woods, right?
"It's a book that I found, "and she showed a bright red cover with a drawing of some people, a dog, and a boat, "it's about a really brave dog named Timmy who helps to solve mysteries!" Her whiskers quivered with excitement as she tried to drag Mogwai into the story.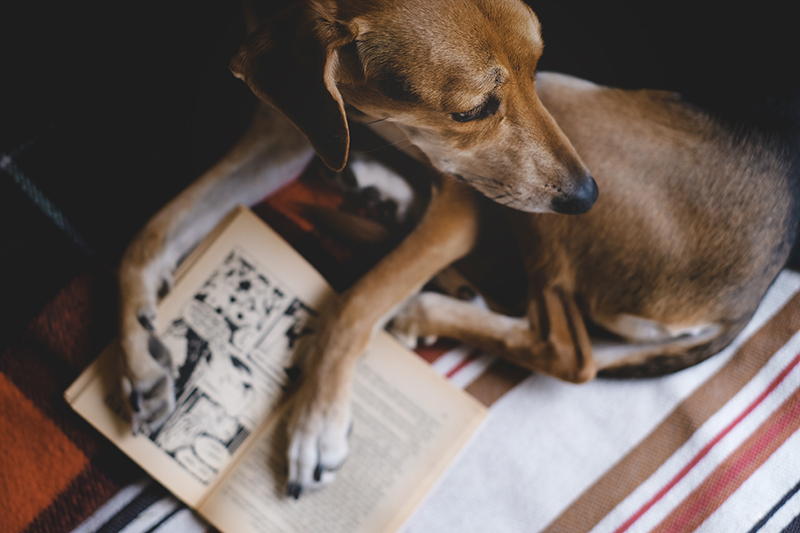 But Mogwai wasn't so easily excited by tales as she would be about sheep or bright yellow tennis balls.
"There is also a series on TV, and you know what…"Lizzie paused for a second to make Mogwai more curious, "in the books, Timmy is a mutt, just like Oona and I, but in the series, he's a very smart Border Collie!"
Now Mogwai tilted her head and pricked up her ears. She wasn't only more interested in the movement and action of a series than a book, being surrounded by hounds for most of her life, she did like watching some Border Collie action on screen.
"The famous five, they are called, and while the people are smart, it is Timmy who scares away smugglers and thieves and he even finds them food sometimes!" Lizzie wanted to tell everything at the same time. The excitement in her voice woke up Oona, who for once wasn't grumpy when being disturbed by the little one, but rather fascinated by the pictures of a big dog with floppy ears.
Then Lizzie got quiet for a second. She stared at the pages and whispered "I wish I was as brave as Timmy…"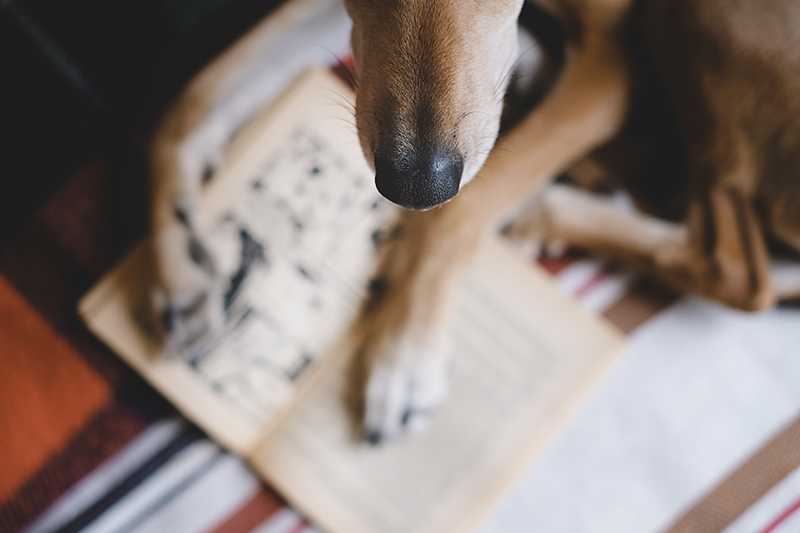 Oona, always very protective, rushed over to Lizzie and pushed her wet nose gently against Lizzie's cheek. "Perhaps, little one, you might be one day"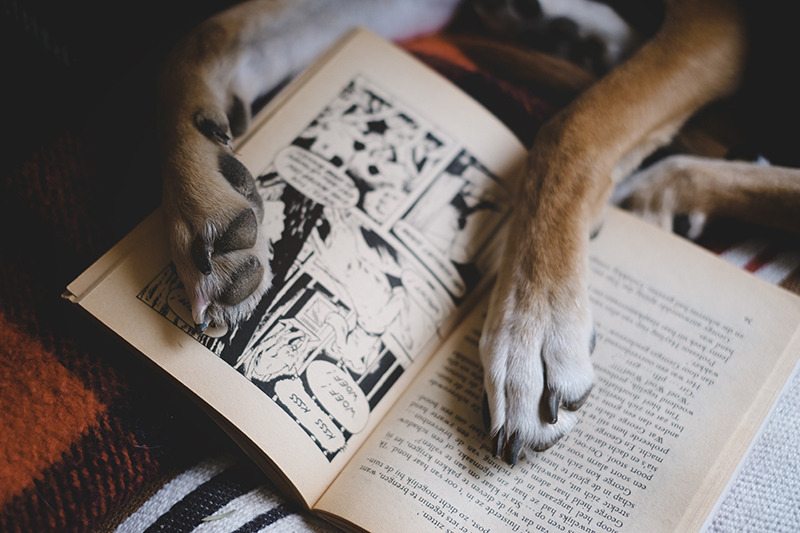 Mogwai quickly read some pages and giggled when she imagined Timmy stealing some ham- she had stolen a bag with cookies a few nights before, leaving nothing but an empty bag. Timmy however, brought the treasure to his crew to share.
"Perhaps we can all learn a bit from your hero," said Mogwai, and she realized that if they would have to shadow a bandit one day, she had no subtility skills. Unlike the others who were naturals at disappearing in any natural environment, the marks on her coat made her even super visible, even in the moonlight.
Unlike Oona, she never sneaked out of the house to practice her outdoor skills, nor could she hide under blankets like Lizzie, so she decided to practice her camouflage skills and tried to hide behind some rainboots.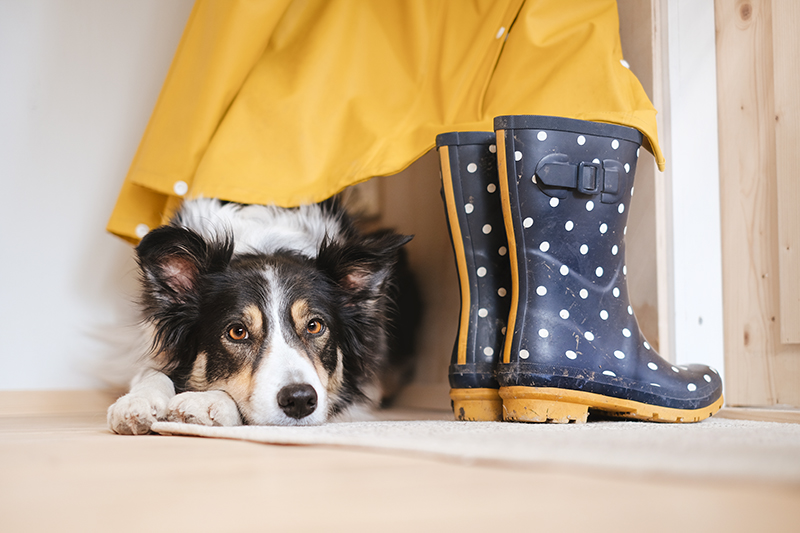 Oona and Lizzie were laughing out loud at Mo's attempts when suddenly footsteps approached.
"Shh, Mo, hide, this is your chance to practice!" whispered Oona and she quickly rolled up like a fox and pretended to be asleep.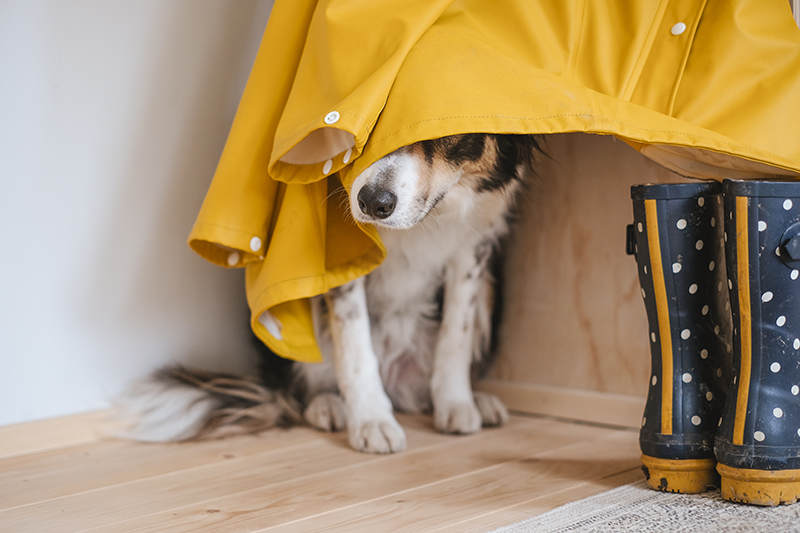 From behind the bright yellow coat that she had quickly pulled over her head, Mogwai heard a voice calling her name and she had to resist the urge to jump up and run towards her friend. From underneath the hem of the coat, she could get a glimpse of warm socks making their way across the cabin. What a challenge it was for Mogwai to stay still!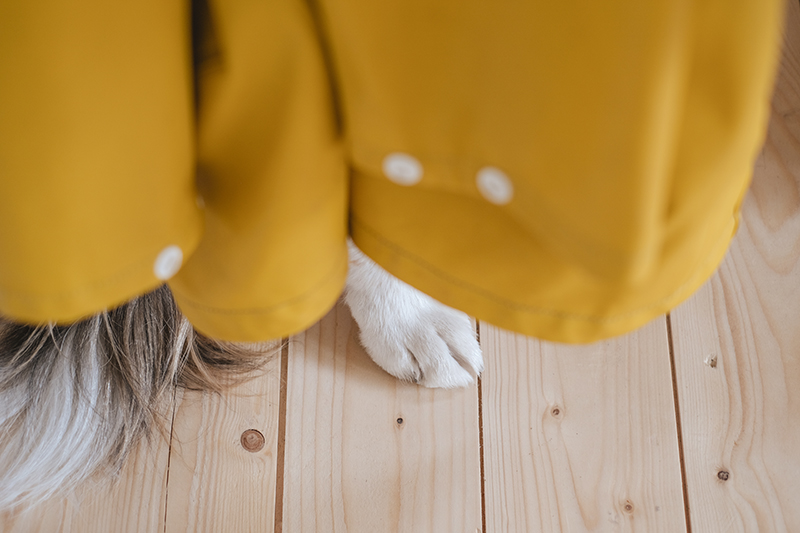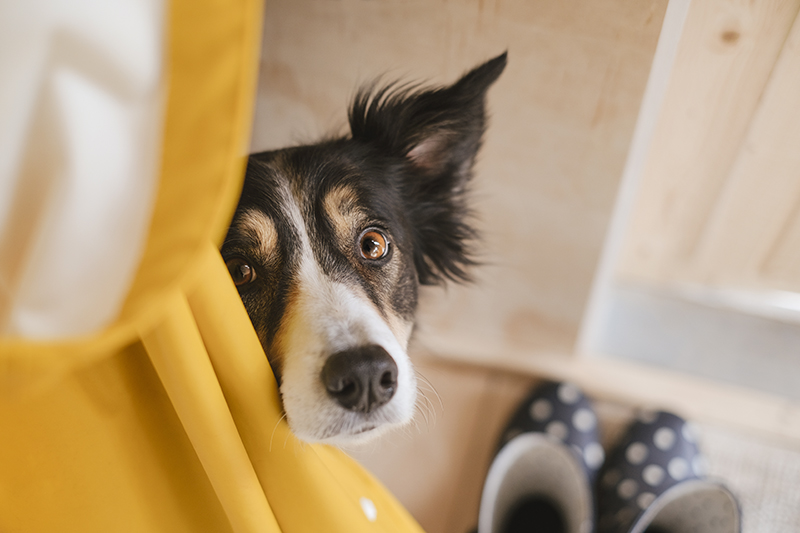 She peeked from behind the coat and saw Lizzie and Oona chuckle but she couldn't stay quiet any longer when she saw that it was time to go for a walk.
"Tadaaa! Here I am!" Happily wagging, Mogwai appeared from behind the coat, happy, a bit proud, and very ready to go for a walk.