Nordic seasons and my dogs
Here in Sweden, the seasons all have their unique character and there is no escaping 🙂
Summers with endless sunlight versus dark and cold winters, we have it all. Since moving here, the biggest change in our lifestyle is probably the influence of natural light on our routine.
So how about the dogs? How do they handle the seasons?
It's a question that I get rather often. All 3 of my dogs are very different, so they have their own favorite and least favorite weather type too 🙂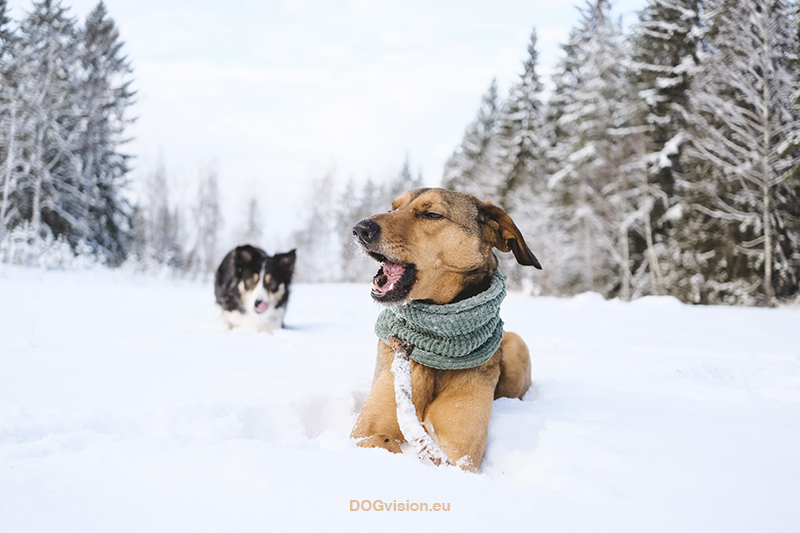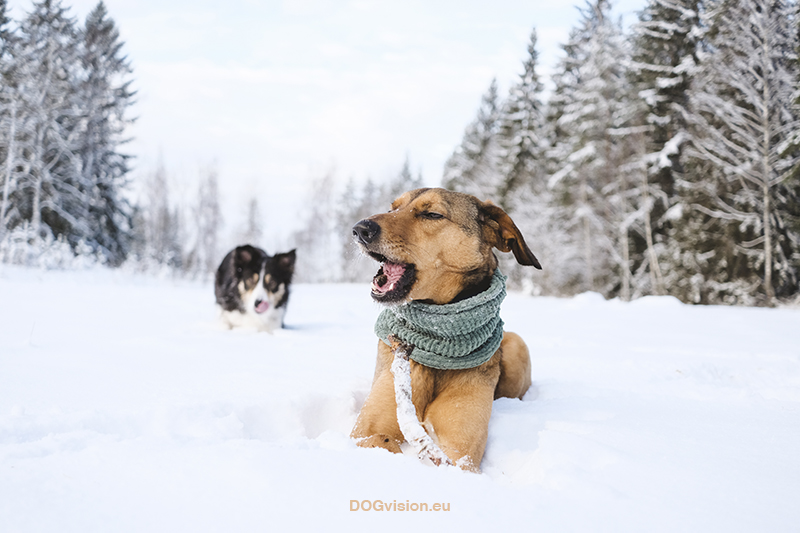 1. Winter.
For us, humans, winter is definitely the most challenging when it comes to getting dressed properly, learning how to heat a house, shoveling snow, switching tires in time, and dealing with the darkness.
The best tip that we got when we moved here was to go for a walk every day around noon. It might not look like there is a lot of light, but any light we can get is something. For photographers, if it's slightly cloudy in December, I might need ISO 800, f 1,8 to get something around 1/125s at noon. Since we moved here, we plan or work around our walks so that we can go out at least an hour, often longer to get some light. These long and often off-leash walks help the dogs too to get rid of all excess energy, to sniff and play, to be dirty dogs, and have a good time. After these walks, they mostly just want some sleep and maybe a snack :-). I haven't noticed any of them really struggling with the short days.
Winter is the coldest in January/February with temperatures that can drop to -25*C. Lakes are mostly frozen and when the snow falls, it mostly remains for a while. Hiking isn't always easy as many roads aren't cleared and we can get a lot of snow- which feels a bit like dragging yourself through soft sand. So except for walking in the woods, we can also go skiing, walking on the lakes or sliding around on a spark.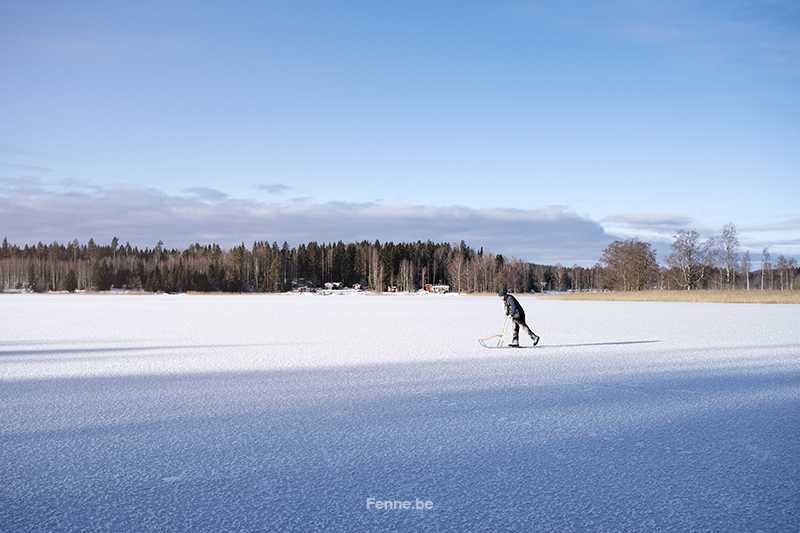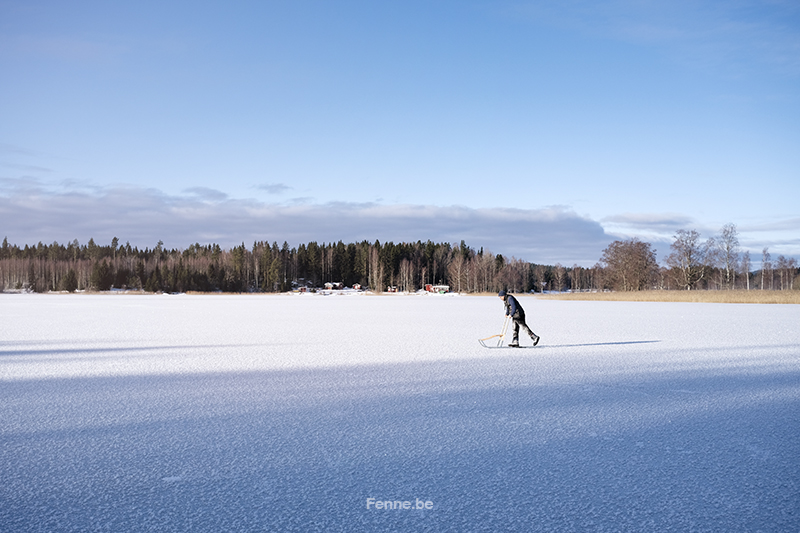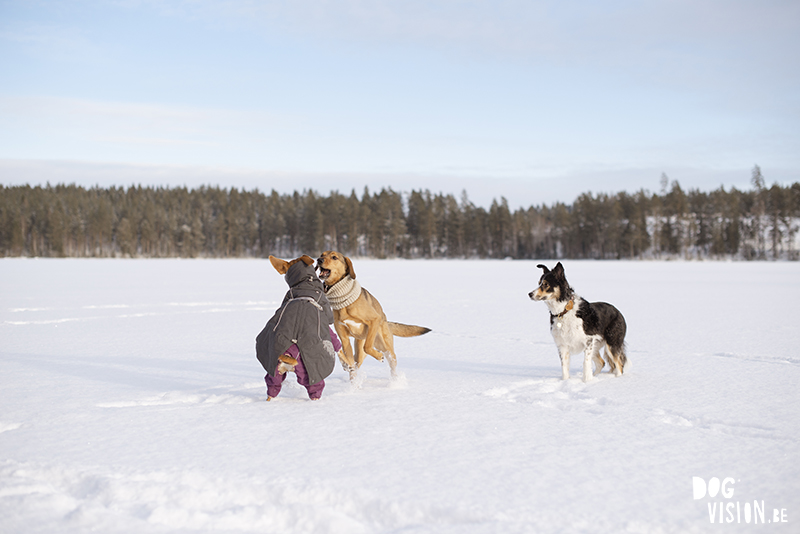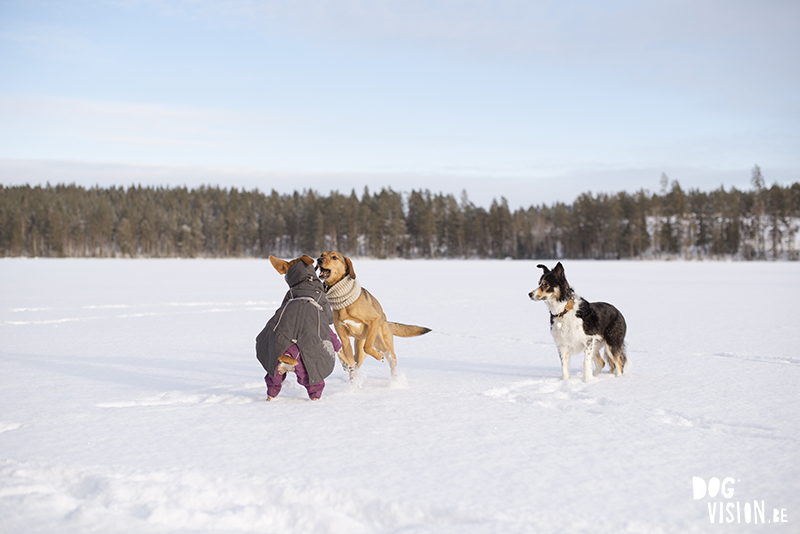 – Oona has the least trouble with cold, snow, rain, or other wintery characteristics. She rolls in the snow, eats it, and hardly ever gets ice between her toes (only with very wet snow this has occurred). Her fur is short but thick. I've never seen her being cold/shivering. When we go for a longer hike or car ride, we do bring a coat for her too.
-Mogwai loves winter, especially the snow in which she loves to roll around and play rough with Oona. We do, however, have to keep an eye on ice between her toes and snowballs building up in the fur at her hind leg and elbows. Mogwai is a senior dog by now so despite not showing any signs of cold yet, we do bring a coat for the ride home. We also wax her paws to try and prevent ice from building up in between her toes.
– Lizzie is a Greek goddess who hates cold weather. There are still people out there laughing about dogs with coats and how they should get a chance to adapt,… it's nonsense. This dog is genetically not able to grow thick warm fur. It would be like going outside at -20 and expecting your shirt to transform into a woolen sweater. So Lizzie has coats and sweaters to get through the cold season. I made some basic fleece sweaters, but she also has a full-body suit, an extreme warmer, and a coat lined with fleece. The best thing about winter according to Lizzie? Sauna! We had to teach her the difference between 'sauna warm' and 'sauna cold' because she would be running to the door every time we'd come close. She has her own towel, insists on laying on the top seat, has a button to ask us to open the door and as long as she's inside we make sure she can open the door from the inside (and we don't make steam).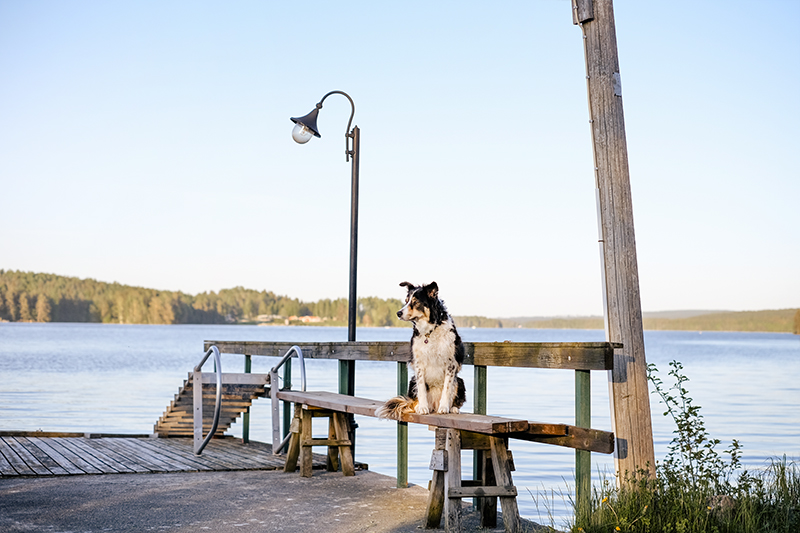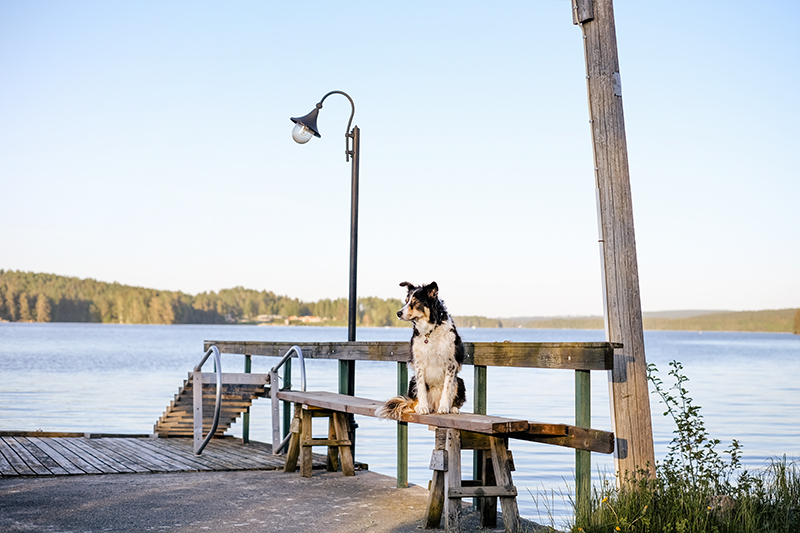 2. Spring.
Spring arrives late. We might throw the last snow in the huge fires at Valborg which is the last day of April. But then the transformation goes fast. While we might spot a green leaf of grass or maybe a single flower at first, suddenly nature explodes in color and life. Flowers come out, trees get leaves and the Swedish airforce (aka mosquitoes) are ready for the battle. My favorite thing about spring is the purple and pink sea of lupines.
After the snow melts away, hiking gets so much easier. The air stays crisp for a rather long time but the days get longer very quickly so that fuels us with nature's energy.
If there is a lot of snow to melt, we might turn into muddy monsters on our walks, especially Mogwai.
Oona just trods happily from winter into spring, leaving hair everywhere but that's it.
Mogwai is the one who always gets the muddiest but in return, she doesn't shed too much.
Lizzie, the poor girl is again the worst off. She gets lots of mosquito bites and hates the flying beasts as much as we do. But with her short coat, she's easy to clean so she can avoid most shower sessions :-).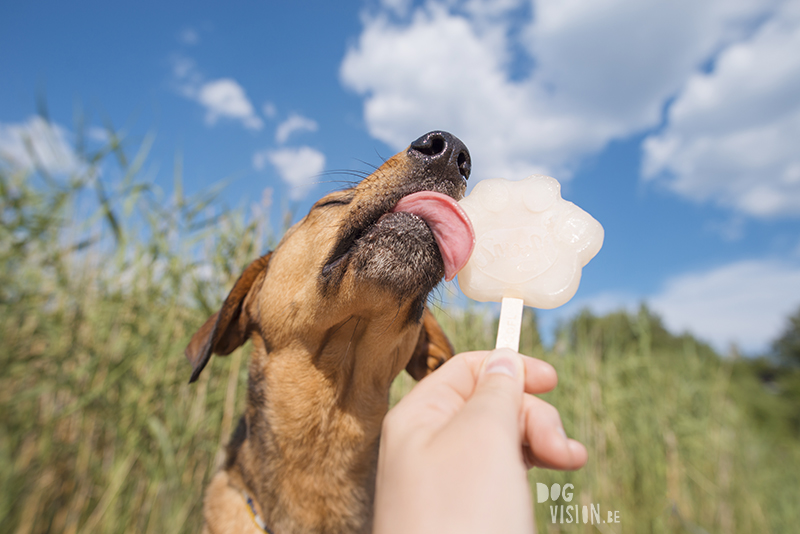 3. Summer
Summer is one hell of a magical time here in the Nordics. We have some sort of night with the sun setting behind the horizon for a short period of time, but it never gets fully dark. A lot of people find this very difficult to get some sleep but despite being confused by the time, when I go to bed I just close my eyes and I'm off. During summer we hike less. This starts from the time the young animals are born up to mid-August. Both for the safety of the young animals as for my own dogs. We don't want to upset a mother moose but also have no desire to be bitten by snakes, ticks, and other flying/biting stuff. Instead, we go swimming, paddling, and camping. We do walk a bit, of course, but no long trails in the woods, but rather visiting villages or exploring some countryside roads. Also hanging out in our garden is something the dogs just adore as much as we do. Snoozing in the sun, checking the sheds for mice, and chasing each other.
The fact that it's almost 24/7 light doesn't seem to bother them at all. As active as they might be during the day, in any season we have an evening ritual which is taking them outside for a pee, and then we go upstairs, fill their water bowl, brush our teeth and get to bed. They just know the day is done.
Mogwai adores summer for all the time in/on the lakes. She loves swimming and she loves retrieving toys from the water. We only have to stop her in time because she wouldn't give up on her own.
Oona is the only one that sometimes struggles with summer. She isn't a big fan of the heat. She likes snoozing in the morning sun, but will otherwise find a cool spot in the shade or inside. This year we got her a cooling vest to help her a bit.
Lizzie, as you can imagine is made for summer. She's never too hot, never out of energy, and she loves soaking up all the warmth she can get. She hates swimming and hates getting wet, but she does enjoy joining us on the paddleboard because then she can spot beavers and other animals. The only thing that scares her is unexpected objects sticking out of the water. She reacts to them as if there are crocodiles in the water. In summer, we also close off the living room at night because otherwise, she would be up all night, standing behind the window to check if she can spot hares or foxes in the garden.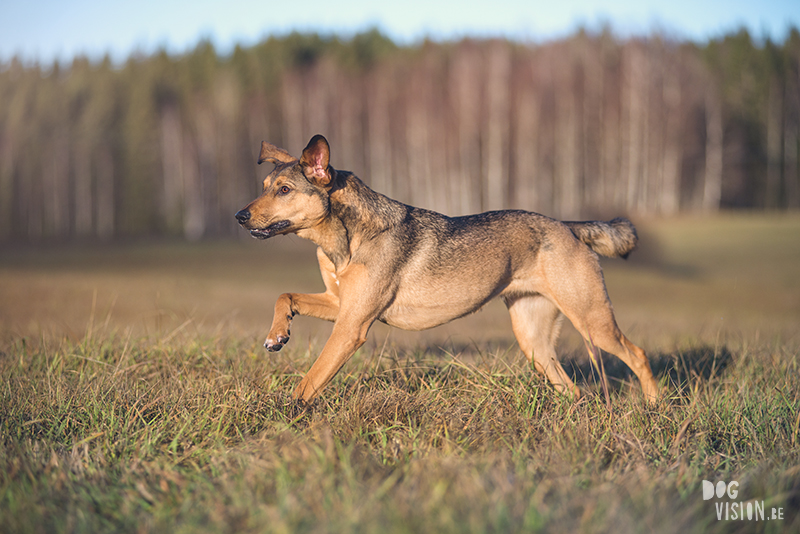 4. Autumn
When autumn arrives, both Oona and I sigh in relief. The fresh air is back! So are the rainboots, raincoats. and dog-coats :D. Early autumn treats us with blueberries, something all the dogs LOVE! When we go berry picking, we have to keep a close watch on our containers, but they have no issue with picking some themselves. With autumn moving towards winter, our hikes take place earlier and earlier. I'm more of an evening person and I also prefer to have my work done before ending the day with a nice walk. But as the sun sets earlier, we have to adapt. For the dogs, it doesn't make much difference and autumn is an absolutely stunning season to go on long hikes and fika outdoors.
For Lizzie, there is only one thing worse than the cold of winter: cold rain! When it's freezing, it's so much easier to dress warm and protect yourself from the cold, but when the clouds cry, it's a sad day for Lizzie too. Every morning, all 3 dogs wait by the door, excited to run outside into the garden or going for a morning walk. But if Lizzie spots the rain, she often just turns back, right on that first step haha. "Nope, not doing this!" you see her think, and back inside she goes.