Our favorite dog harnesses (and what we use them for)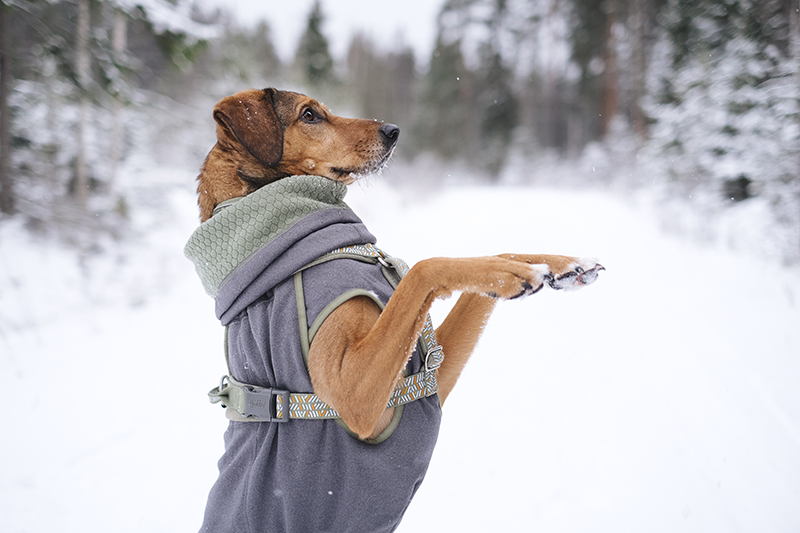 It wasn't that long ago that I wasn't a fan of harnesses. At the time, the city was our daily environment and we were constantly searching for space to let the dogs run free, play, and run. Harnesses, I thought, only make dogs pull more, leaving you with very little control if they do so. With 3 to 5 dogs to walk, most between 25 and 30 kilos, the thought seemed horrific and my focus was much more on proper leash walking (and recalling if off leash).
Fast forward a few years and Lizzie joins our pack. She was a shy rescue from Crete, often overwhelmed by the big world. Like most rescues, I started with a safety harness that she wore 24/7, but as I saw her insecurities fade away during our hikes, especially if she was allowed to pull, I switched to a more comfortable hiking harness. And she thrived! When I put a harness on, she goes into forward focus and she's unstoppable.
What about that proper leash walking you might wonder?
– With our current lifestyle, walking on a leash isn't the most important skill, but we do have an important rule: when the dogs wear a harness they are allowed to pull. If they wear a collar, that means calm walking without pulling.
I have to admit that I wished that I could still take my dogs to restaurants, bars, social gatherings, cabins, and more, but that just doesn't happen here. We have a lot of freedom to roam, but in some ways, Sweden is not dog-friendly/dog minded.
– I know that training is the most important aspect of leash manners, it's not the harness itself that makes a dog pull.
– With Oona we are still working on her reactive moments and I personally feel safer with her harness that she can't get out of as easily as her collar. She's also not pulling on her throat/neck if she's barking and jumping. I certainly wish that this wouldn't be an issue, but it's a challenge that we always have to be prepared for.
So which harnesses do we like and why?
1. Freemotion harness from Nonstop dogwear.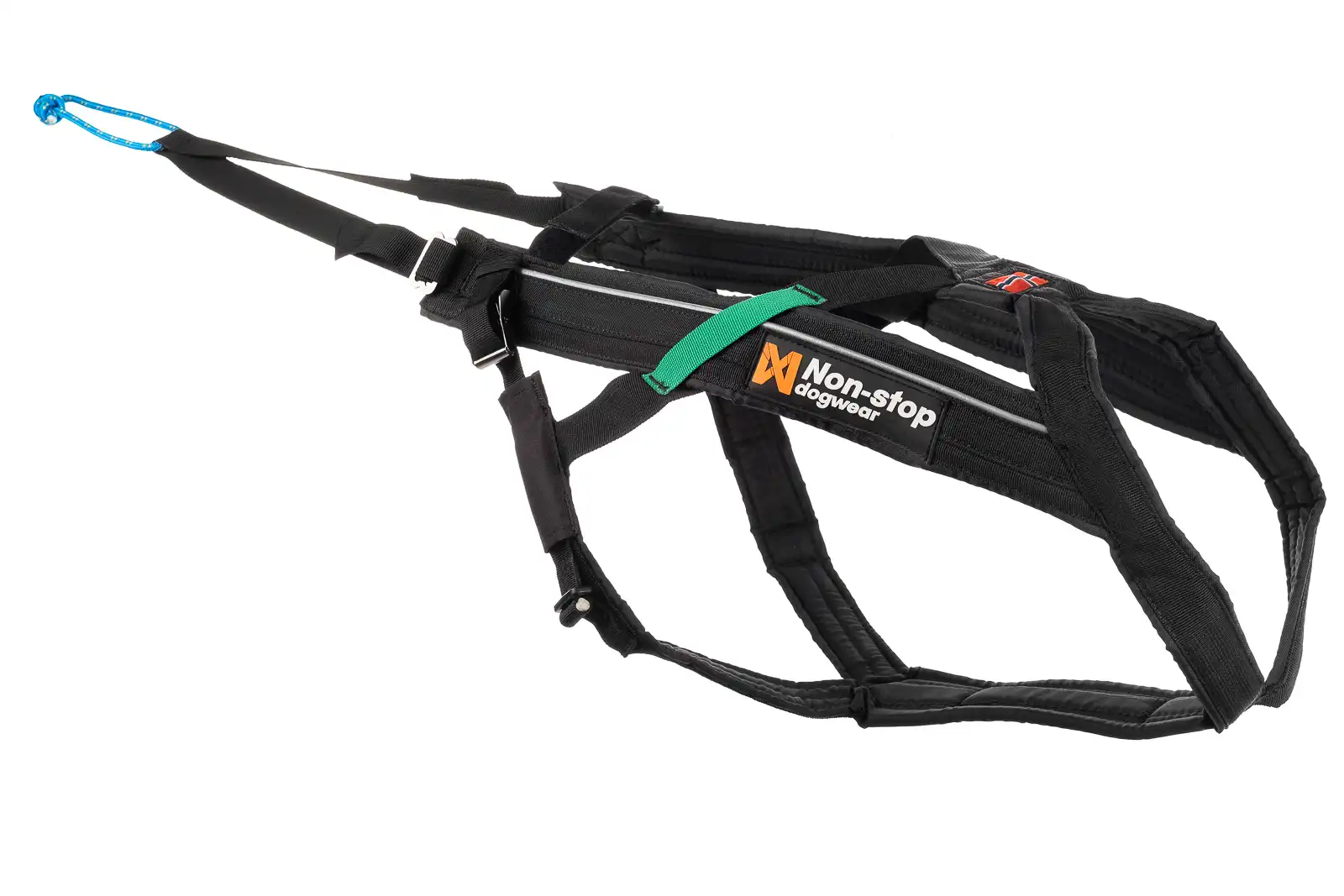 This harness is made for pulling. It's durable, has no sharp edges, keeps the shoulders free, and distributes the pulling force. I use this one specifically for Lizzie and in combination with a hiking belt and bungee leash.
Downside:
– it does not fit in combination with Lizzie's winter coats and sweaters.
– the long tail makes it unsuitable for hikes where we let the dogs run off-leash too.
2. Razzle Dazzle Y- harness from Hurtta.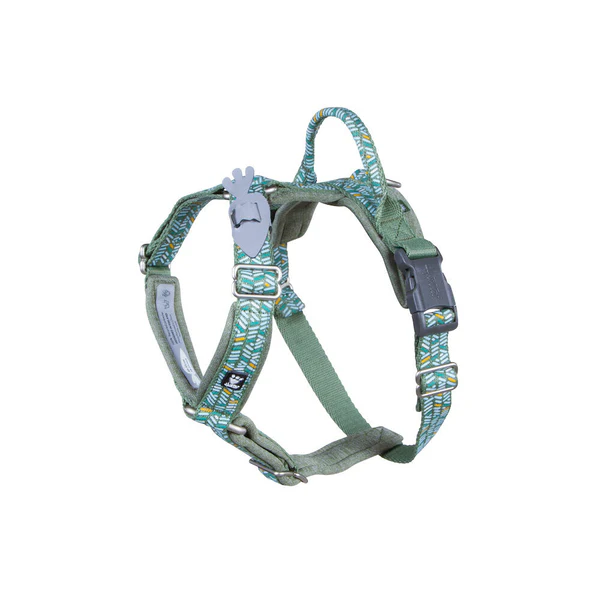 Available in several fun colors, this harness is easy, joyful, and perfect for daily use. I use it for car rides, daily walks, and a pop of color on Oona (for visibility),…
The harness is padded with soft yet durable fabric that even after a full year of use through all seasons shows no signs of damage.
Since Oona and Mogwai don't pull that much, it's a perfect harness for them. With Lizzie, I use it for shorter hikes, or when there is off-leash playtime planned.
I also use it in combination with Lizzie's rain/winter coats as the back ring is available through the coat.
At first, I thought the large handle was a bit too XL, but it comes in handy. We've been able to help Oona when she hurt her paw, we can quickly grab her if there are deer passing, or we can give them extra support if they have doubts about crossing a wobbly bridge or something like that.
3. Weekend warrior harness from Hurtta.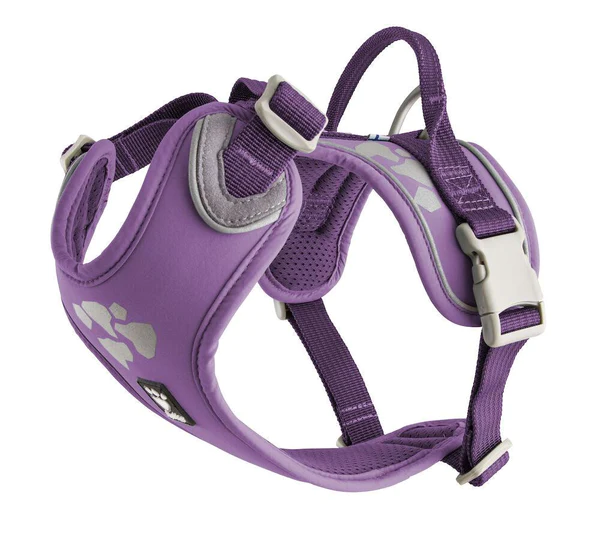 Soft, fun colors available and very adjustable, those are the things that I love the most about this harness. I used it mostly for Lizzie to put over her Hurtta midlayer or overall but it even fits Oona and Mogwai!
4. Front range harness from Ruffwear.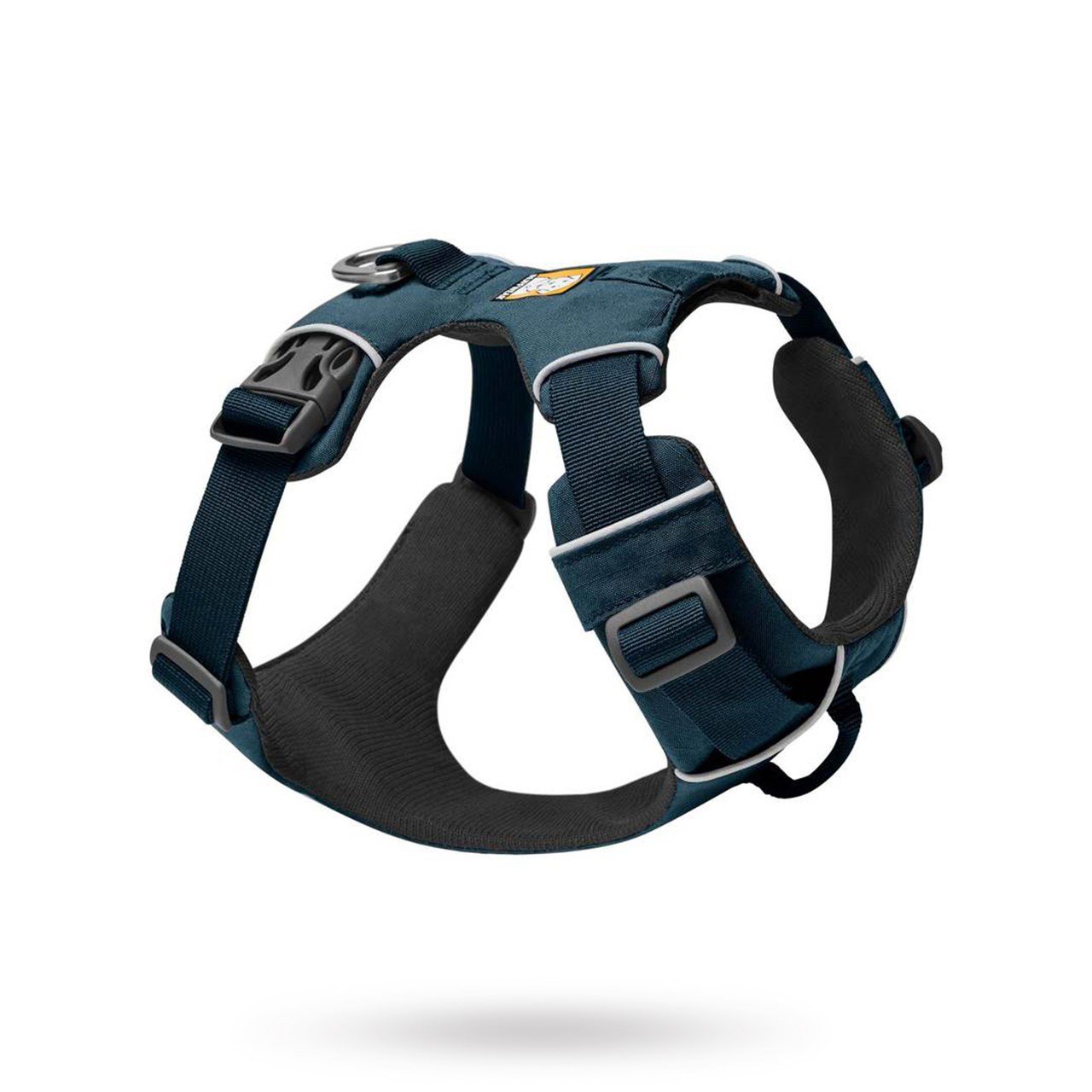 Available in pretty colors (yes, I just love color), great fit for my dogs, and very sturdy. I like it how it's soft on the dogs, and supports them very well, but is also rather minimalist as the different parts aren't (or don't look) that big.
Downside:
– Ruffwear isn't widely available where we live.
– Not a downside, but I personally never use a front attachment on a harness and believe that it's not a healthy way to redirect pulling.