Some Procreate experiments for Instagram highlights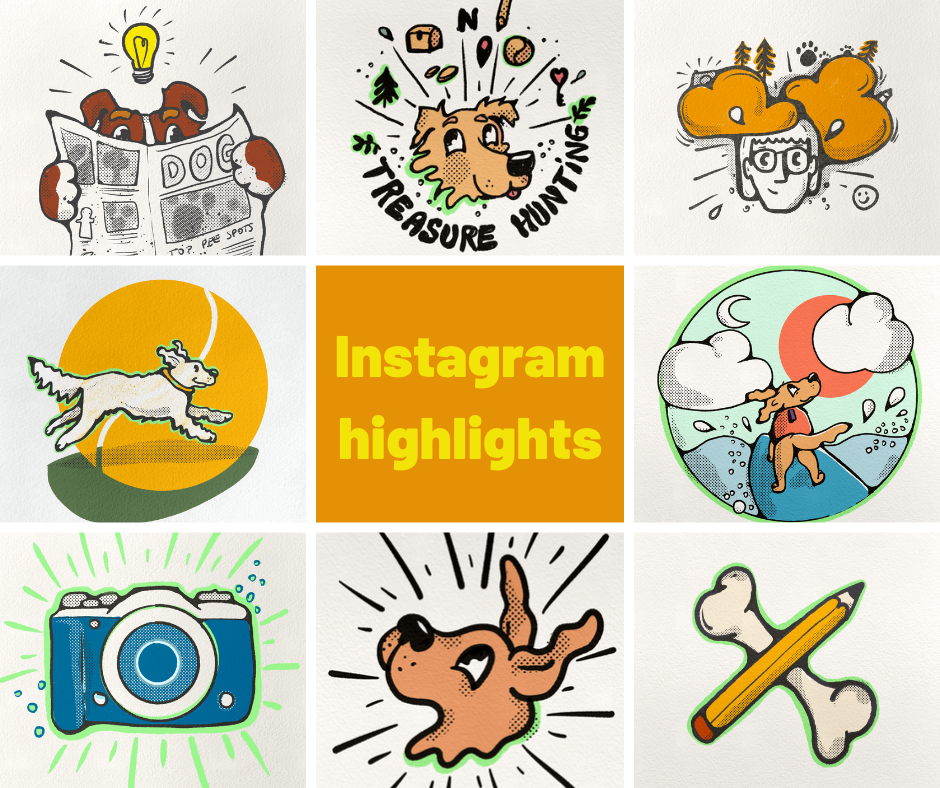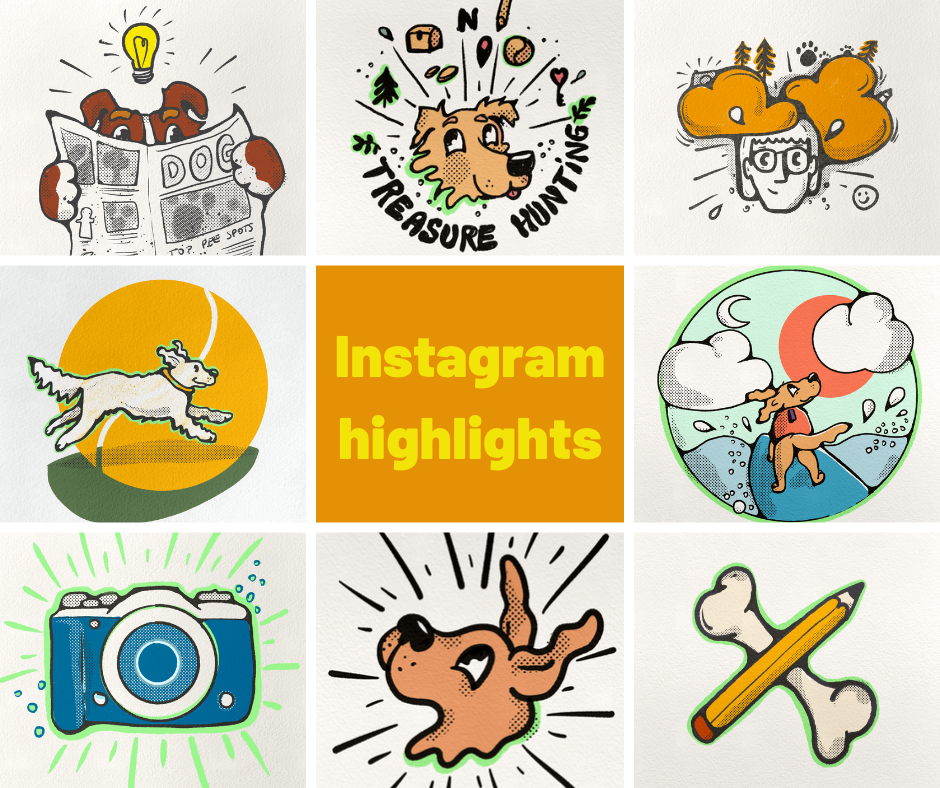 I've been drawing my whole life, and an illustrator since 2017, but until now, two things were missing: dogs and digital drawings.
Honestly, I have no idea why I haven't been drawing any dogs, except for some sketches of my own dogs in sketchbooks. A few years ago, I came up with a little project of illustrating dogs, but I abandoned it pretty quickly as I just couldn't find a balance between how I normally draw, what I wanted my dog drawings to look like, and the kind of drawings that are often expected from dog-illustrators.
I know from both photography and illustration, that a style is something that will only grow and develop with a lot of practice. Perhaps I thought that, since I did put in so many hours of illustration, I should have developed a style in dog illustration too. But since this is a totally different topic (and I don't want it in my usual style), I might have to start all over.
The second thing, the digital stuff… I've always admired digital artists, especially when they are able to create things with a lot of texture and soul, but that didn't translate to a desire to create digital work too. The biggest reason is my love for all the hands-on dirty and smelly techniques. The scent of a print, the texture of paint coming from my brushes, the way ink spreads on paper, the scratching of pens and pencils,… Making and creating things with my hands is my happy place. My biggest source of joy (after the dogs). This experience doesn't translate to digital where your eyes are glued to a screen and every brush, pencil, or texture has the same feeling: apple pencil or computer mouse. There is very little joy in that for me.
One day, I decided to get into digital drawing. I got an iPad, installed Procreate, and … got extremely frustrated. it felt like drawing with my left hand. I had lost all feeling for size/dimension, and line thickness, … It felt as if I had never drawn before. So clumsy! And the program Illustrator was even worse! Drawing by clicking and dragging dots,… horrible! lol
This isn't for me, I thought, but I did start incorporating small digital elements in my illustrations, I've created patterns in Illustrator, and now and then I practiced digital drawing in Procreate. I'm definitely not at 10 000 hours, and I still feel very clumsy, but I decided that a small project like an Instagram highlight makeover, would be fun and purposeful.
It's not completely finished, but I had a great time experimenting and playing with colors and different digital brushes. One particular proof that I was having fun? One evening I thought I would just adjust a few colors,… and suddenly it was 3.30 in the morning! Oops!
My favorite Procreate brushes at the moment:
– Marker
– Dry ink
– Dot
– 6B pencil
I also add a paper texture layer, just to give it a bit of an analog feeling.