Tips & tricks: Taking your dog on a road trip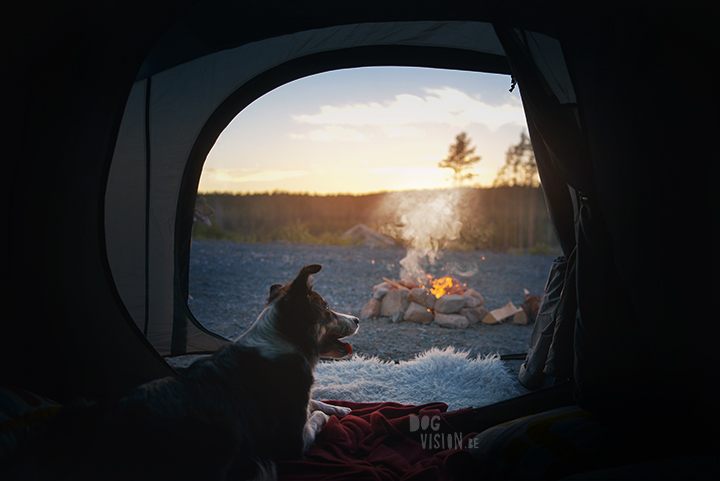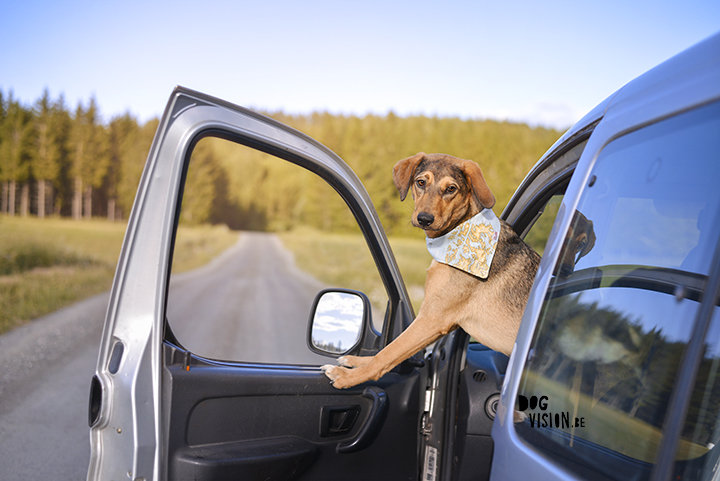 We love to go on road trips big and small with our dogs and we're very lucky that until now, all of them, love it as much as we do. But perhaps this wandering around and sniffing new places is in their nature? Once we pack our bags and hit the road, we feel free and curious. The winding roads, the ever-changing horizons and unknown towns give us the travel tickles. We feed our wandering souls the beauty of both burning sunsets and cold clouds. Off course, road trips can be made as luxurious of as basic as you like. The way we travel might not be the fanciest way but it sure is a way to go back to basics: finding a place to sleep, spent time together, having some simple food and going crazy over a hot chocolate by a campfire that started right away.
Note: Our doggy-road-trips are always in Europe as we are originally from Belgium and now live in Sweden and we don't feel comfortable with taking our dogs on a plane across the ocean although we know (and have seen) some crazy beautiful places on the other side of the world.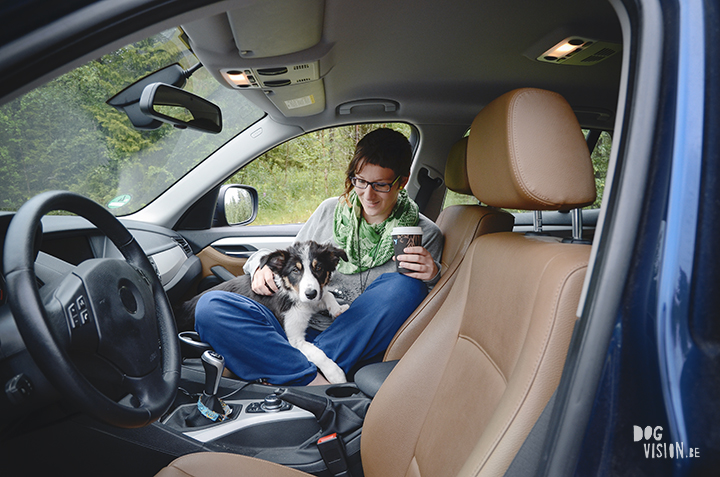 Road trip pups
It's a coincidence but all of our dogs got into road trips rather early in their lives. Ravasz his first big road trip was when we traveled from his home country Hungary to Belgium when he was 9 weeks old. He was so curious every time we stopped the car to explore a new place. Mogwai's first big trip was when she was 3 months old and we traveled from Belgium to North Cape in Norway. Oona was born on the streets in Bosnia and we adopted her when she was about 4-5 months old. The rescue organization drove her first to the Netherlands where we met her, then we traveled to Belgium for a few weeks to give her some time to get to know our dogs and then she moved to Sweden with us. I still remember the big contrast between arriving in Belgium + meeting two big dogs and arriving in Sweden with snow and ice everywhere. First, she was so insecure, but when arriving in Sweden she was so happy and energetic. All my dogs are rather active but once they step in the car they lay down and sleep until the next stop. A great habit of them!
We always loved traveling with our dogs, but the past years we chose to travel around together to be able to see and explore all different landscapes, to be curious and free. And together we created the most beautiful memories. We climbed some mountains in Lapland (Finland), had some bonfires by lakes, discovered Prague (Czech Republic) and different places in France and Germany. We learned to pick mushrooms in Norway and in Finland we discovered a kind a freedom and a sumptuous landscape we couldn't imagine before.
"I love doing road trips with Chia! Our first one was the day we adopted her, a short 7 hour drive down south from Northern California. Next month we'll be doing a 3-week road trip around Spain! Traveling with Chia totally changed how I view things, I started seeing everything as chia friendly or not and every time we'd spot an area that looked good for Chia to run and explore, we'd pull over for her to do so, which meant we stopped at lots of places I would have usually just admired from behind the car window! Making sure there are dog-friendly places to sleep along the way is important!" Amber Jean, @chiathechihuahua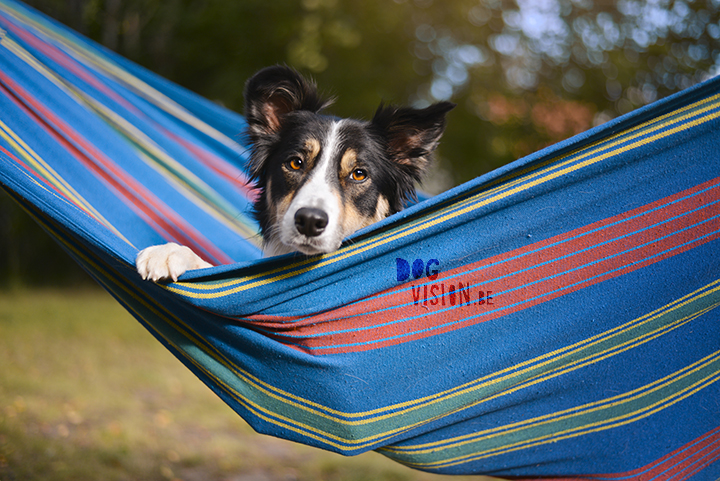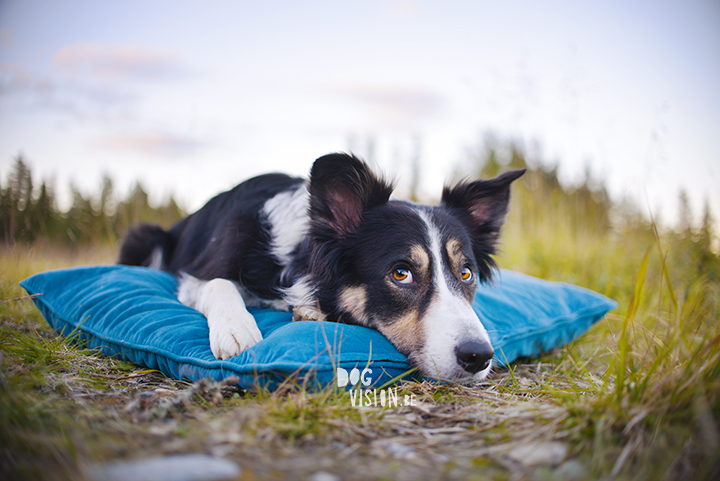 Preparing a road trip.
With our dogs, we travel around Europe, but even then regulations can be very different in different countries. First of all, it 's extremely important to check if your type of dog and breed are welcome at your desired destination. Secondly, you need, of course, all the right vaccinations. I also give my dogs in time something against ticks and fleas. Because a tired dog is a good dog, we go for a good walk and give them some food before leaving (but not too much at once). Sometimes we just leave and see where we end up, but on a longer trip or when passing borders, we look for some dog-friendly places up front.
"I got very lucky in that both my dogs love to just sleep in the car, but advice I'd always give someone who is going to be bringing their dog on a long road trip is to make sure their pup has an active day the day before to make sure there's no pent up energy. That way they are comfortable relaxing in the car especially if you're doing a day long trip.
Also for road trips that might require a hotel pit stop, La Quinta hotel's policy allows two dogs in hotel rooms no extra charge!" Julie Schultz, @tuckerleo_da_huskies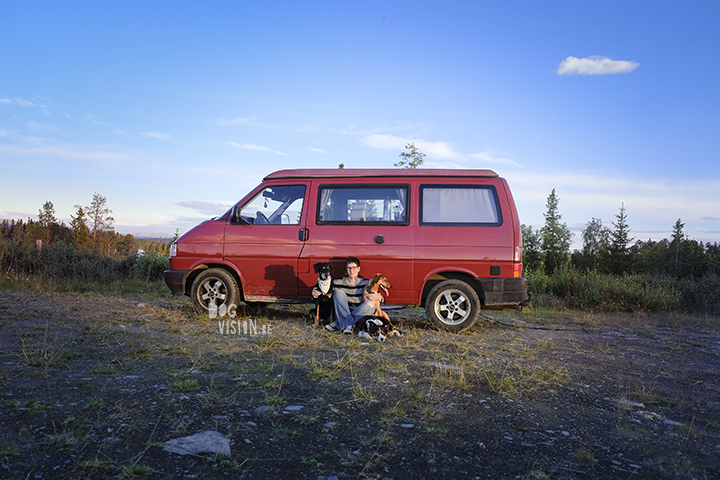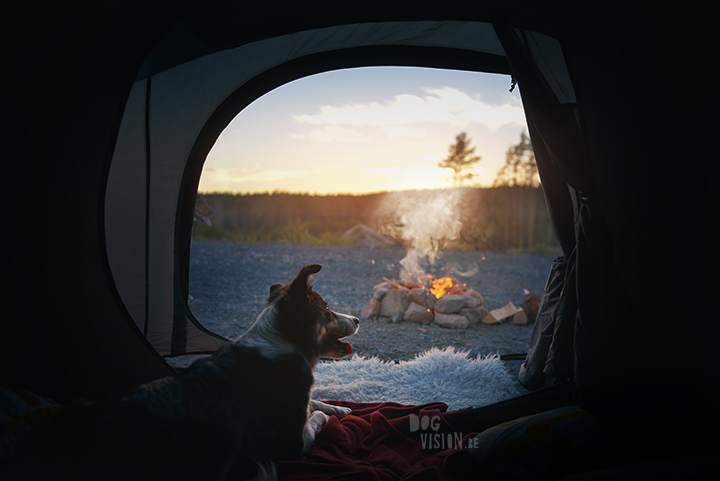 Where we sleep.
Our favorite destination? Scandinavia of course. I guess you knew already :-).
We love to search for the most idyllic camping spots in the forest or by lakes. Except for camping wild, you can also find camping grounds big or small with a nice place for a camper van, a tent, or you can also rent a little cottage. Other alternatives that have been very useful are hostels or the Airbnb- website.
For our dogs, we always bring a washable pillow, picnic blankets (with plastic underneath) and extra warm blankets for when the nights get cold. When we might stay at a youth hostel,  cottage or apartment, we always bring an XL bed cover (also with a plastic layer) to make sure that we can leave all couches and beds clean.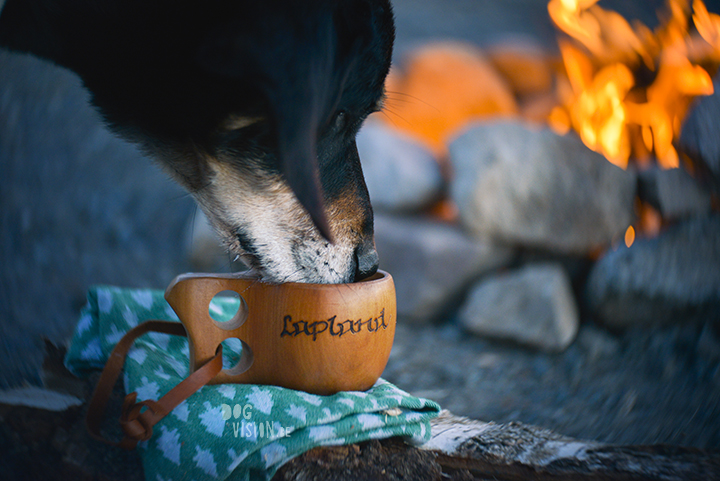 What we eat.
Because we travel often (even if it's just for visiting our home country) we chose to feed dog kibble. After forgetting all of the dog food once, we feed a brand that you can get almost everywhere. Still, we (try at least ahum) to make sure we bring enough food + a little extra. We also have some normal bowls and some foldable to take on a hike.
Not every place where they serve food allows dogs. We noticed that Prague was very dog-friendly but we didn't have the same experience some other countries. Therefore we always make sure that we have something to eat ourselves in case we don't find a dog-friendly place– as we don't let our dogs alone in a warm car, that's absolutely not done. In a campervan, there's mostly a little fridge and a tiny kitchen, with a regular car you can bring a cooling box and a camping stove. If you plan your itinerary up front, you can always google for some dog-friendly restaurants.
"We are currently on a road trip with our pupper it's been great so far! The only thing I worry about is him holding in his pee for too long we pull over every two hours or so and let him have a quick walk,
hoping he will do his business. But on our last big day of driving, it was about 13-14 hours total – he held it for about ten hours JUST SO THAT HE COULD PEE ON LAWN. We were getting so worried about him being dehydrated or not peeing for some other reason, then eventually we found a truck stop that had a tiny patch of lawn. Archie went to it immediately and peed for about 20 seconds (insanely long for a Chihuahua mix with a teensy bladder). Turns out the precious little prince just didn't want to pee on unmanicured scrub on the side of the road don't need to include that lol, I just wanted to share some of our frustration haha.
The only real piece of advice I would give to someone would be to plan ahead. I don't know what it's like in the states but in Australia, most places to stay are not dog-friendly. Most sightseeing spots are also usually national parks so not dog-friendly either. Call local visitors centers for dog-friendly touring suggestions. They often tell you about stuff you can't find online."Melanie Persson @allaboutarchibald
On the road.
Traveling shouldn't only be fun for us, humans. We really want our dogs to have a great time too. Traveling is perfect for bonding, exploring new places together and creating heartwarming memories. Therefore we need to pay attention to their needs, which means: enough hikes, swimming places, a snack now and then and lots of time for cuddles or trick training.
A perfect place to sleep means, to us, a calm place. A quiet corner at a camping ground, a place in the wild or a small hotel. We don't want to wake up from our neighbour's farts but neither do we want to disturb others. A barking dog all day, all night, leftovers from food everywhere, poo or packages are simply disgusting and they might be dangerous* too.
*(Ravasz needed surgery after finding some corn on the floor at a camping ground).
Except for hiking or hanging out, we found great joy in hunting for geocaches! At least one thing we're better at than our dogs. They don't understand the game but always love to watch us seek under rocks or climb trees. I think they now have jokes about us in doggy-language!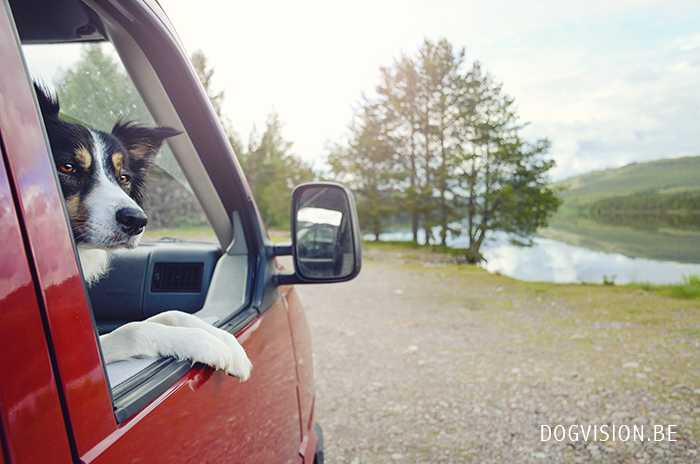 "Road tripping with pups is the best! Besides our trips around Michigan for all of our camping trips, we've taken our 2 girls down south twice. Once for my sister's wedding in Missiouri; and the other down to South Carolina and Georgia (also stopped in Tennessee) for my daughter's military graduation.
The biggest thing that we worried about learning is of all the other 'dangers' we're not used to in our home place of Michigan. For instance, we don't normally have to worry too much about poisonous insects/animals, but there are poisonous snakes and Black Widow spiders down south that we were wary of." Elizabeth Nicole Comai, @1Tale4Paws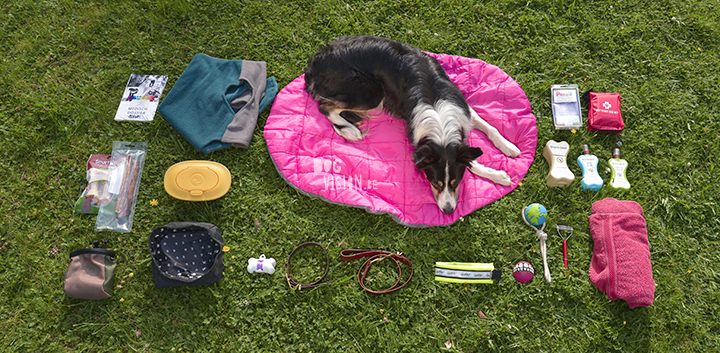 Road trip essentials:
– passport
– medication
– first-aid kit + extra paw protectors (van Pawz).
– towels
– food
– collar & leash (+ one extra)
– poo bags
– dog shampoo. We love our shampoo from Organic Oscar. You can even use it in a river or in a lake as it won't affect the water.
– reflective collar. This one is from Hurtta.
– life vest (in summer) we use Ruffwear.
– dog sweater in fleece. Handmade by Kelakar Clothing.
– toys (also one that floats) –> The more the better, says Mogwai 🙂
– snacks & cookies –> Must be on number one, thinks Ravasz
– foldable bowl. We're using one from Ezydog for almost 10 years.
– brush
– Spray to freshen up the coat (especially useful with my older dog).
– dog bed
– pet wipes to clean some eyes or ears.
– mattress cover
I hope we inspired you to take your pup on your next road trip. If you have any questions or other thought, feel free to leave me a message!
Happy travels!
With special thanks to Elizabeth, Melanie, Julie and Amber Jean for sharing their experiences on the road! 😀