Week 2 of the new year and slowly but surely it gets colder. After a period of a comfortable 0 ° C we now measure days of about -5 ° C. A bit colder, but because there is almost no wind and we have already dug up our thermal underwear, it is not so bad. Last year around this time it was -25 ° C, so compared to that, this is almost tropical weather 🙂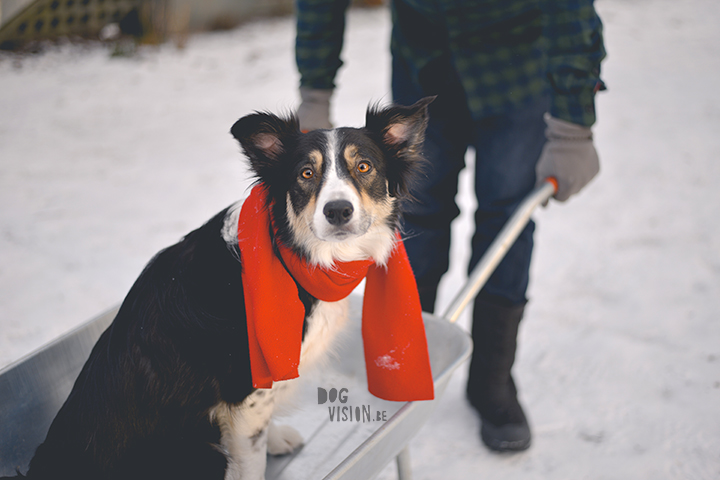 When talking about the new 'Swedish winter chores' and things we did not have to worry about in Belgium: chopping wood for the burner, throwing sand on the path and/or shoveling snow, topping up bird food and waxing dog paws. As soon as the ice is certainly thick enough, I will start cutting the grasses on the lake too. Because I now – unlike in Belgium – really use the garage, I, fortunately, don't have to spend any time scraping the car windows! Hurray! (yes, we learn)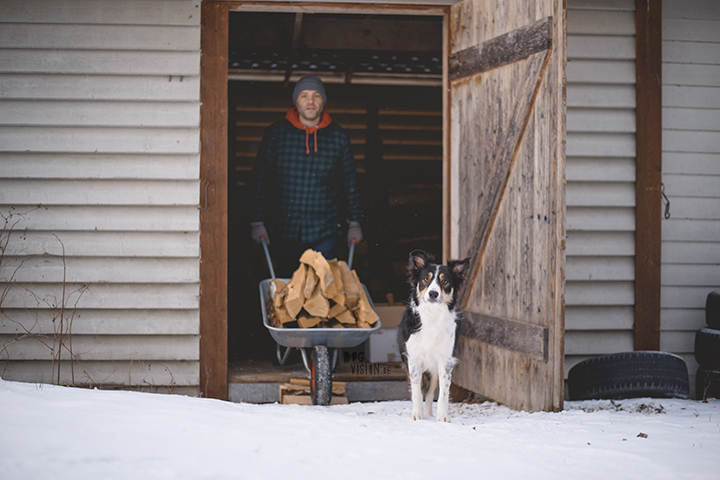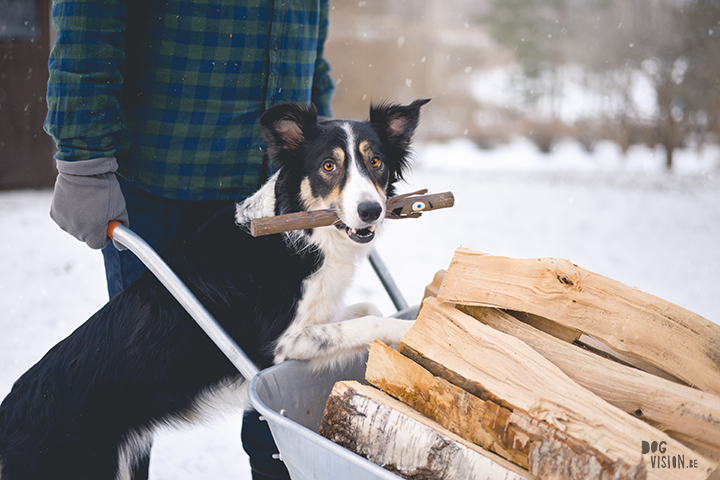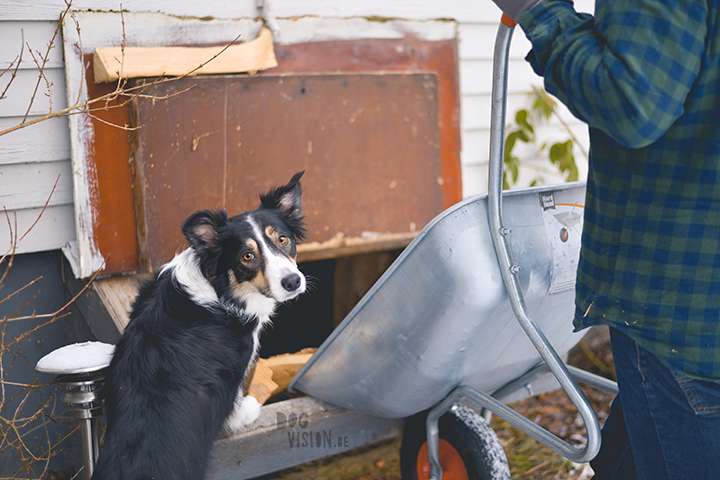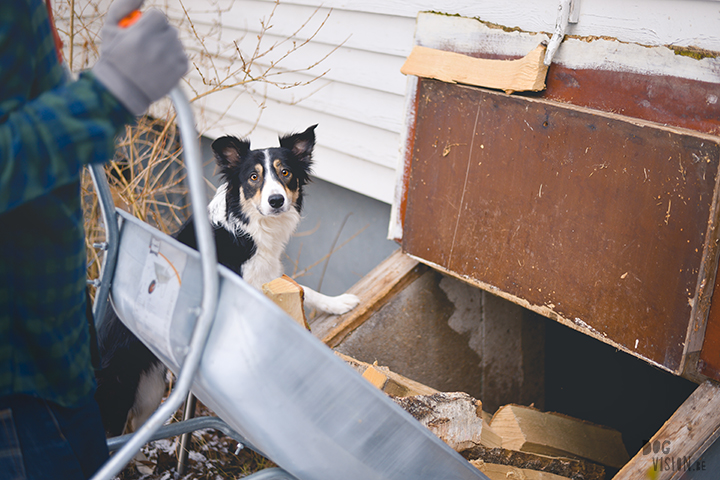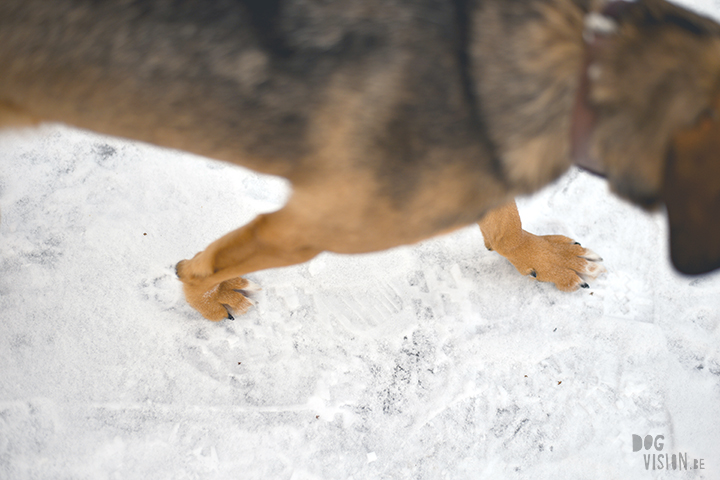 Now that the sun was out and happily shining after 2 dark weeks, we could not help but absorb this solar energy, greedily as happy Labradors. And the next shot by Joeri proves my absolute elegance…. Good that I never wanted to be a ballerina! What I portrayed? You can see that in the 3 photos after this ?
(Because some people think it's a photoshop effect, it's not.)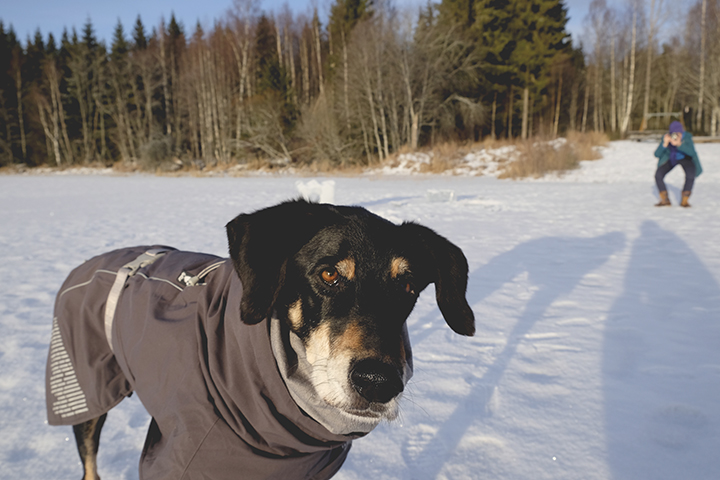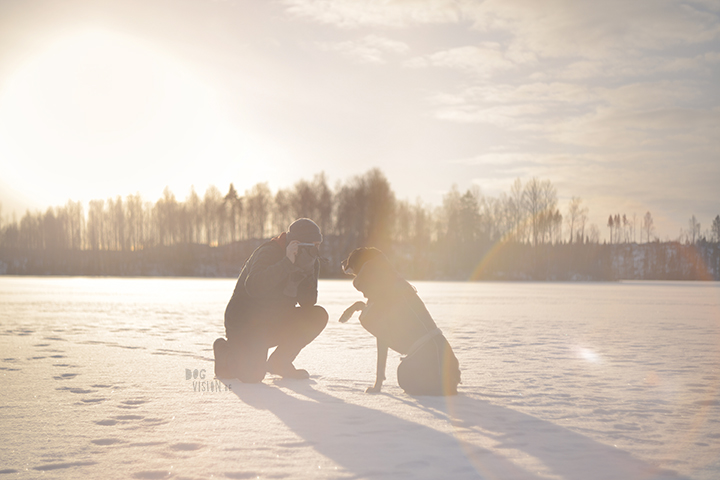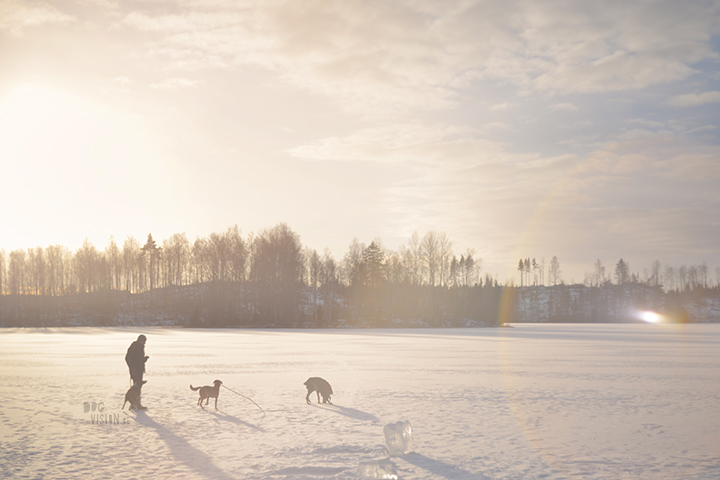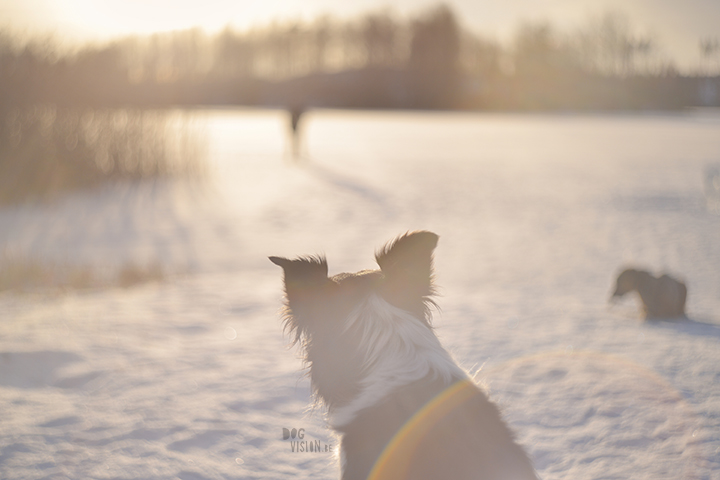 "Do you know what I'm craving right now?" I asked Joeri as we drove through a frozen landscape and had not seen a human being in an hour.
"No, tell me," replied Joeri.
"French fries!" I said hankering.
"But we 're not going to find that here …" Joeri reacted. And unfortunately it's true. The burger restaurants have a kind of fried potato product, but as a Belgian you can hardly call that fries. ?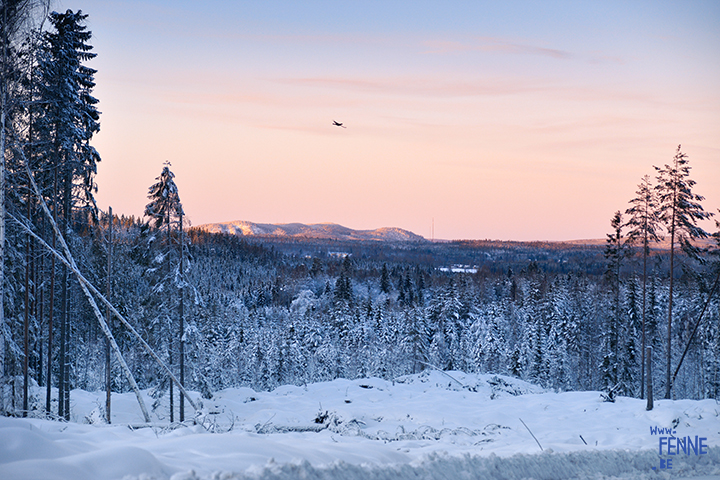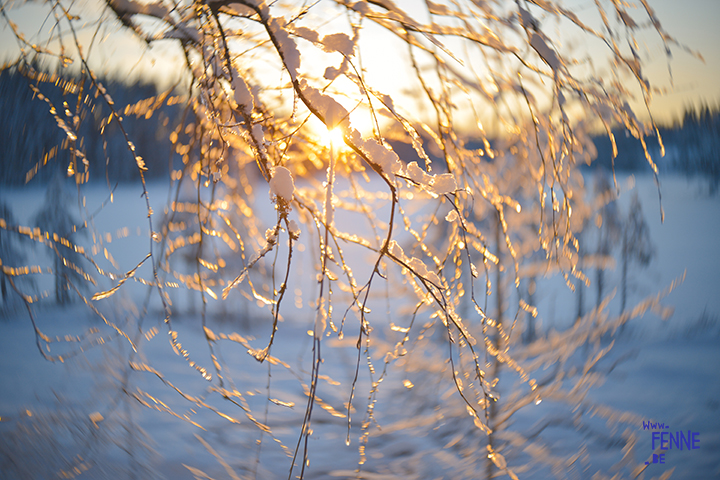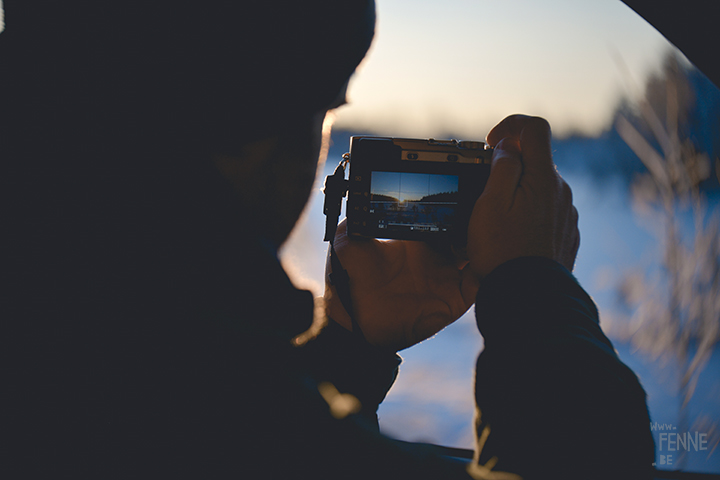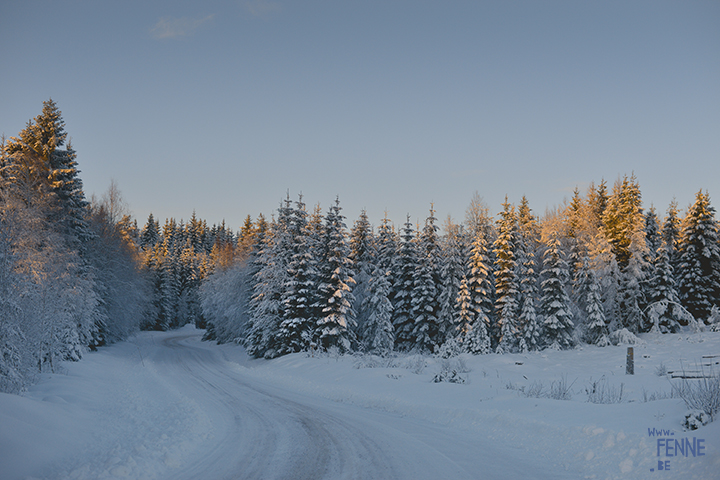 A chat between Ravasz and Joeri (I bet on negotiations about the number of vegetables he gets during cooking):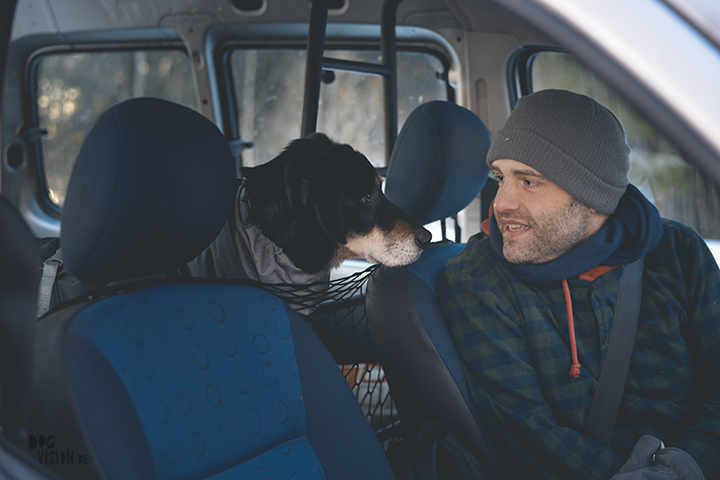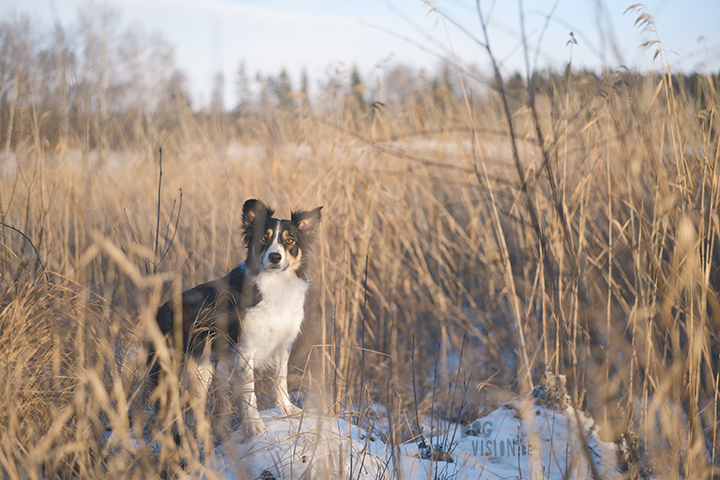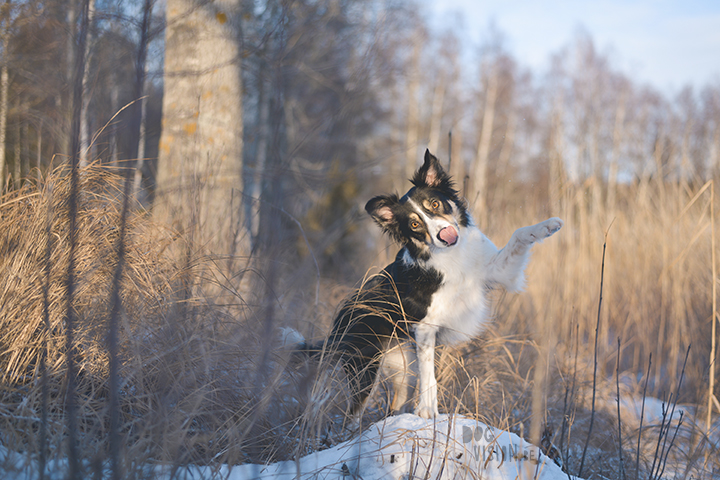 A few months ago I spotted a dog in our garden, which I could then easily lure and take along until I found a solution. But when we saw this dog running on the road, we didn't know what to do. It was clearly a hunting dog. Well equipped with a reflective collar and transmitter but because it was already sunset and he kept nervously running back and forth, I tried to get close to him to call the number on his collar. I tried to lure, throw cookies, … Without success. He tried quickly to pee against my car (bad boy!) before he walked on. We drove after him for a while, he returned, we followed, … until we decided to drive back a few kilometers and stop at a house to report the dog. On the entire route, there were only 2 houses and 1 person actually at home. They did not know the dog and he was not theirs, but they would keep an eye on it. That's all I could not do at that moment, except hoping that the owner finds him before dark (or for the wolves).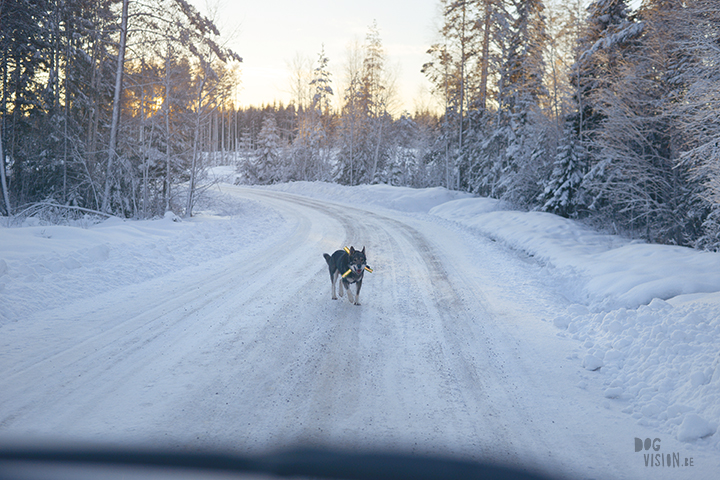 I mentioned before that Oona is really super awkward. That she often falls out of bed for example, or slips in the forest. Something we're definitely working on making her more aware of all four of her legs and that grown-up puppy body. I let her climb, crawl, jump and balance and slowly but surely she makes progress. She learned to curl up in a laundry basket and cardboard box, standing on a car tire with four legs, stepping backward on an object, and so on. All things that come very naturally for Mogwai, but obviously not for Oona. When we used a piece of ice as an exercise for Mogwai, Oona saw this and wanted to try it too. With some encouragement and a whole bunch of unsuccessful attempts, she was finally there – as proud as she could be – on top of that ice block! Yes, she has a good portion of willpower that little devil :-).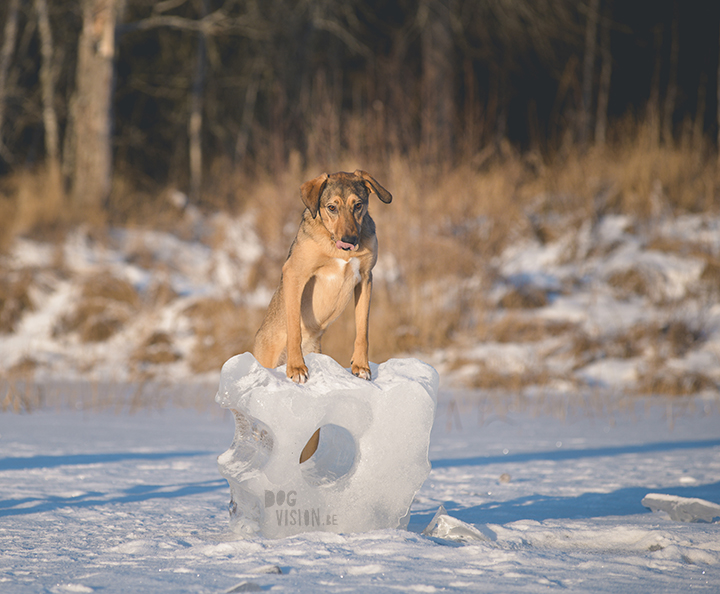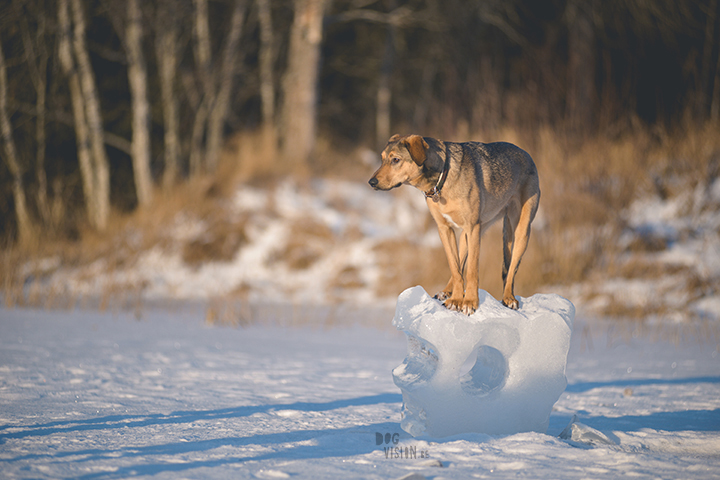 On Friday we have an appointment in Strömsholm, the animal clinic, for Ravasz to have his blood levels checked. I try to prepare myself for bad news but I know you can never really be that. On the other hand, last weekend he still ran up the hill and even dragged a stick along :-).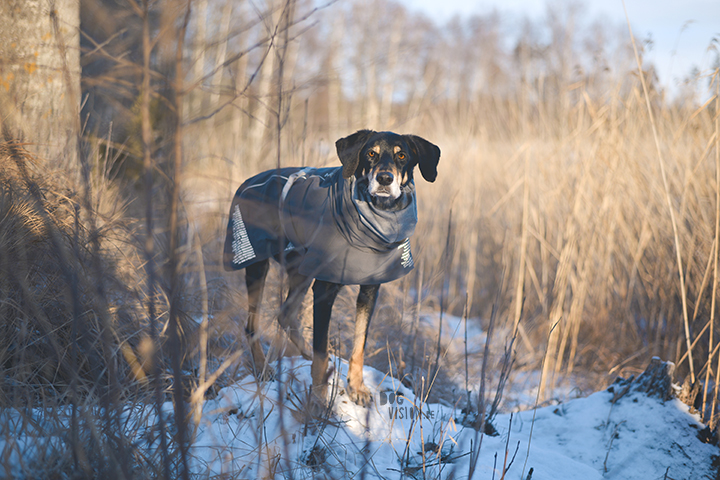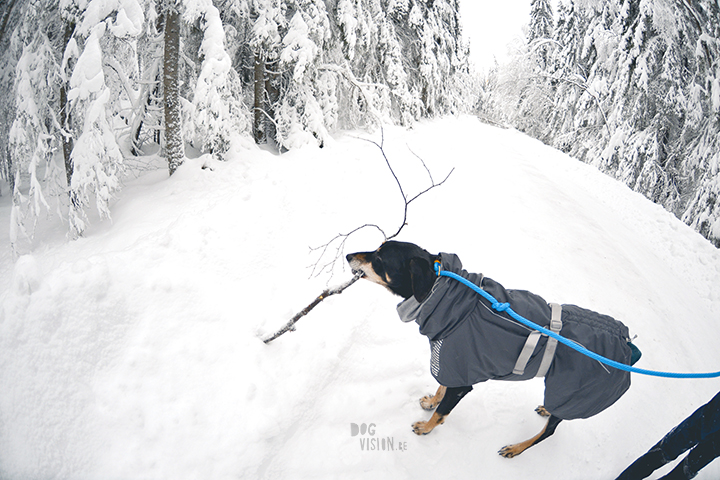 Last week, a mini-blog was published about the fleece tug ropes that I made for their doggies and January 4 marked the day that we had to say goodbye to Ziggy. On Fenne.be there was a series of images of experiments that I am working on and the new series of 'Wednesday Wanderings' in which the focus is on nature photos of our walks.
That's it for this week. Tomorrow hopefully another day of sun and by the end of the week, we expect snow again. Perfect, because I finally managed to convince Joeri to go skiing with me!  ?
See you later! Hejdå
X