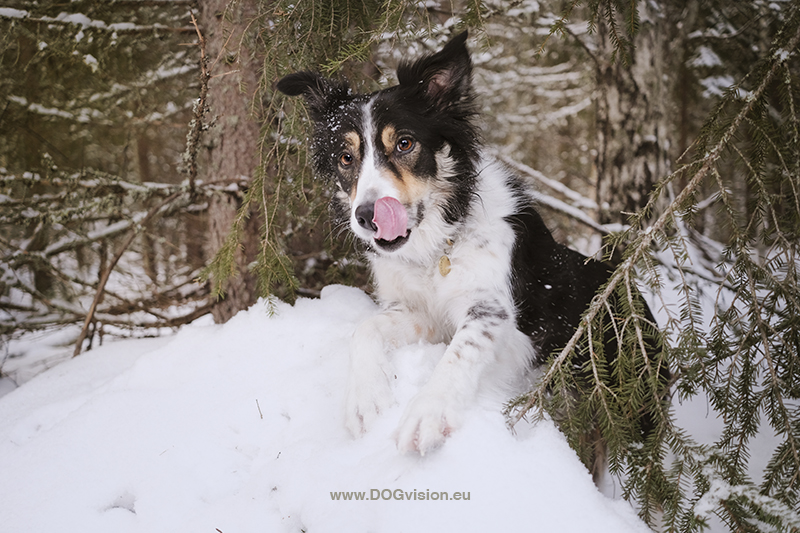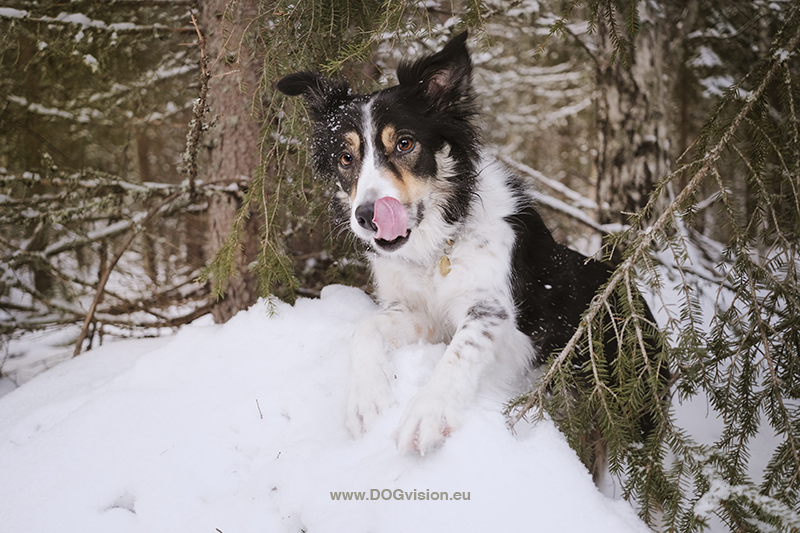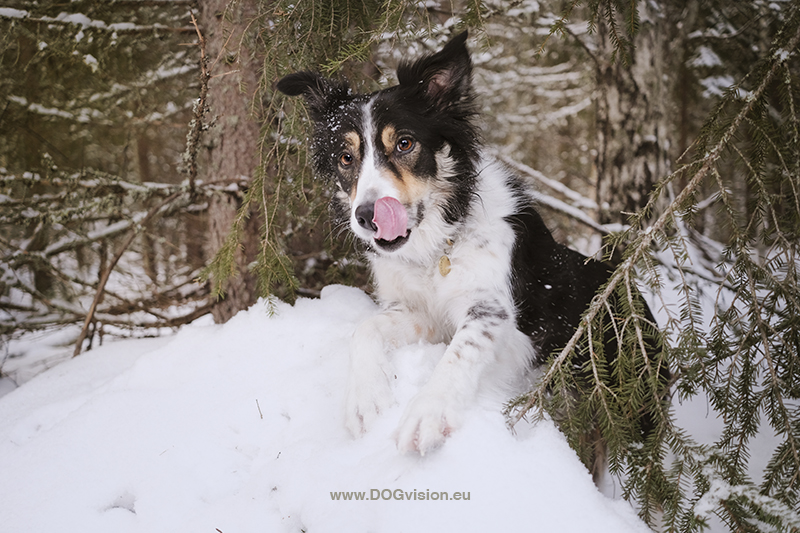 About fresh snow, shoes for cold colors, and dealing with the cold weather.
Do you remember talking about Lizzie's battle with the elements last week? It was -16 * C and after a few warmer days where the snow melted a bit, it would freeze intensely, making the snow hard and sharp. She had a few tiny cuts in her paws and was clearly not feeling comfortable.
We immediately started a search for dog booties online, but it turned out to be not that easy. In many shops, they were already sold out so Joeri drove to the nearest pet shop (50km away) to buy whatever they had. The result was a bewildered Lizzie who no longer knew where to put her feet. But it helped … until fresh snow arrived. That snow formed ice cubes between the edge of the shoes and her fur. And that was of course uncomfortable, but despite everything, she still managed to catch a mouse while walking! So it will not be all that bad!

Fortunately, fresh snow seems to spare her paws, so now she gets a layer of wax for the time being. I took some more pictures, but finishing them didn't happen last week. Not only has my laptop still not recovered, but inexplicable fatigue and headache also overpowered me. And not just yawning, but after a few hours of work just being so tired that I just stumbled over to the sofa to get under a blanket there. The headache disappeared after 2 days but the fatigue still shows up now and then even though I notice a lot of improvement. If the body doesn't want to come along, you naturally look for solutions. Because Joeri also suffered from a headache, we tried to ventilate more and drink more tea and so on, but we noticed, for example, that our meter indicated that the air here is extremely dry. Ideally, the humidity should be between 40% and 60%, Mr. Google told me. Here we were around 20%. After I knocked several bowls of water off the heating and also forgot a pot of water on the fire, we brought in a new machine that was supposed to humidify the air.
We got a Duux mini, just coincidentally what we could find here and which also works with a remote control/app etc. – which Joeri likes (for example, he also automated all our lighting with apps and stuff here, I don't know anything about that but if it works it's all fine for me 🙂). That white column is now buzzing lightly while it creates tiny clouds of cold steam. I thought the dogs might be suspicious of it but they don't care at all. The mini is, I guess, maybe just too little to get the humidity to 50% here, but we'll see where we get and whether it has a positive effect. In any case, my skin already seems more content and the past few days we made long walks again so I hope to be back at top speed soon!