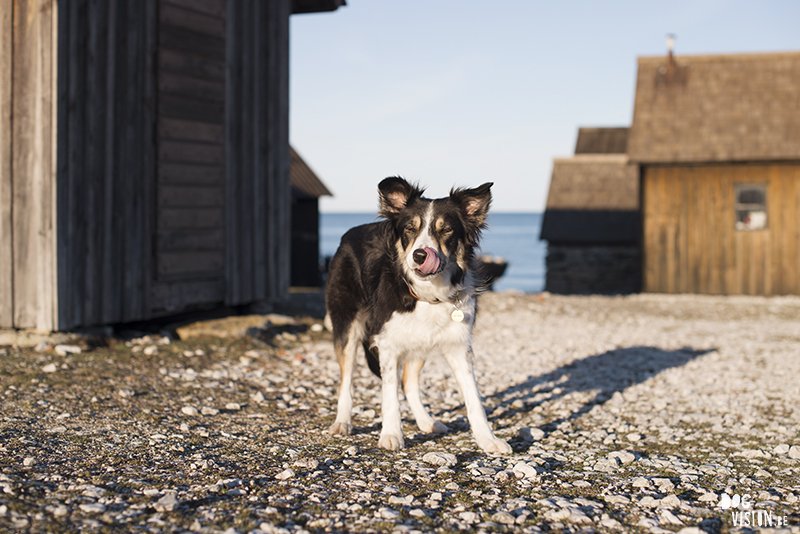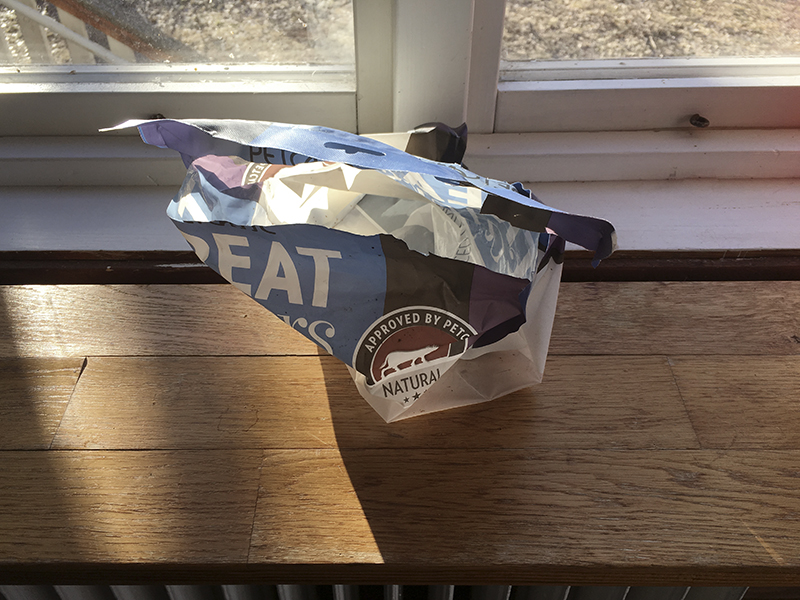 I was always convinced that our little Mogwai was an angel. A super duper doggo that never did anything naughty (at least not since puppy days). With full confidence, I leave her at home and she is, unlike two others that stay in a cage, completely free to go where she wants. Every time we leave, we see a sad face at the kitchen window and upon arrival, she sits on the same bench at the window staring at us- happy that the pack is complete again. (sometimes I hardly dare to look at it because she makes you feel very guilty…)
Yesterday evening I came home after the gym, happily met by Mogwai. Yet, once the other two were released, it became clear that Mogwai is not such a holy beast. Lizzie soon found an empty bag of dog snacks. "Strange, …" I thought. I had given all three doggies a treat before I left and I was 100% sure I had put that bag in the cupboard again. The door was closed, the bag of snacks disappeared, … so there is no other option (unless we have super-sneaky moose that sneaks in and out of our house) that Mogwai got the cupboard door open, took the bag and ate the entire content!!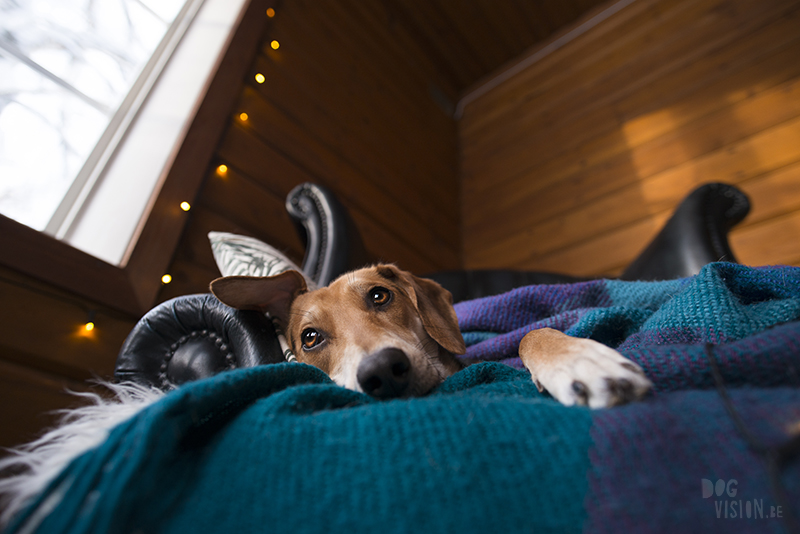 At the start of winter, knowing of dark days with hardly any sunlight, I installed a reading corner in 'the cabin' – actually just a room in our house, but we call it the cabin because of the wooden walls :-). The cabin is, in fact, the only place (except for the toilet and a part of the kitchen) where there is sunlight the whole winter and it's also Joeri's workspace.
Next up are some photos that perfectly illustrate how often I have had the chance to enjoy this spot: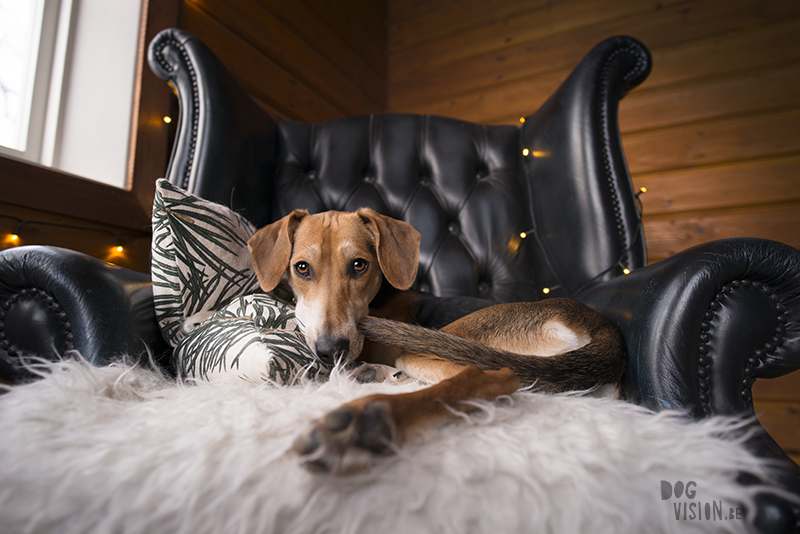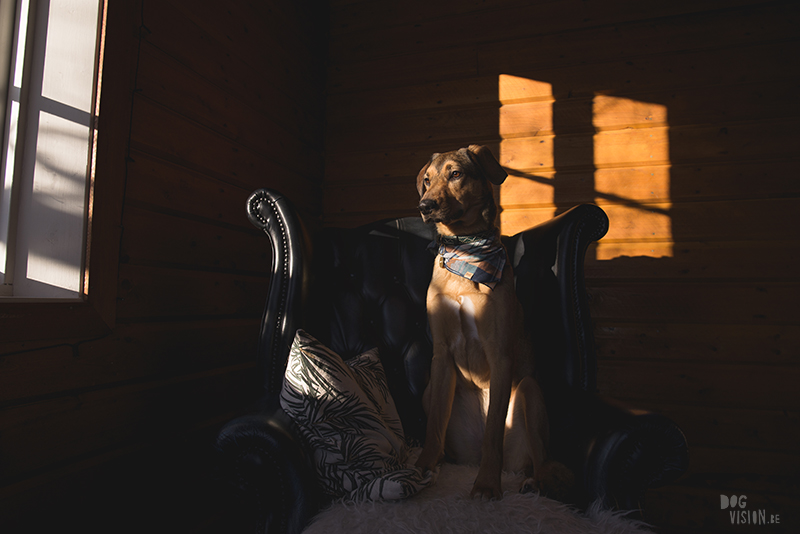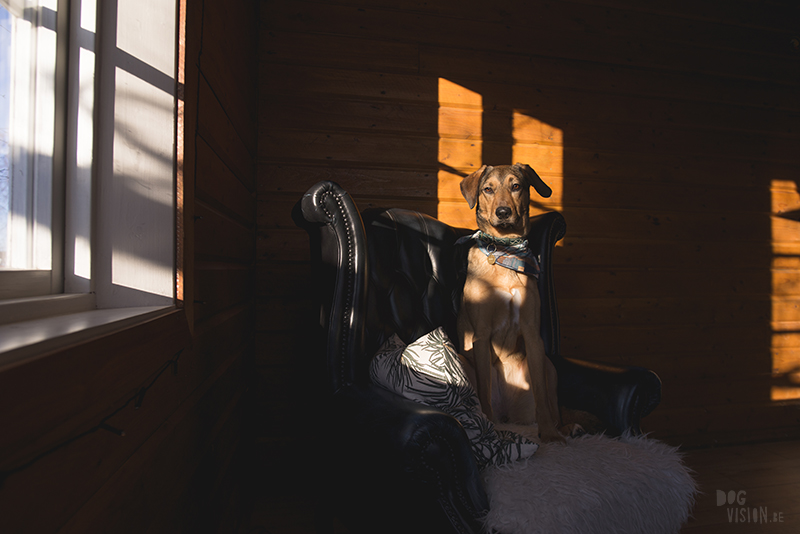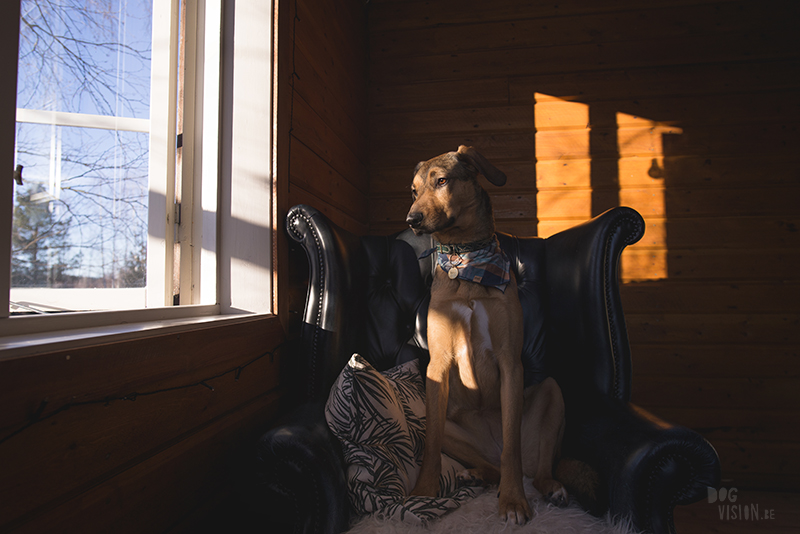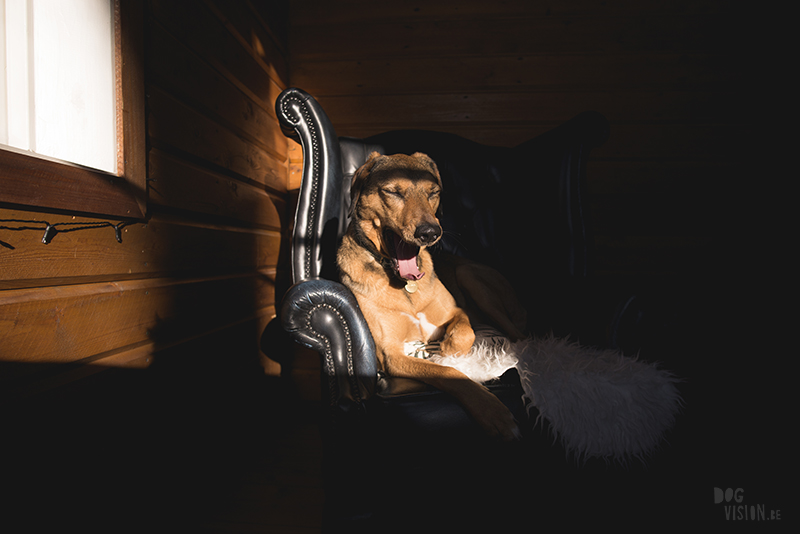 Indeed. About zero times. Because I can't steal a spot from a happy sun snoozing dog, right?
Well, I know my place,… on the dog bed or on the wooden kitchen bench … taking photos of dogs who enjoy the sun :-).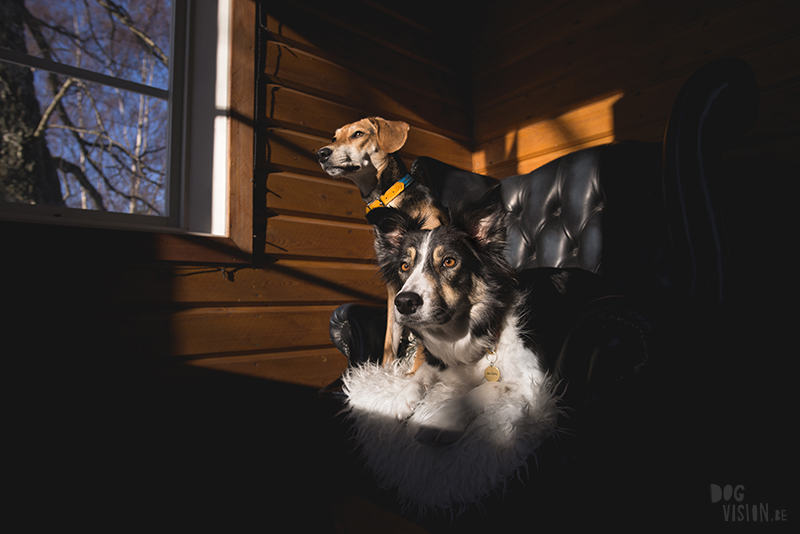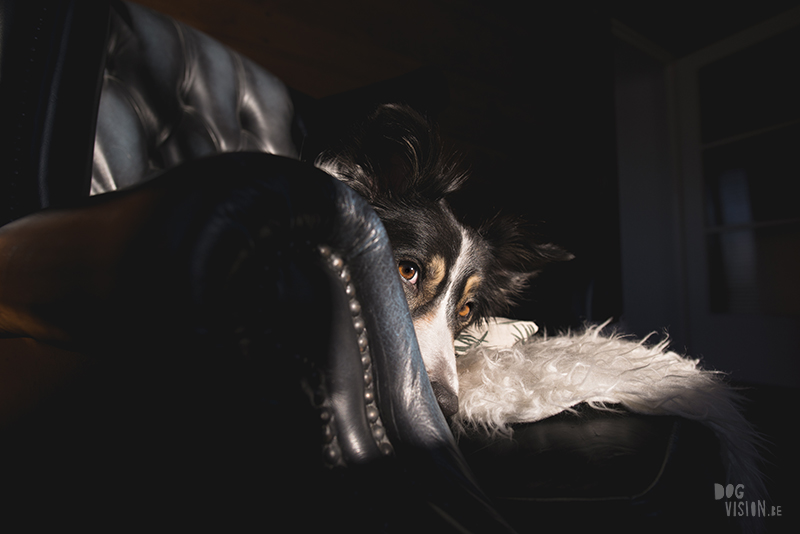 Last week I didn't write a blog because we organized a last-minute trip to Gotland. Through Airbnb we found a little cottage that allowed dogs, not far from Visby. From that cottage, we explored as much of Gotland as possible. We wandered along rocky coastlines and gigantic giants, ate carrots that turned our tongue purple and strolled through Visby- the town you might remember from Pippi Longstocking. Unfortunately, we could not visit the house of Pippi because that is now located in some kind of amusement park and that closes during the winter. I might have to paint my porch pink and keep a spotted horse on it 🙂
I also read that Douglas, the parrot of Pippi (in the film) has just died.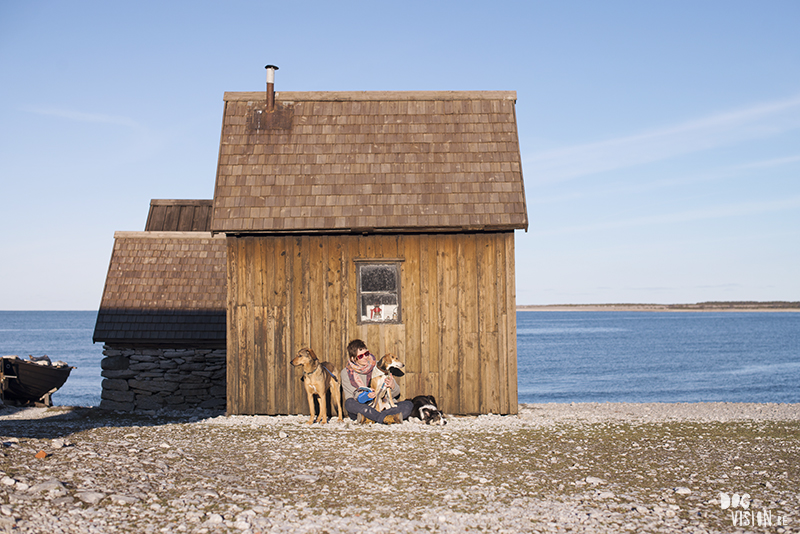 After months of winter and snow, a visit to Gotland was almost a season shock :-). The snow there just melted and all the water was liquid :-)! For the first time in months, we hiked with normal boots instead of snow boots and crampons. The first few days we had some rain and a lot of wind (a bit like the Belgian winter), then it brightened up, the sun came through and it got to +5 degrees. Warm enough to sit on the rocks and soak up the sunlight.
Meanwhile, it was abnormally warm at our place in Dalarna. Do you remember that a few weeks ago we were so surprised that we got rain? At the beginning of that week it was -14, we built ice castles and we had to shovel paths in the snow to get to the garage and the main road. Since then, the real cold has left and it quivered around freezing temperatures until this week the spring just started with +10 degrees and full sun. Huh? The snow world in our garden melted. Last year around this time we had about half a meter of snow and it was super cold. I even made snow photos for customers at Easter. And at the end of April, we were throwing the last heaps of snow in the spring bonfire.
Although a little break from the cold is super nice, I really hope that winter will come back for a while. This change is so early, so unexpected, so weird.

Sunrise: 07h02
Sunset: 17h15