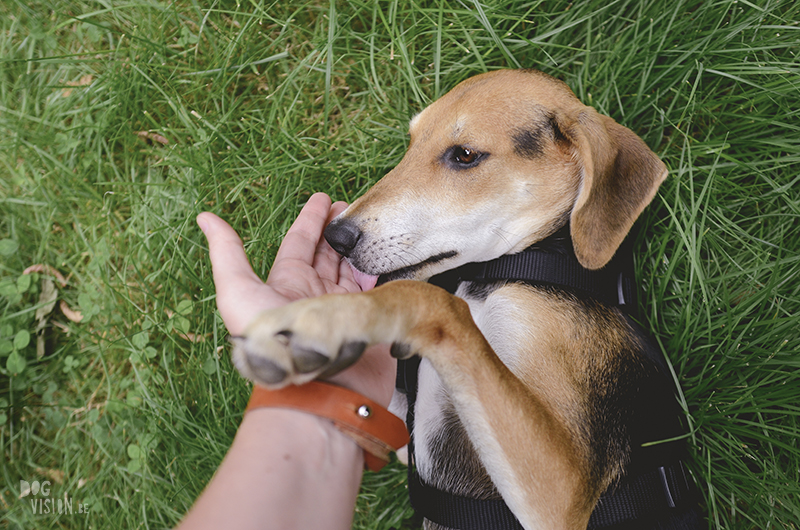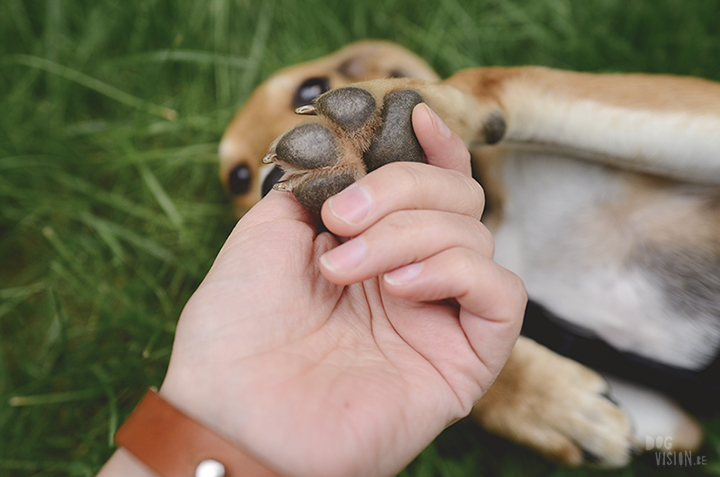 We weren't in any hurry to add a new member to our pack. With only Oona and Mogwai, things were going well as they got along so well and are used to our routine. At the same time, while emembering the difficulties to socialize Oona here in winter with the cold and empty villages, we knew that if another dog would join us, it would have to be summer(-ish).
Since adopting a dog in Sweden isn't so easy- I haven't found any shelters for example only a second hand website and a few abandonned webpages, I took a look at some Belgian and Dutch websites as we knew we would travel to Belgium for a few weeks. I fell in love with 2 dogs from 2 different organizations: Frida and Donna and both deserved a great home.
Then, only a few days before we would leave Sweden, I got the news that Frida was adopted and I bursted out in tears. An emotional response that I didn't expect at all, not for a dog that I only saw on a few pictures and videos. Little after that I got a message that Donna would arrive later- just after the date we would travel back home. Damn!
Just when I thought that it wasn't meant to be this summer, I saw a picture of Frida's sister and mom who were also ready for a new life and a loving home.
So we committed a huge sin. While the Swedes were dancing around the maypoles with flowers in their hair, celebrating midsummer, we packed our stuff and left. So long dancing frogs! We were on a mission!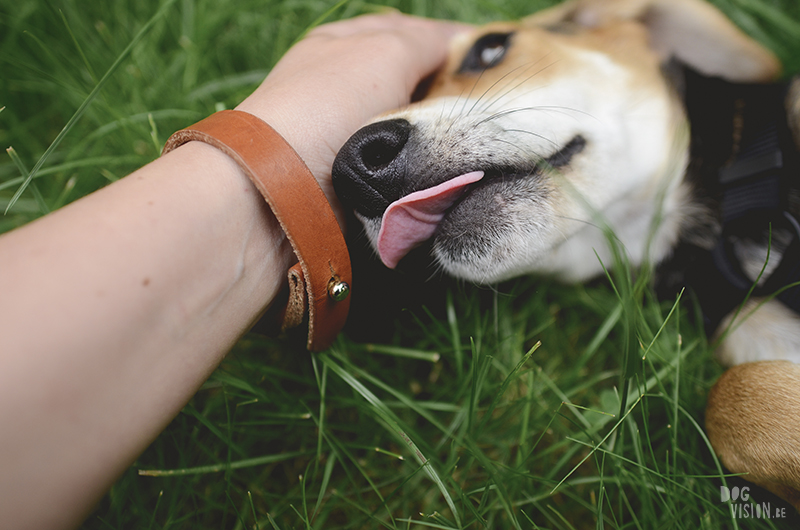 After a long but pleasant journey, we arrived a little nervous about our puppy 'date'. After a warm welcome, we saw Lizzie and mommy Lola for the first time at the foster family where stayed since their arrival in the Netherlands that night. Mom Lola was exhausted and slept most of our visit but from a dog bed next to the sofa, two big eyes of a tired puppy looked at us. Little Lizzie was so small, much smaller than I thought. And so petite. I petted her carefully as I sat on the floor next to the bed.
Actually, we fell in love right away, but because of course we had to think of our two other dogs (and I did not want to release those wild beasts after 2 days of traveling to a puppy ), we decided to lure her in the garden to see how she reacted. Towards us and on the environment. Terrified, the little puppy crawled behind a bin, but when I lay down flat on my stomach with Thé Tube Cheese, she approached us very curious but still carefully to take a look. And that was all I wanted to see at that moment: the ability to take a small step despite of fear and uncertainty.
Once inside we signed the paperwork, we picked up Oona's puppy harness that we had to adjust to the smallest size and we also said goodbye to mommy Lola, wishing her a loving home too.
With puppy Lizzie on the arm we walked a small tour with Oona and Mogwai until the wild curiosity was gone and then we were ready for our trip to Antwerp –  and Lizzie was sleeping in my arms for the full 3 hours.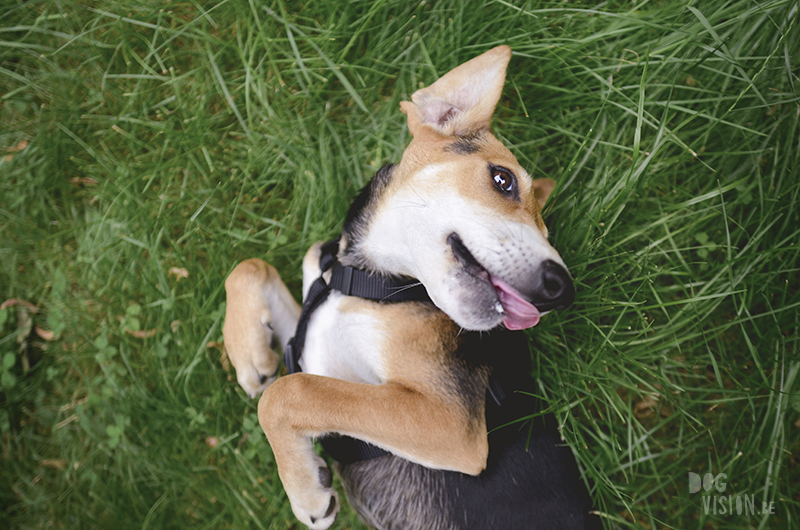 How Oona and Mogwai reacted? Mogwai as fully expected: initially distant and grumpy. But Oona was the big surprise! Because she can be such a wild and clumsy dog, we were watching her moves. But no, she found her best, sweetest and softest side by greeting Lizzie very carefully and occasionally licking her ears.
And we sat quietly in the seat, watching and waiting. And suddenly Lizzie stood beside the seat, with those big, questioning eyes. I lifted her up, took her on my lap and she immediately fell asleep.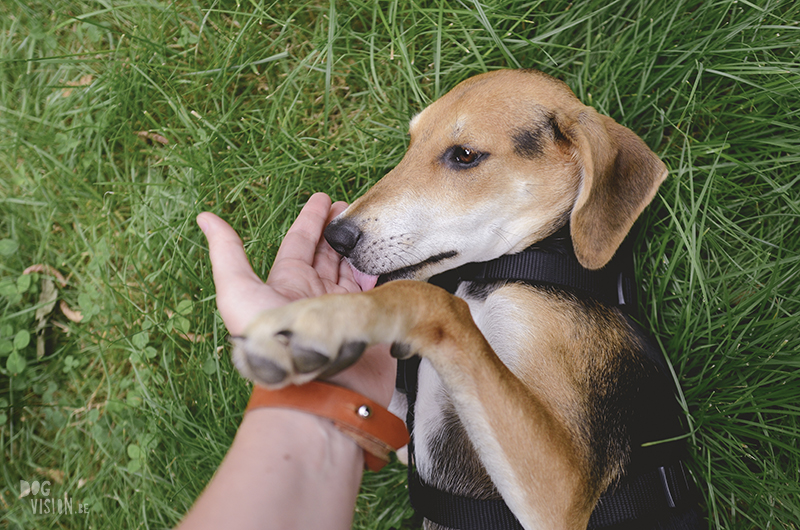 The days after, things went a lot better every time. Because she was pretty calm on our lap, we decided to take her out to see the world. So she met Sam on day 2, a dog from Bosnia who did not leave her alone until she joined him across the garden. So beautiful to see how the first hour she just sat in the grass and then started playing with Sam! And after Sam, she gave Oona a chance and they started running happily through the garden. My heart was jumping with joy 🙂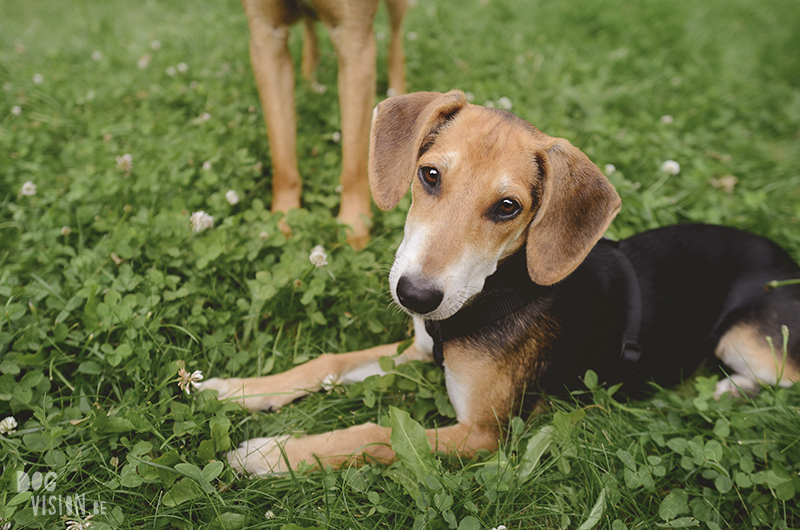 Whoever looked at the Instagram stories at that time could also see that Lizzie also enjoyed our company. She even fell asleep against me while she was nibbling on my hands :-).