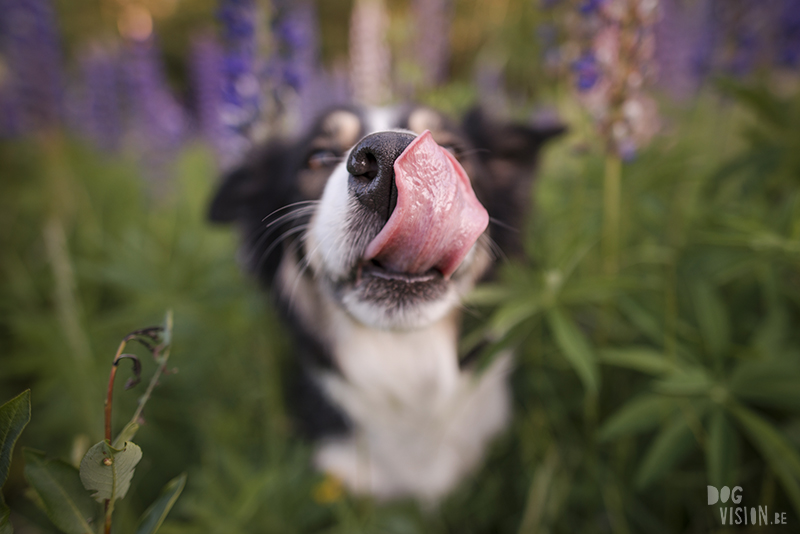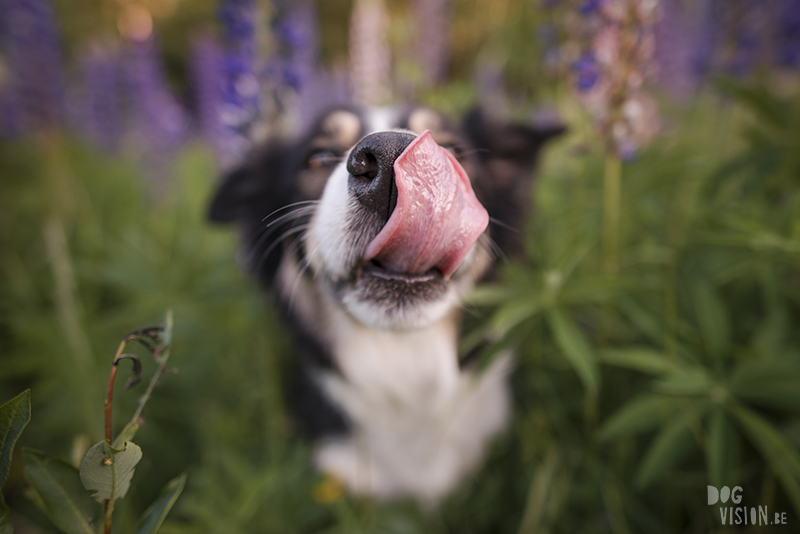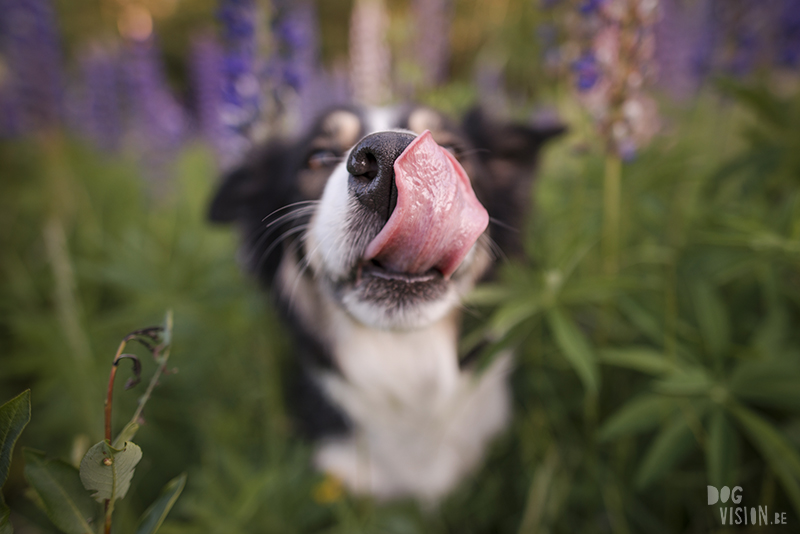 Glad Midsommar!
Last weekend we celebrated the longest days of the year. A seasonal fact that does not just pass by here but is felt throughout the entire country. Midsommar is a bit like Christmas, but with light, flowers, and more parties.
Normally the villages organize a big party with a maypole, music, and frog-dancing, but this year all events with more than 50 people have been canceled, including the big summer parties. If you think that makes a big difference, then you are wrong, because the Swedes have been looking forward to this since Christmas and will celebrate, anyway. With the handful of rules even less strict, flocks of people landed in the countryside where they often have a summer cottage. Midsommar, that is not only the longest day of the year but also the starting signal for a summer full of freedom, swimming, camping, and enjoying the sun. Many now have 3-4 weeks off.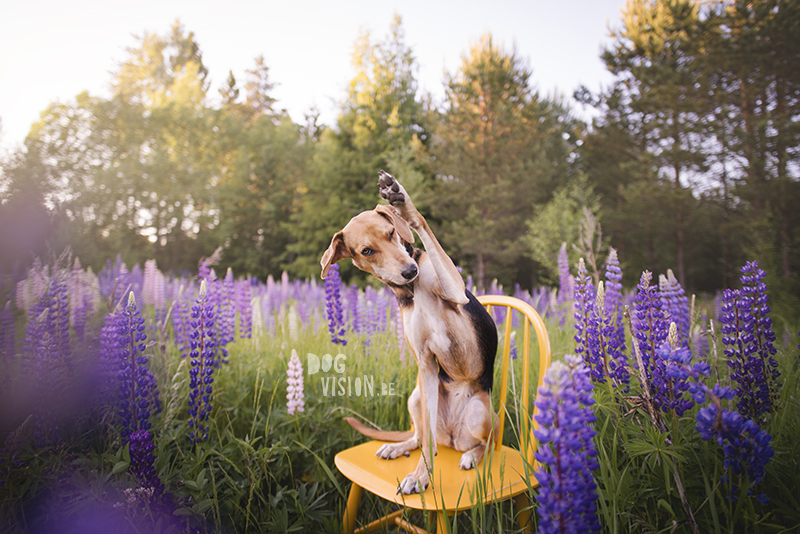 We decided to pass up the social festivities and opted for a night on the water. The original idea was to paddle to an island together to spend the night, but since Oona would hate us for that (sitting still that long on a paddleboard), we decided to take a nice tour and leave her at home.
With Lizzie and Mogwai on the sup and Joeri in the kayak, we headed towards Barken, the big lake in our neighborhood, through beautiful channels and even an Osprey's nest! We paddled past islands and party people with the sun in the back. We heard singing and music, chatter, and now and then we waved back when we were spotted. A small island with flat stones and some trees seemed ideal to rest for a while. The doggies could stretch their legs and walk around while we shared a bag of chips. (And yes, the doggies were allowed to taste a bit for once). And oh everything tastes just so much better when you're outdoors, right?!
At that moment we had been paddling for a few hours already, the arms and back muscles were already beginning to manifest and we had no idea how dark it would be. Would we see enough on the way back? Nevertheless, we decided to continue to the furthest point of the lake where friends of ours live. Another friend who happened to be on the terrace and had no idea of our arrival, waved back in despair, only to report to the rest of the group of two lost souls on the water haha. Fortunately, our friends knew we might pass by and came down to the water for a nice chat. We didn't stay for the party. It was now almost midnight, we had to go home all the way and for us, with the rapidly increasing number of corona infections, this is not the time for parties.
It didn't get really dark. A warm glow continued to illuminate the surface of the water and the gentle swell created a hypnotic, almost psychedelic effect. Most of the holiday homes also became quieter. Occasionally birds would fly up loudly or a fish would break the silence. So peaceful. So calm. Wow.
After many hours of rhythmic paddling, it was a relief to spot the eagle's nest, then we knew it was not that far. During the day you can easily rest, drink or swim somewhere on the side of the lake, but so far past midnight, you come to a point where you just long for dry feet and a place to sleep. Tired but satisfied, that's how we stumbled into our bed when the sun came up again. Sleeping, just sleeping well, we had no more plans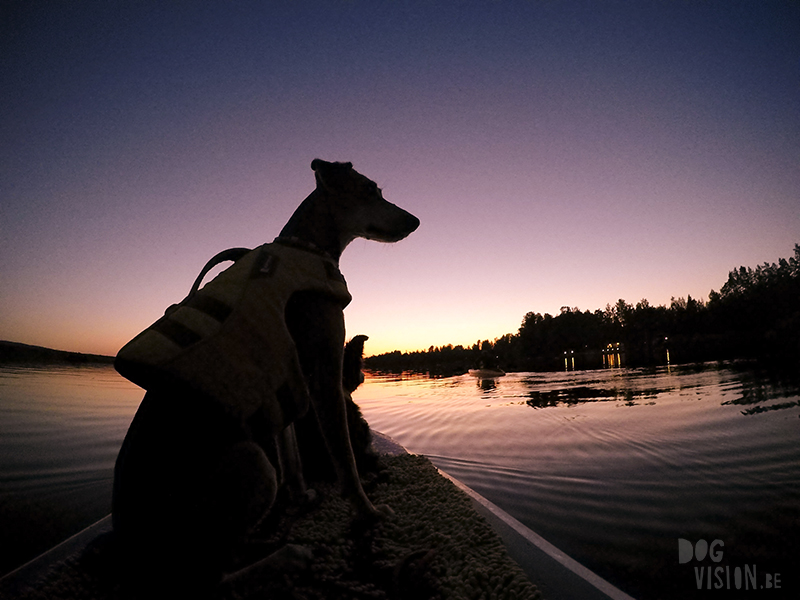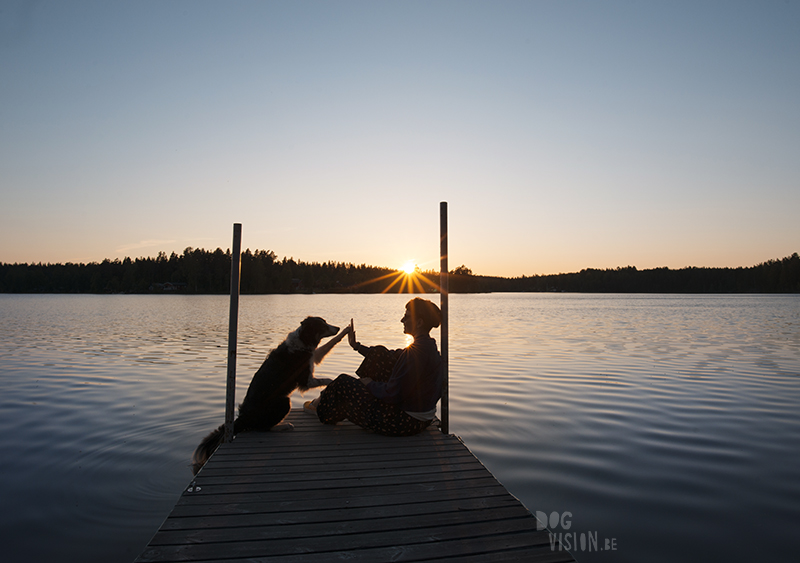 Just like in Belgium and many other places, we expect an exceptionally hot week up to 31 degrees here! Ice creams + swimming in the lakes are now the center of my existence. Last week I got up extra early to be able to walk the doggies before the heat but this week we just leave it that way. We go for a swim or hang out at one of the many lakes in the area and just let the doggies play or hang out in the garden. They seem to find it all good and are remarkably calm.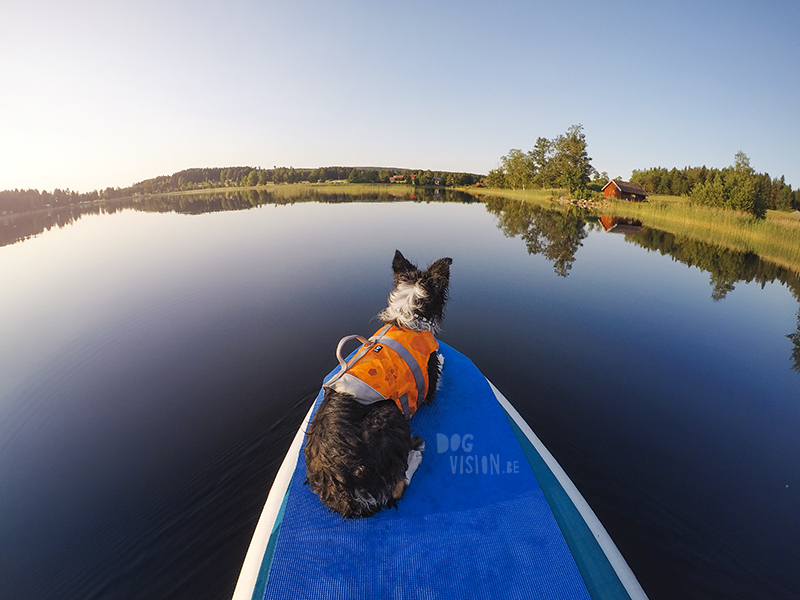 Voila, and now I'm going to make ice cream for the dogs (and for myself 🙂  )
See you later! Keep it safe and cool!
X