#TongueOutTuesday (52), the last one of 2018!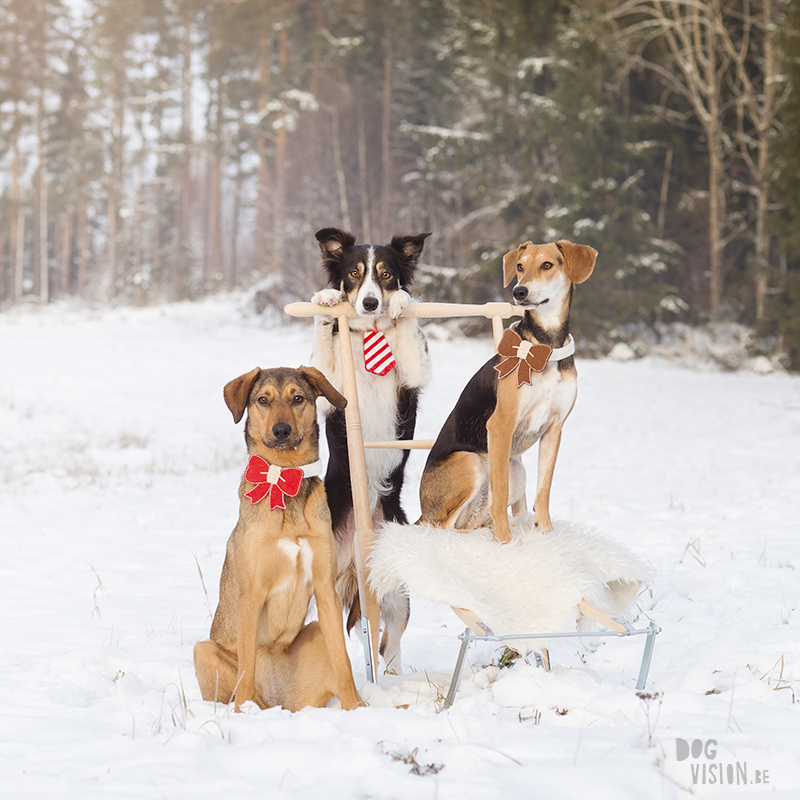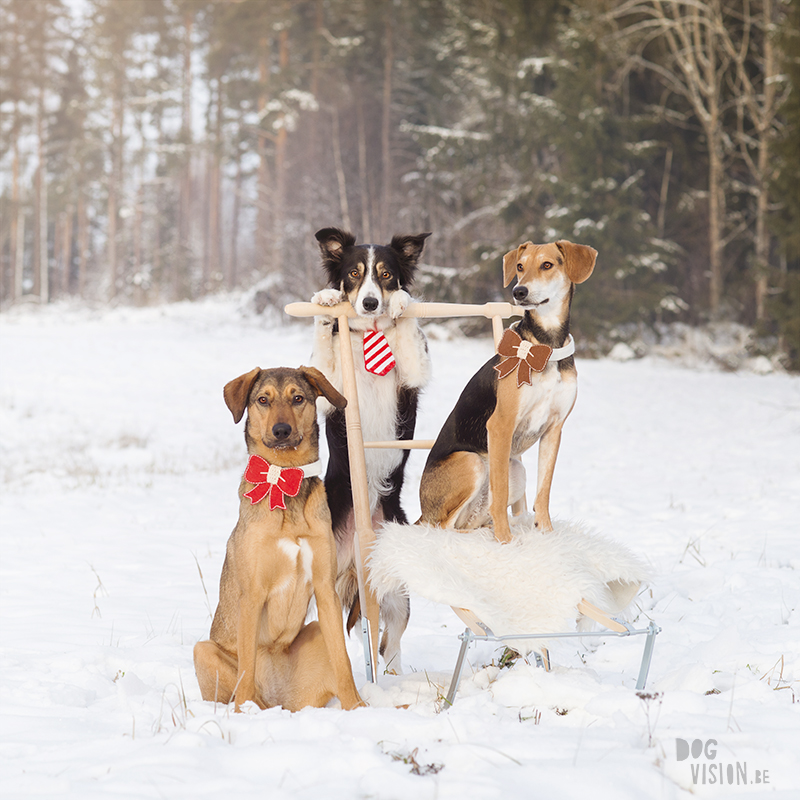 First and foremost: a very Merry Christmas and/or holidays!
I hope that you will have fun and joy around the table, campfire or on the dance floor and that this week really will be a wonderful ending of a fascinating year.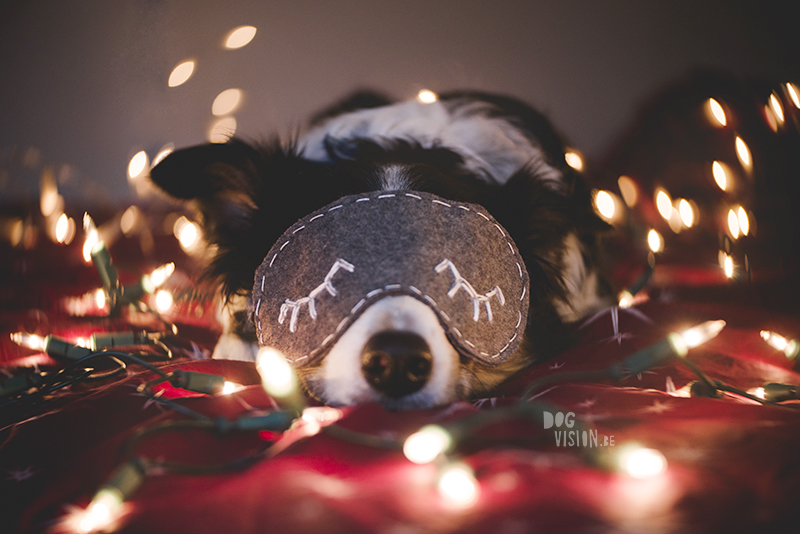 This Tongue Out Tuesday 52 is not only one full of sparkling Christmas joy and a layer of frost, but it is also the last of 2018. Startling, how fast that goes, right?! But of course, we continue with funny snouts and stories with a hint of dog craziness and adventures from the north (or wherever we are). The next episode will be one from the fresh 2019. An exciting new year and new number on the calendar. Did you already create plans for the new year? Or will you just wait and see?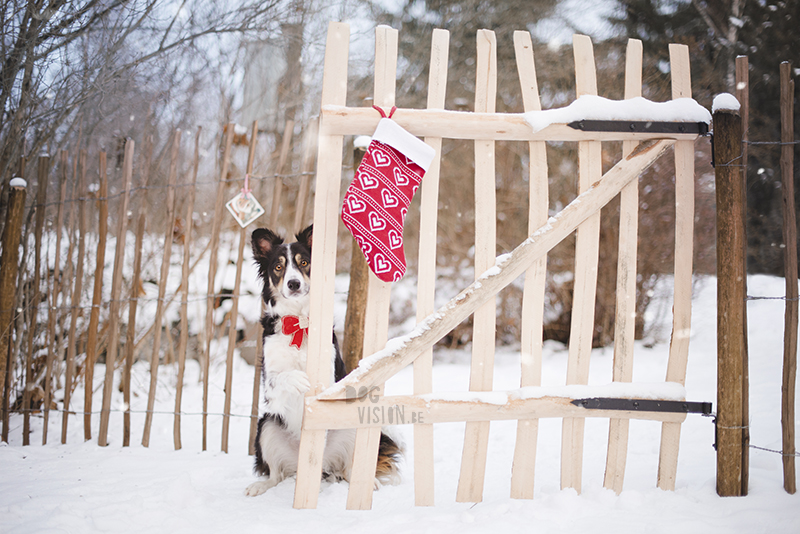 Lucky dogs we were this year! A beautiful white Christmas with even a cautious sun that joined us on our walk, it made us super happy and grateful for everything we have and see :-).
Very suddenly the temperatures dropped to -14 degrees (Celsius). That may sound horribly cold, but because the sun brightened our minds and made us dart through the snow, it didn't feel cold at all except for the first 5 minutes. You know, the kind of prickly-tickly-cold that gives every hair in your nose the Einstein-look (at least, that's how it feels haha). I left the house dressed like I was ready for the deep freeze but soon my jacket flapped open and I put my warm hat in the backpack. Temperature doesn't mean much here. Sometimes one minute -5  feels like 100 years of ice age, sometimes I spend hours photographing at -20. And the latter type of cold is much more common (but not always -20).
The big advantage here is that you can actually dress well against the cold. Layers of thermal underwear (which I urgently need to find back before it gets really cold), thick socks, sturdy winter boots, ski pants, warm sweaters, hats, scarf, gloves, … Yes, we do run like a Michelin man, but I can ensure that it works and it's perfect for when you want to lie down in the snow.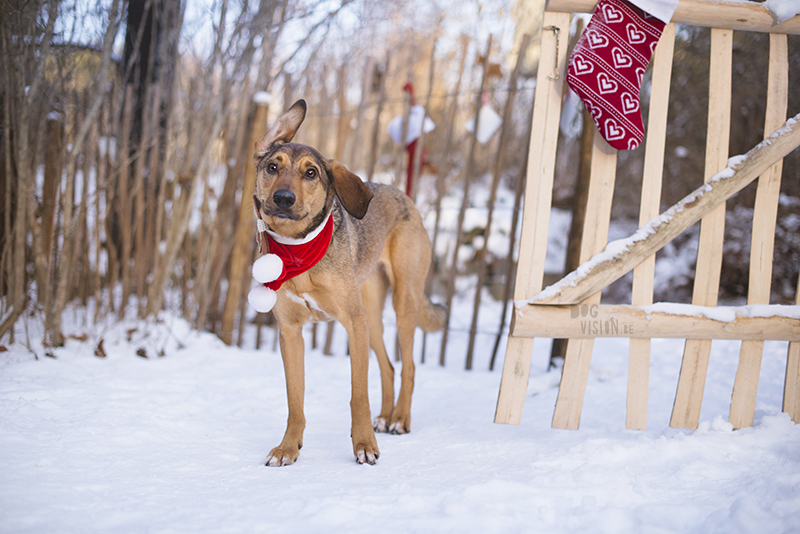 For a long time, I dreamed of a white Christmas where I would wake up with a delicious cup of hot chocolate milk then going for a walk or skiing with the dogs. Some Christmas songs in the background for the atmosphere et voila, the perfect day. Gifts and stuff are not important to me. Under our tree, we have things that look like gifts but it's just empty boxes wrapped in the most charming paper that I could find. Just because it's beautiful to see.
Because we already partied and ate a lot in Belgium – and especially in the super nice company of friends and family- we could take it easy now. Yes, chocolate milk of course and snacks and the Home Alone films: D. Number 1 and 2 are really Christmas tradition, but now I was also interested to 3, 4 and 5. Three was, to my opinion still doable (the fun of seeing things that were sooo 90's), 4 was a disaster and 5 we haven't found yet. So the first two remain our beloved Christmas classics.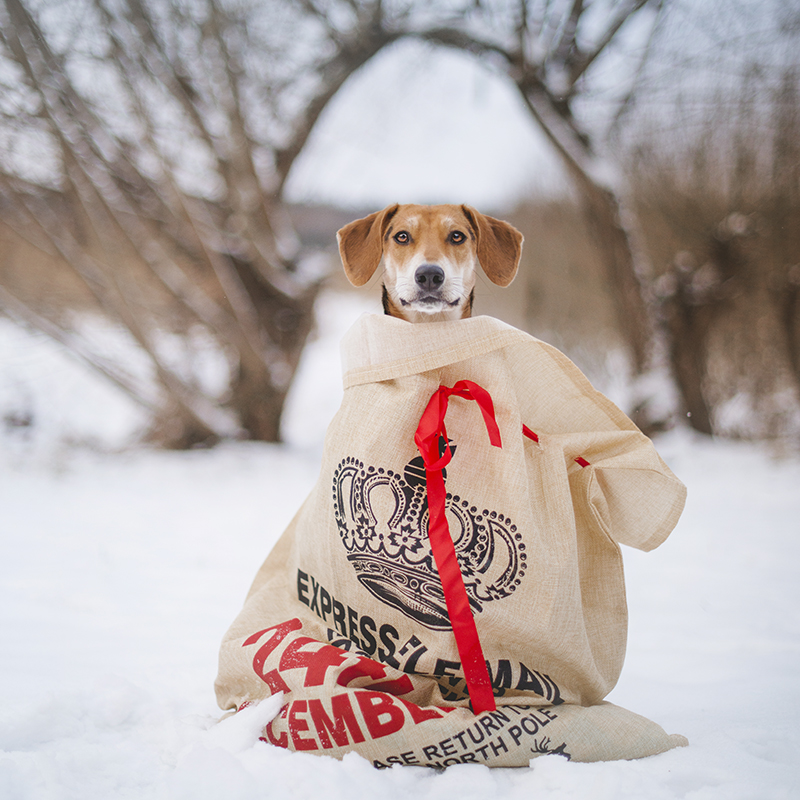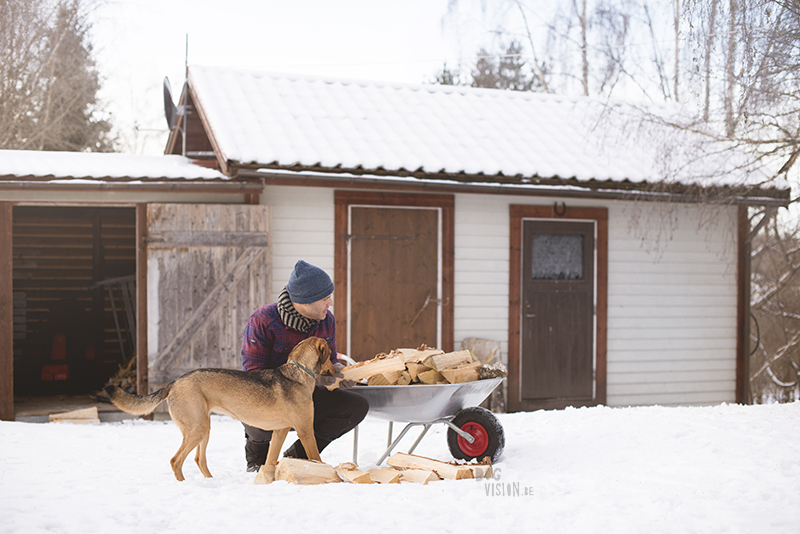 Holidays are of course not an exemption from winter chores like feeding birds, shoveling snow and keeping an eye on the wood stock. Even though we consider installing a new heating system, for now, we still have to burn wood to heat the house. Gas, like we had in Belgium, is not available here and we have electricity as a backup, but that is a lot more expensive.
I wanted to take a picture of Mogwai with the wheelbarrow here, but she accidentally knocked him over. Sorry, Joeri! (But Oona came to help Joeri out which was super cute.)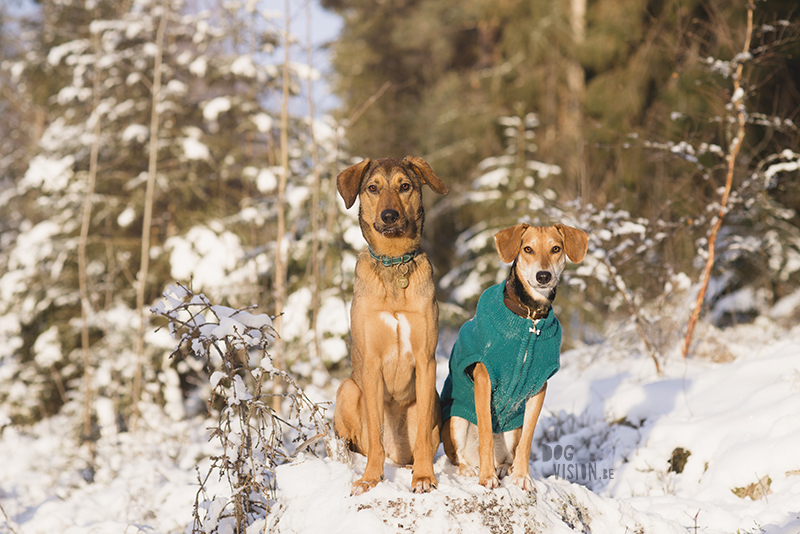 Finally, yes finally Lizzie's slender body fits in Oona's puppy sweater! 🙂 🙂
We try to dress our Southern beauty as little as possible with the hope that her fur can adapt as good as possible to winter temperatures, but of course, we will not let her suffer or be cold. Recently, I read a rather fierce discussion online where opponents of dog clothes stated that a dog with a sweater can no longer be a dog. "Staying indoors or doing shorter tours!" That was their verdict. Yup, parking your dog at the fire really sounds like the solution where your dog can really be a dog. We should keep our super active ladies indoors for about 5 months a year. I think they will demolish our house within 3 weeks. That, while they can go outside with a sweater or jacket without their teeth chattering out of their mouths. Easy choice for me. Dog clothing can be absolutely functional, and even more fun when it looks good.
For Mogwai we still have a jacket from Ziggy and Oona can wear the sweater and jacket from Ravasz, but Lizzie a difficult body to find something suitable for. She has a narrow but long body so most sweaters have a modern but not so functional wide cut or crop top style. The jacket she has was custom made for the photoshoot of The Hound project. Because customization seems to be the best option, I went on a fabric hunt in Belgium and got advice from De Stoffenmadam about working with stretchable fabrics, because that is new to me. Hopefully, I can present you the result soon. The hardest part is starting because I have to adjust all the patterns to fit Lizzie and I'm scared that I will ruin the pretty fabrics. My first attempt was a cheap fleece and it was not bad (Lizzie fits in) but the proportions were not right on her hind legs.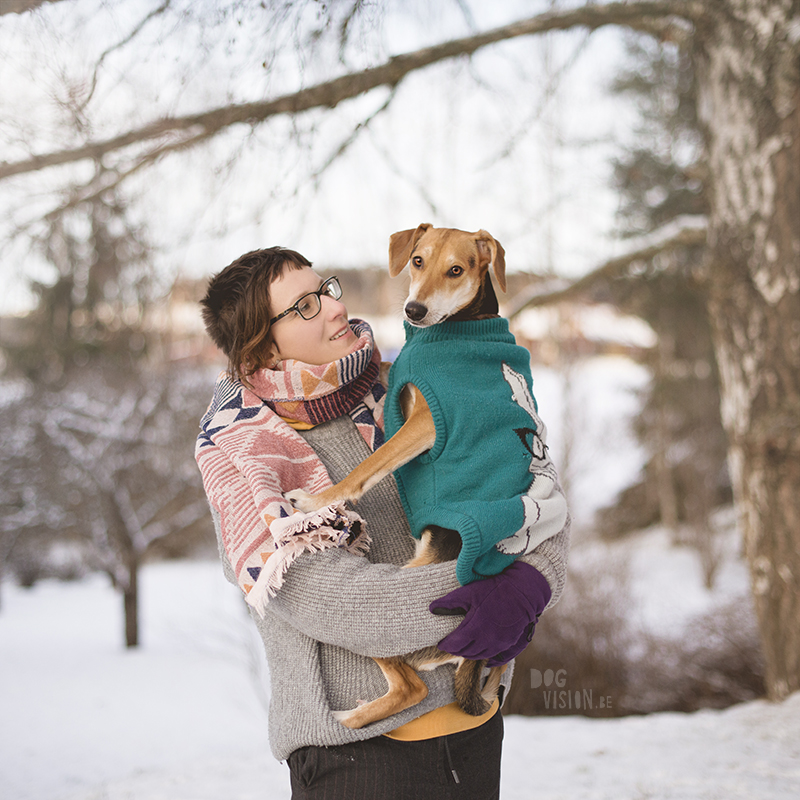 Last week we celebrated the winter solstice with friends, lots of candles, hearty soup, homemade cherry pie and glögg by a warm fire. The shortest days are now behind us and despite the real winter still to come, the sun will also return. That means more time to take pictures, to paint, walk and soon also to ski.
And if you weren't sure about that thing in our Christmas photo, it's a spark, a sort of sled on which you can stand and kick off. A bit like a kickbike for snow. Or a cross between a stroller for seniors and a sled. For real, there are matching shopping baskets and child seats :-). But that's the thing we're going to test this winter, we have to work on our integration, right :-D.

PS: We can be seen in  'Woef'- magazine (January edition) with the story of our emigration. I have received super positive messages the past few days and am waiting (un) patient for our copy to arrive in the mailbox.

The light in Sweden vs Belgium:

Sunrise Belgium: 8.45 am
Sunset Belgium: 4.38 pm

Sunrise Sweden: 09h01
Sunset Sweden: 14h53

Have a nice week!
And see you later!
X