Two days on a timber raft with the dogs. Värmland, Sweden.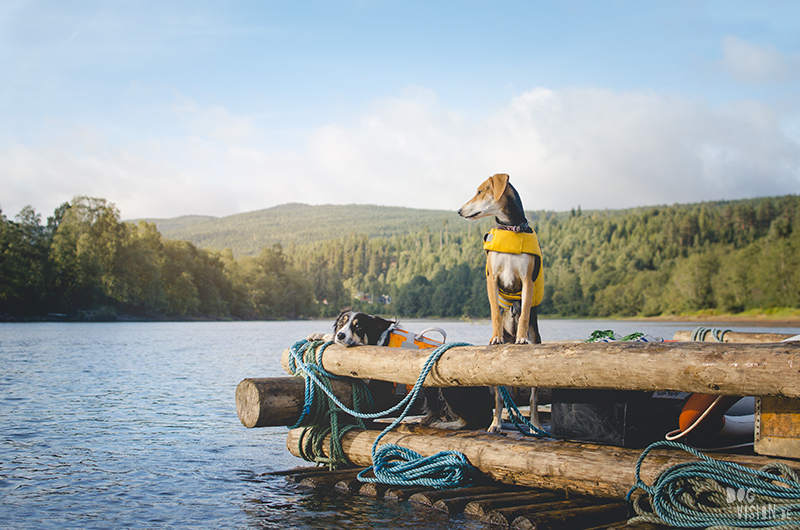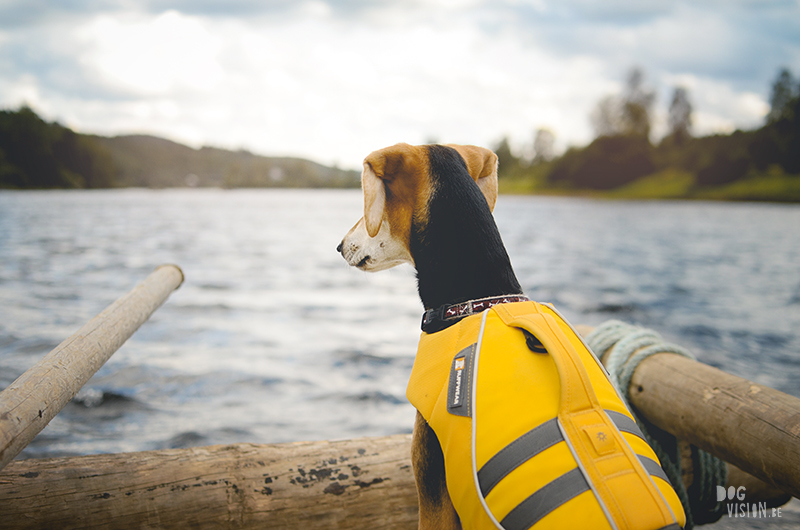 "Building a raft". It must have been on my bucket list for forever! This summer, it got to the top, the must-dos of 2018. The first idea was finding some barrels, rope, and wood and crafting a raft and gently gliding on our lake. Not only was this impossible with the low water level, I also came across an organization in Lapland (north of Sweden) that offered trips with a raft. "Oh look at this, Joeri!"I shouted and showed him the website. With some help of Mr. Google, we also found a similar company in Värmland-which is much closer to where we live- that organizes one to multiple days on a raft and with all the materials provided. You need to build it yourself of course, but with the help of an instructor.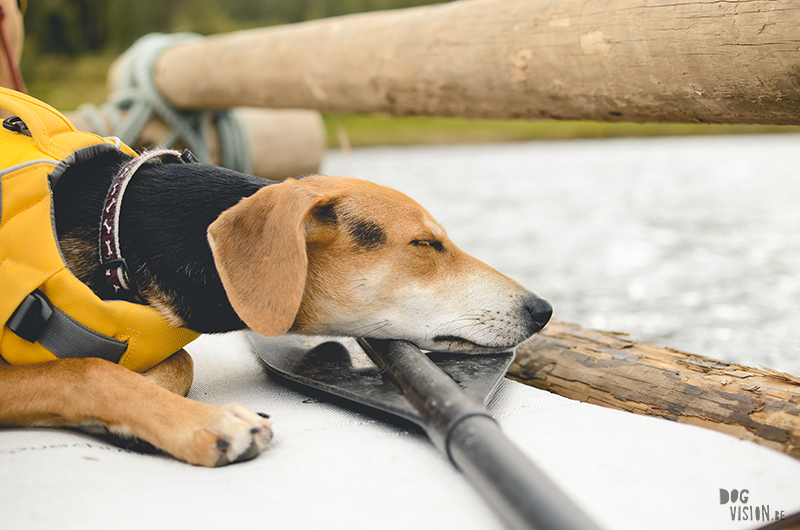 The evening before The Big Day, we drove to the campsite where the adventure would start, put up our tent (normally there were cottages provided but unfortunately they were not dog-friendly – boo-) and got pizza in the neighborhood. And not just a pizza but -by accident- the biggest I've ever seen, haha. We didn't only have dinner but also breakfast and some extra snacks for the dogs. After a digestive walk around the campsite, we crawled into our sleeping bags. A bit tired but mostly curious!
That night, the clouds above our tent ran empty like water balloons that pop under high pressure. Heavy rain splashed on our tent and around us. It was so loud I couldn't hear anything else. Not even the snoring dogs. "O-ooow," I thought, "that might cause some trouble tomorrow …" – and then I realized I had to go to the bathroom…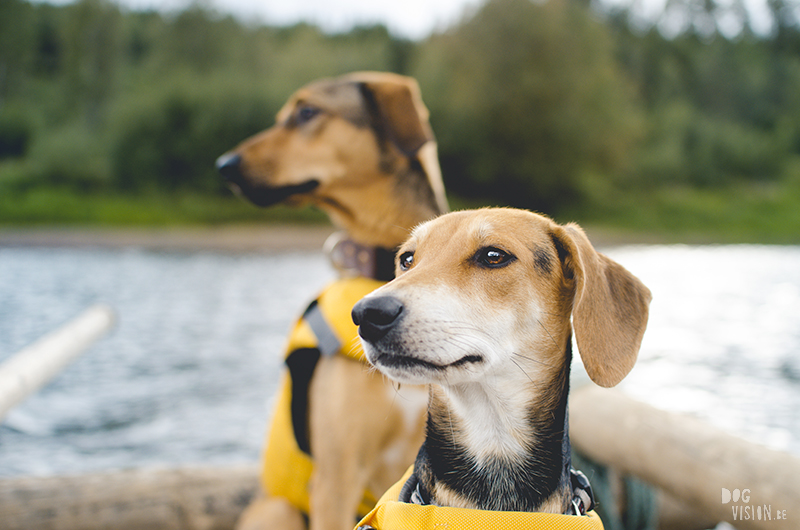 But that morning everything was calm again as if the cloudburst had never happened. The clouds even made space for a cozy sun that magically turned the dark river into a deep blue. For hours we dragged with logs – and fortunately, you start with the heaviest because, after dozens of logs and knots, I had spaghetti-arms. But just before the tiredness could take over, our raft was ready and we could conquer the Mississippi Klarälven.
Once on the water, it's finding the right balance. How much should we steer? How do we prevent stranding on sandbanks? Or a collision with the bridge.
But I found that the most helpful mindset is trusting the flow of the river and only intervene when problems occur- or a big obstacle has to be avoided. In a world where we are supposed to have full control, where we are expected to always react and be on top of things, it's utterly liberating to let go of the pressure and to surrender to the rhythm of the river.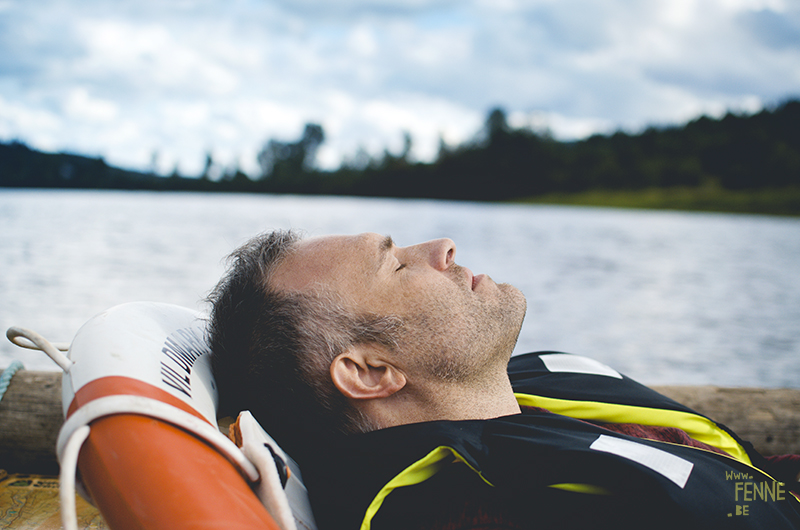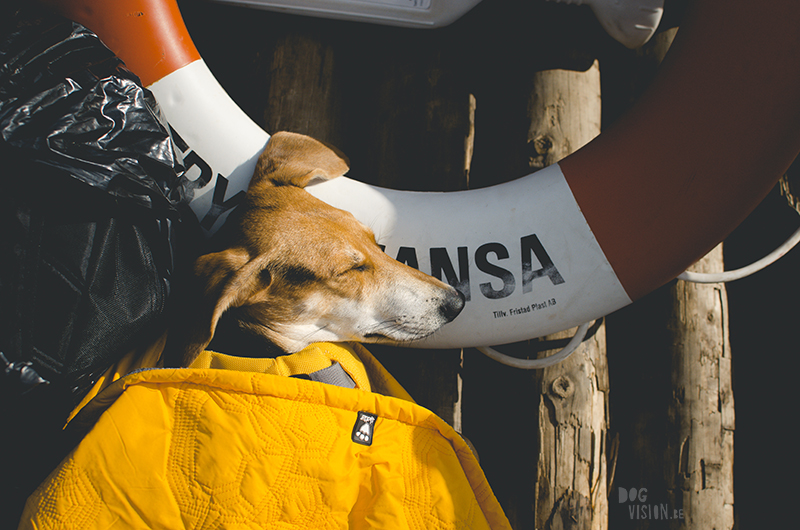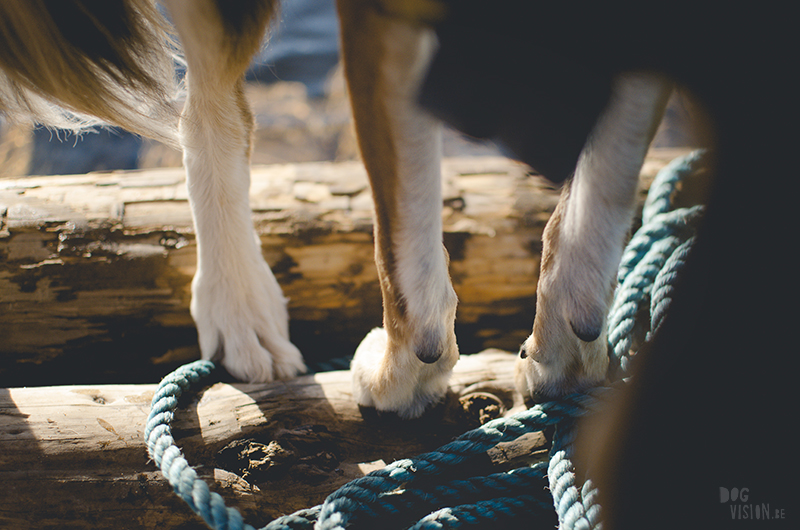 Just as our empty stomachs started to rumble from discontentment, we arrived at a spot that our instructor had indicated as a camping spot we could use. We initially tried to paddle to the side but struggled to get out of the current, so Joeri bravely jumped into the water to pull the long green rope of the raft to the side and tie to a tree-trunk- in order to make sure we would still have a raft in the morning. We dragged all our luggage to the shore, prepared our place to sleep and then agreed that I would take the dogs for a walk and Joeri would get the food ready. The dogs exploded in the forest and ran out all the craziness of the day until their tongue hung long and tired from their mouths. Time for a delicious hot meal after a day on the water! Once back at the tent, it immediately became clear that something about that plan wasn't going to happen. Just before leaving with the raft, we had realized we forgot a lighter so quickly bought one in the shop,  but we hadn't checked the gas canister and the piece on which you cook was of an incompatible brand. No hot food, no tea. But you know what, after a whole day outside on the water, cold ravioli right from the can tastes like a king's meal!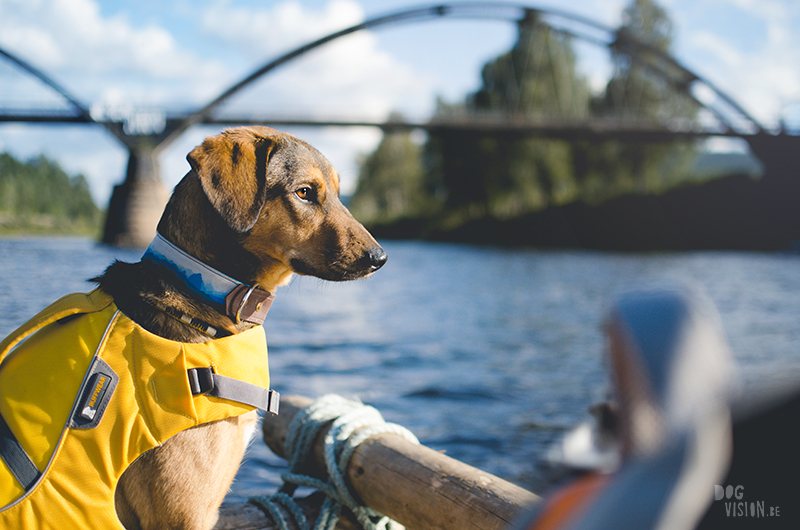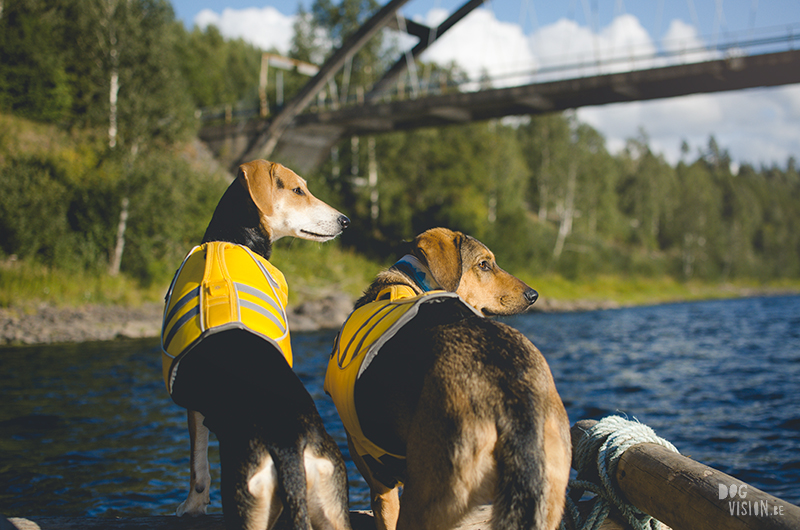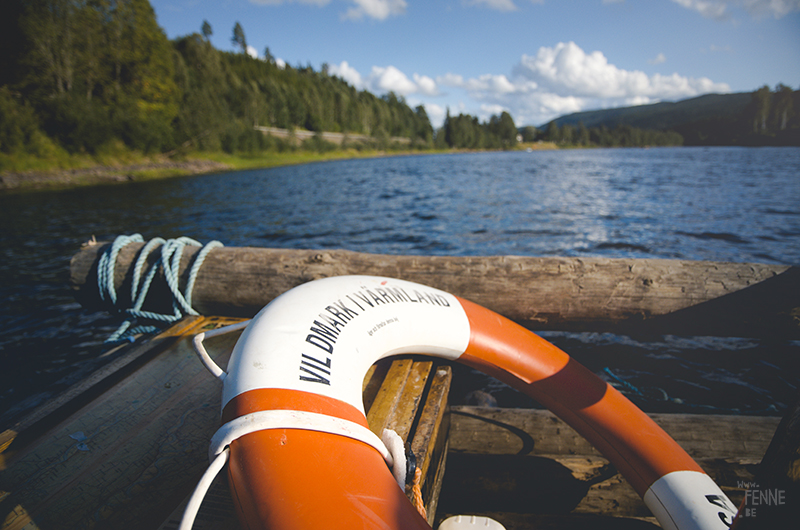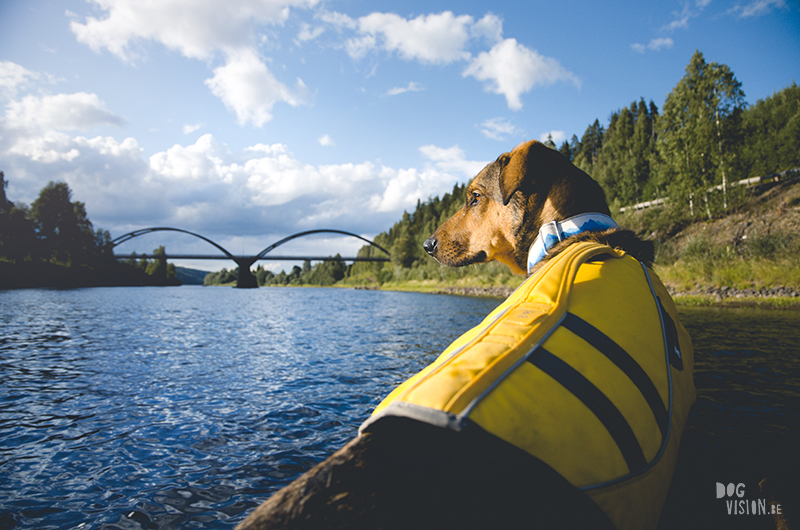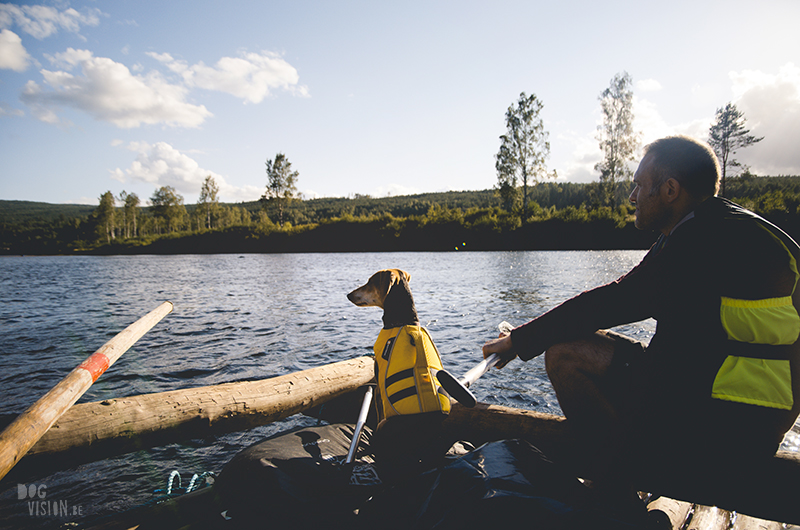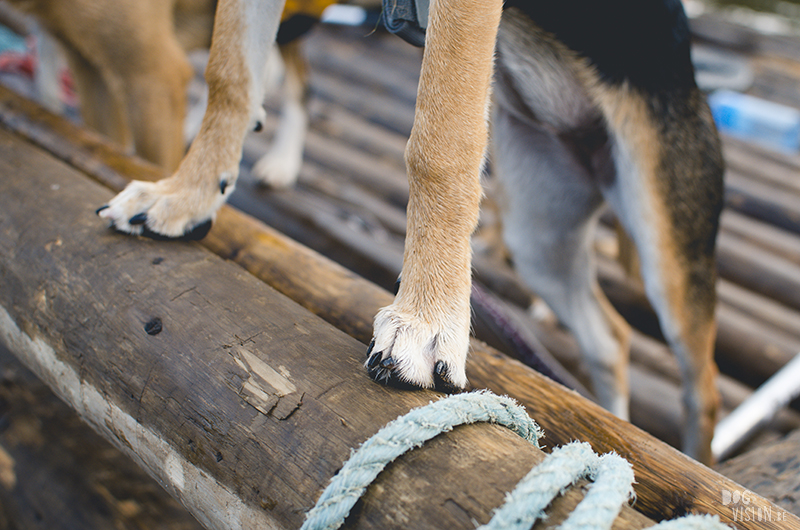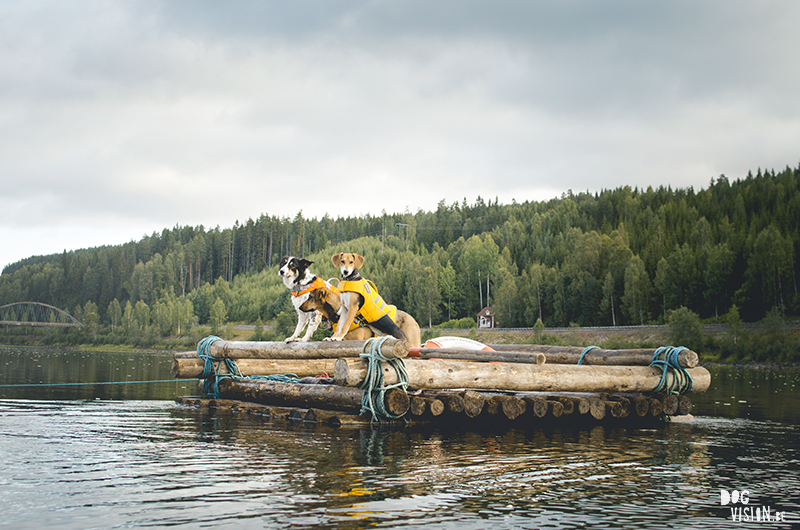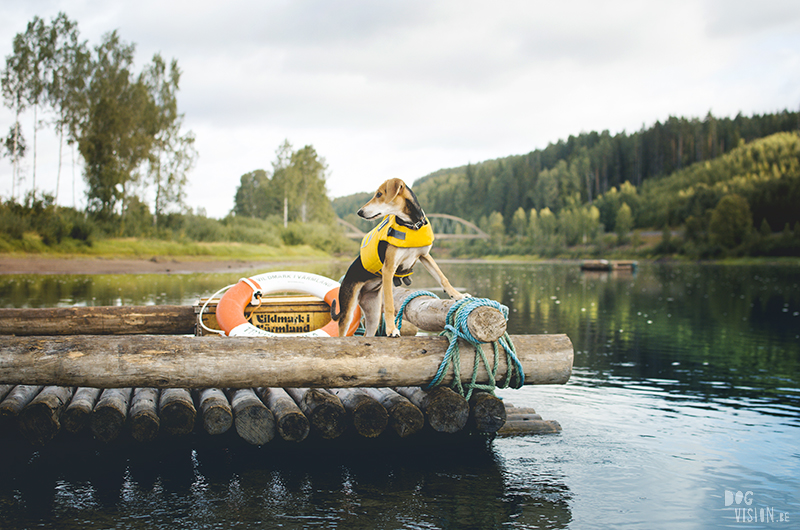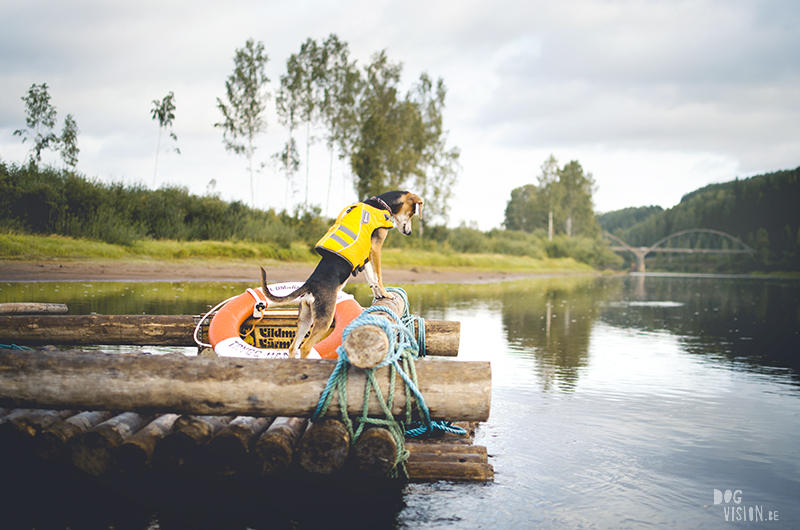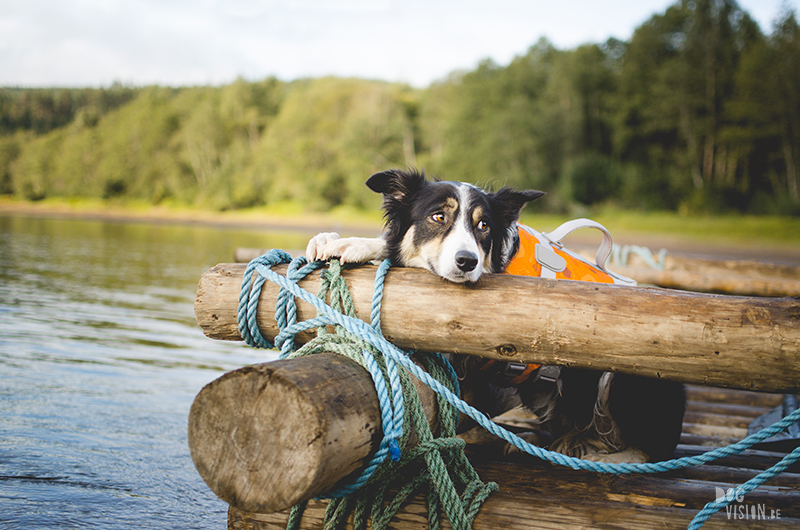 By the way, all of us- dogs and humans, wore our lifejackets the entire trip despite the often shallow water. Better safe than sorry, right? After all, you never know what you encounter, whether a dog goes overboard or whether a person does something stupid.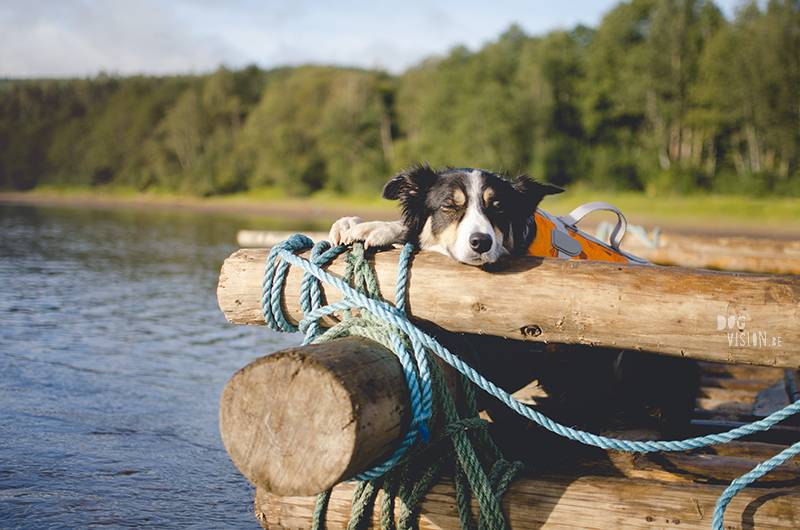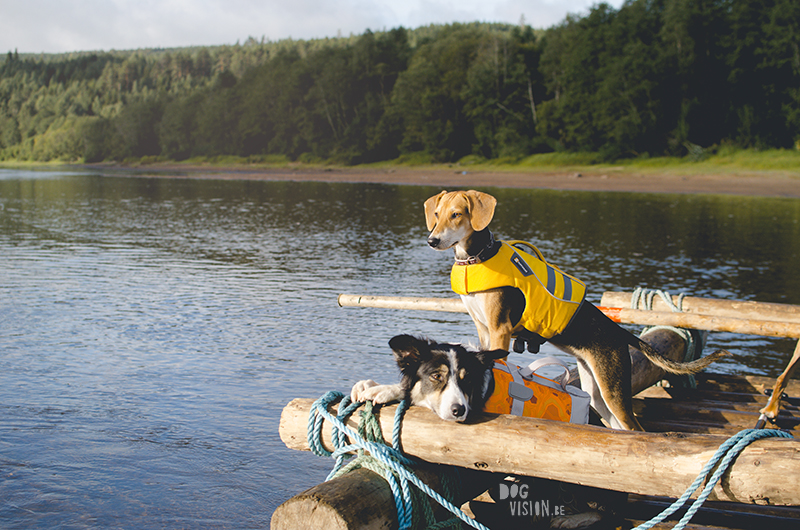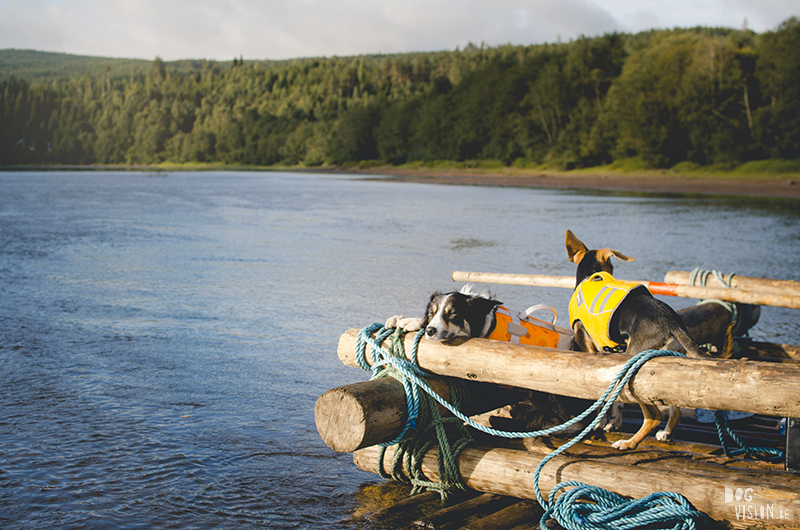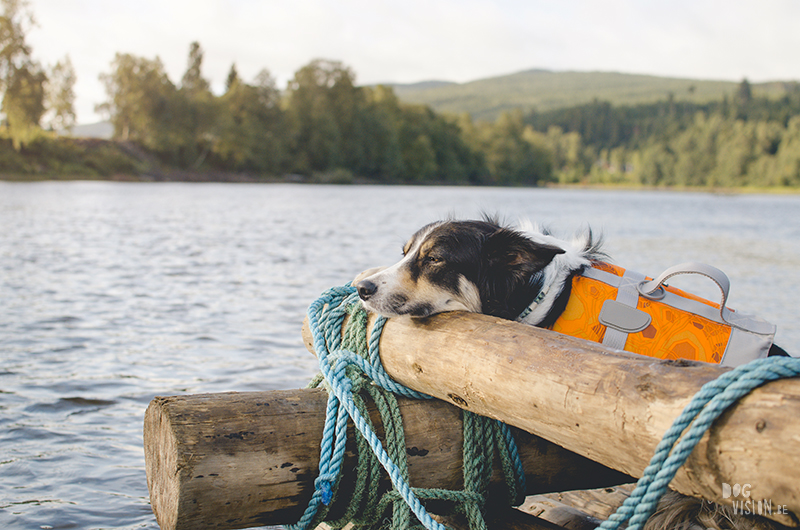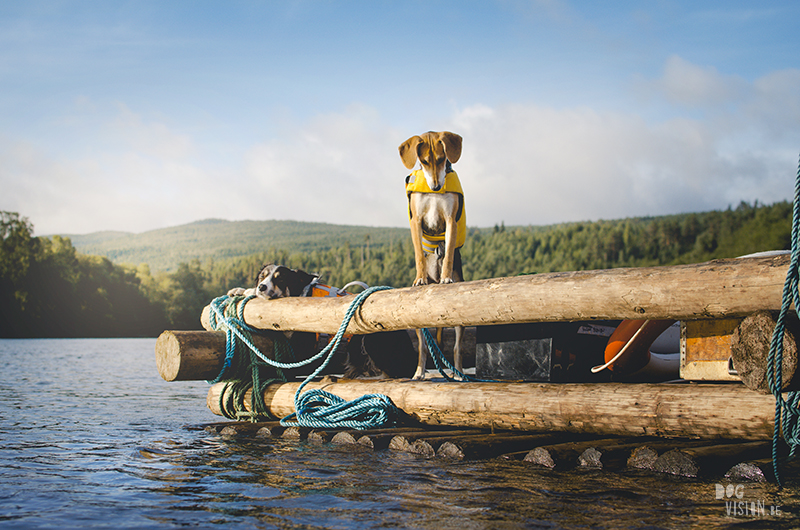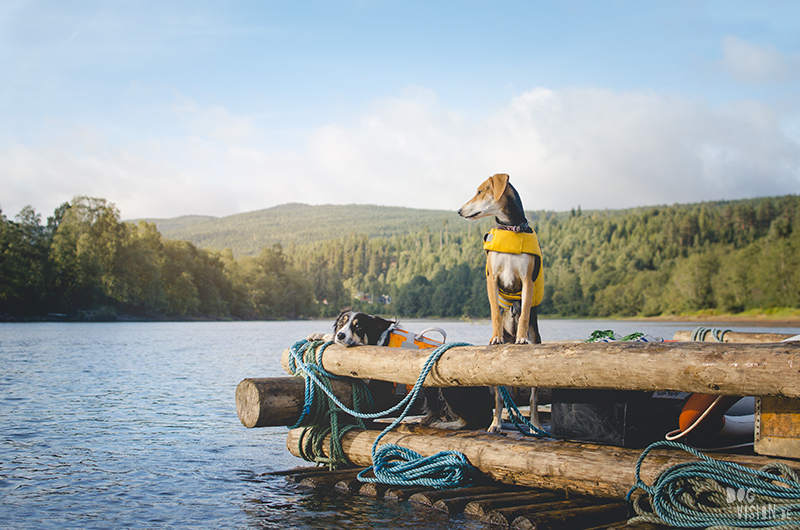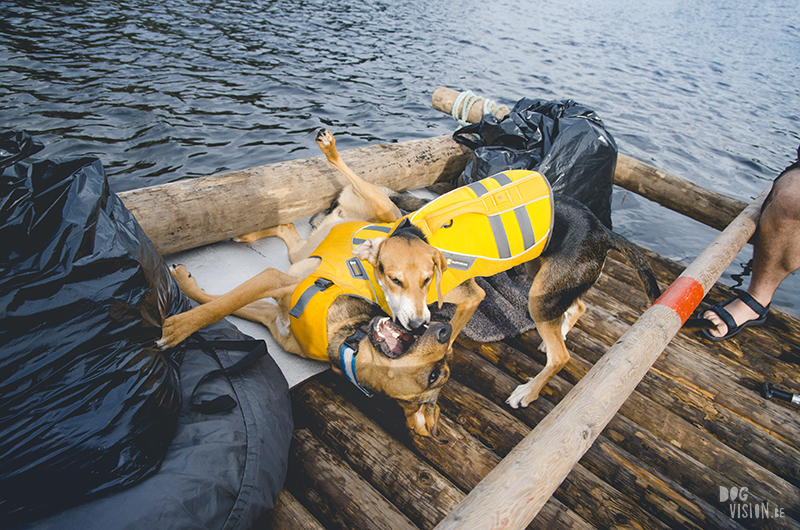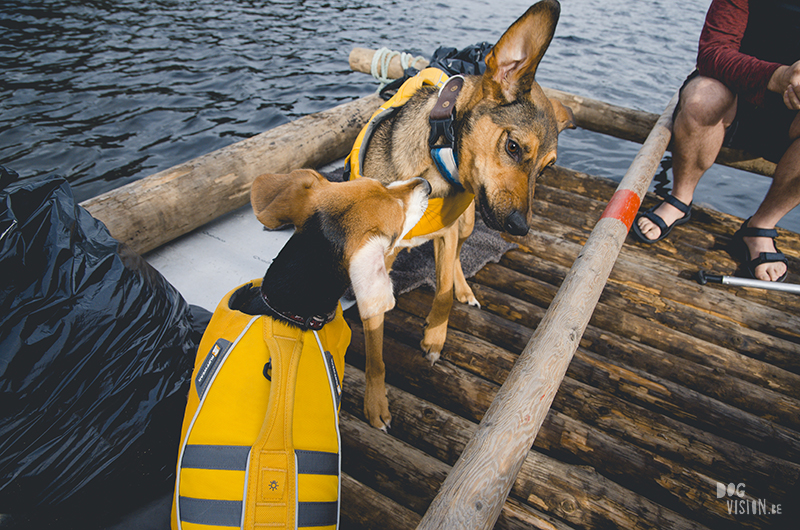 Well in time before for the rain, we arrived at the little beach where we had to dismantle the raft and the trunks automatically slid into a wood trap (I don't even know what these things are called in my own language) – so our tired bodies didn't have to drag all those heavy logs back on dry land. Because of the handy knots we learned, the dismantling went amazingly fast and the water took over all the heavy work from us. I actually really enjoyed this part even though it meant the end of our adventure. There, at our final stop, the DOGvision van was patiently waiting for us to return, ready to drive those weary travelers back home before the storm broke loose.
A bit of practical info/details:
– We arranged our trip through Vildmark i Värmland.
– The camping ground isn't really prepared for dogs and we couldn't use the cabins. For the trip, there is usually a tent included but with dogs, we had to bring our own.
– Our raft was about 3x3m because it was a short trip, we didn't build a shelter on it. Longer tours are provided with a bigger raft and with a shelter. We weren't sure about this before so luckily we had enough plastic bags with us to protect our gear.
– When camping in Sweden, you're very free to enjoy everything nature has to offer, but ALWAYS be careful with fire (or possible fire bans) and leave no trace.