DIY Valentine's hearts for your dog's collar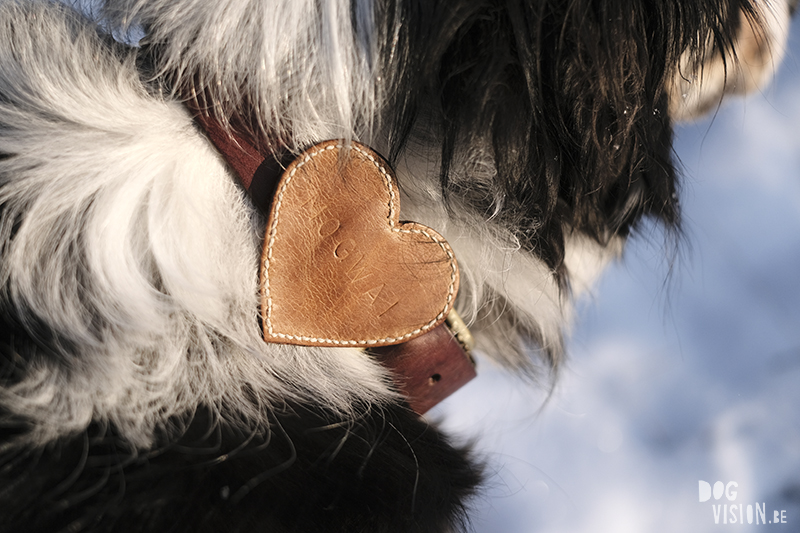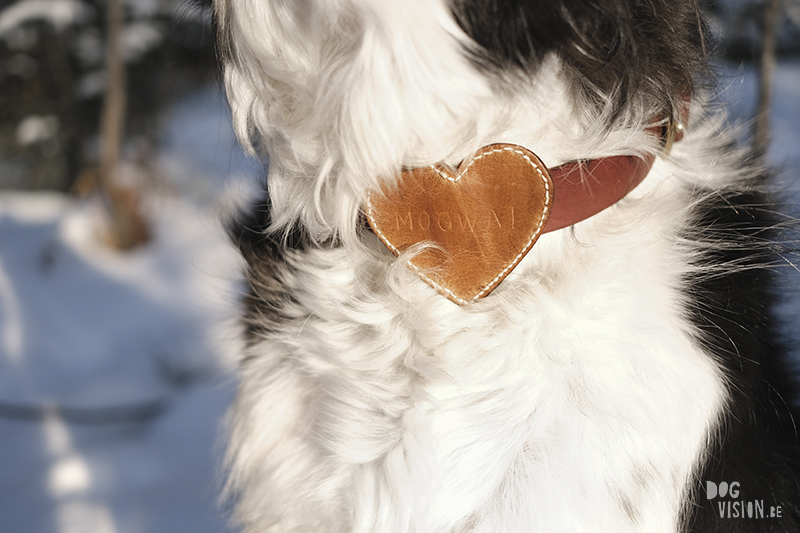 Valentine is coming so why not share some extra love and hearts 🙂
For a few weeks, I was thinking about what to do for Valentine. This year, I didn't feel like organizing a photoshoot or get all the pink out. Hearts are fun and beautiful symbols, so what else can we create?
During autumn and winter, I've been crafting a lot and one of the things that I tried was creating a leather camera strap for the Fuji xt4. Since that first attempt at leather crafting, I was looking for a new little project while feeling super inspired by some leather workers that I follow on Instagram. A few of my favorites are: Bearytail leather (perfection, mastery, eye for detail, and always inspiring stories on Instagram.), Pines and bones (authentic, original, down to earth and modern- and super nice person and dog), and Little king goods (lots of information, ASMR videos, and a no-nonsense look of products).
To get started, I locally ordered a bag of leather-spill, basically leather leftovers that you can order by the kilo. I could select whether I wanted a mix of browns or black leather. I chose brown and got a mix of a few different shades. Since it's waste from leathercraft, there is a bit of life to the pieces. Some have a few marks of creases and quality can vary. I think that's just perfect if you're learning and experimenting. You can see, for example in the photo above, that there are some creases from the start. But that's ok, if my dogs wear it, it will get some scratches and patina anyway.
I have to make a few more photographs for the different steps as for this first time, I was way too busy with making this idea a reality :-D. Hopefully, you already get an idea.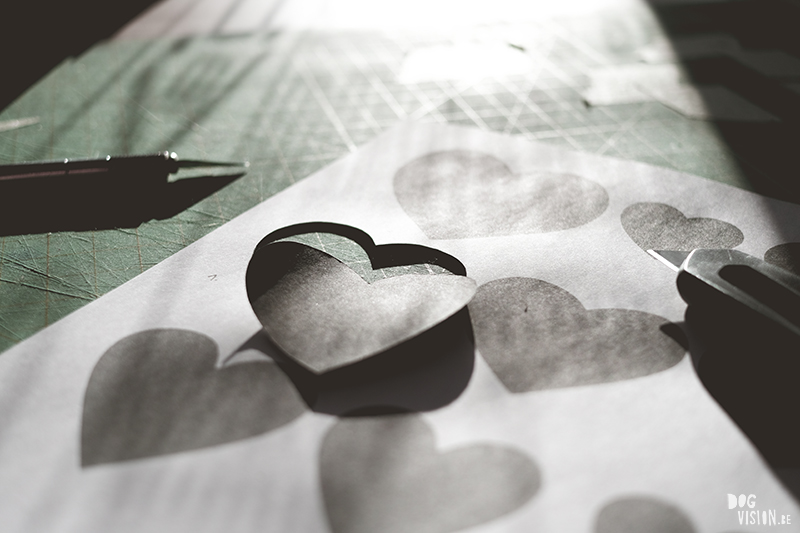 What you need:
– The shape of a heart in the right size. I printed an A4 page full with hearts of different sizes, then compared the size to Mo's collar to guess what I would like. It's best not to pick one too large as it might get floppy or fold, or too small as that will be much more difficult to work with or attach to the collar. You can also use a cookie cutter of another heart-shaped item that you have. Or even draw it by hand.
– Leather for 2 hearts (from and back) and a strap to connect the heart to the collar.
– A sharp knife or scissors + cutting board.
– Yarn + needles. I chose waxed thread and needles for leatherwork as they are very strong, perhaps you want to try something else.
– Glue. I used bookbinders glue as I couldn't find anything else 🙂
– Scratch awl or anything pointy to make the holes.
– Pen/marker to trace the heart shape onto the leather.
Optional:
– Wood slicker and Tokenole to finish the edges (you can also leave them raw)
– Alphabet stamps or another leather stamp to create a pattern. My leather was a bit too thin to really get the effect of the name.
– Spacer– to measure the sewing holes. I didn't have this tool but I would like to.
– Leather paint, shoe cream, finishing spray,…
Step1: cut 2 hearts from the leather, make sure they fit.
Step 2: measure the width of the collar and draw 2 lines on the back of the heart.
Step 3: cut a strap that is long enough to go through the heart and around the collar. Measure the with of the strap and make the cut on the heart as wide as this strap.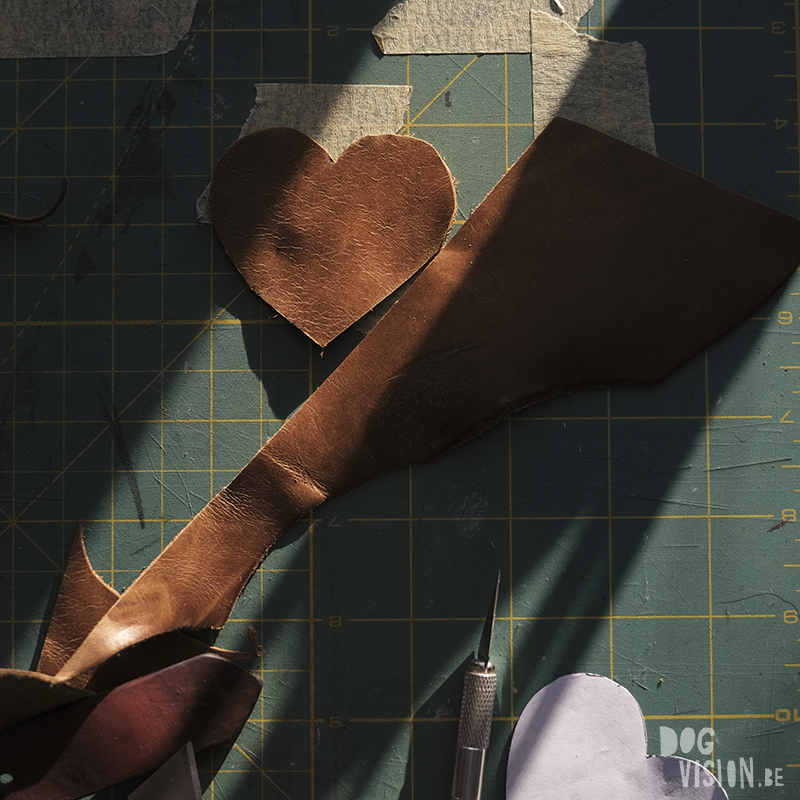 Step 4: Glue the two hearts together but leave the middle free (as the strap will go through)
Step 5: Draw very lightly a line parallel to the edge and use the scratch awl to punch holes.
Step 6: sew. There are many options depending on the style you like. I used one cord with two needles to go all around attempting a saddle stitch.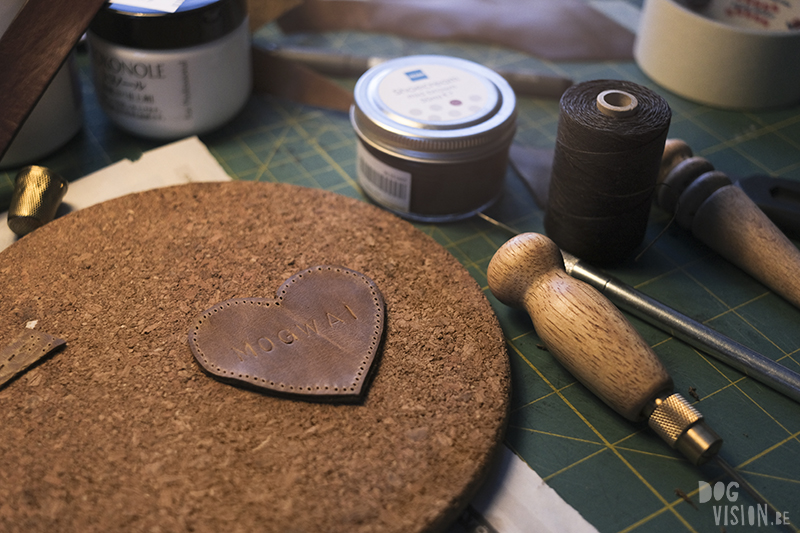 Step 7: pull the leather strap through the heart, punch 2 holes and stitch together.
Step 8: finish the heart with cream or wax and then pull over the collar.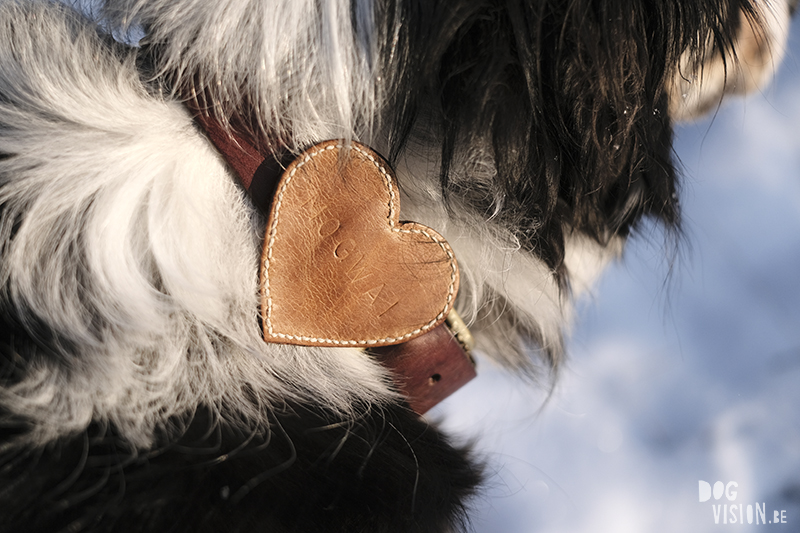 Wishlist:
High gloss polish
Spacer
.