How to order dog coats online?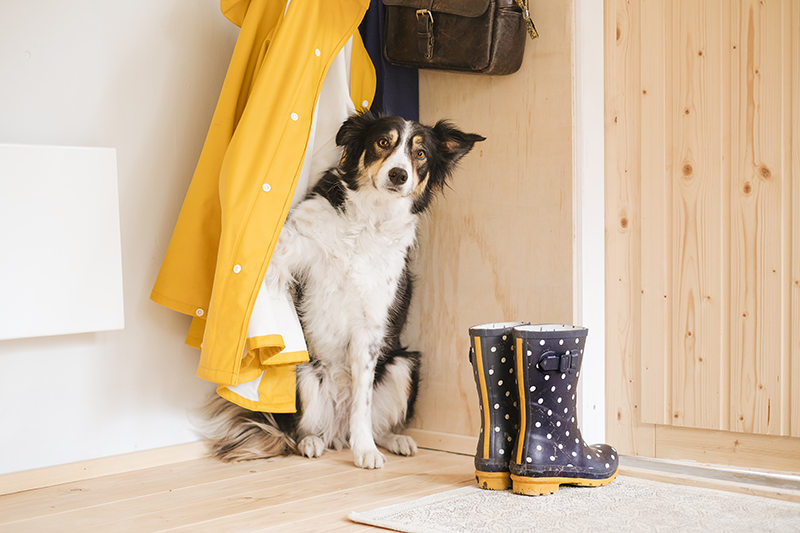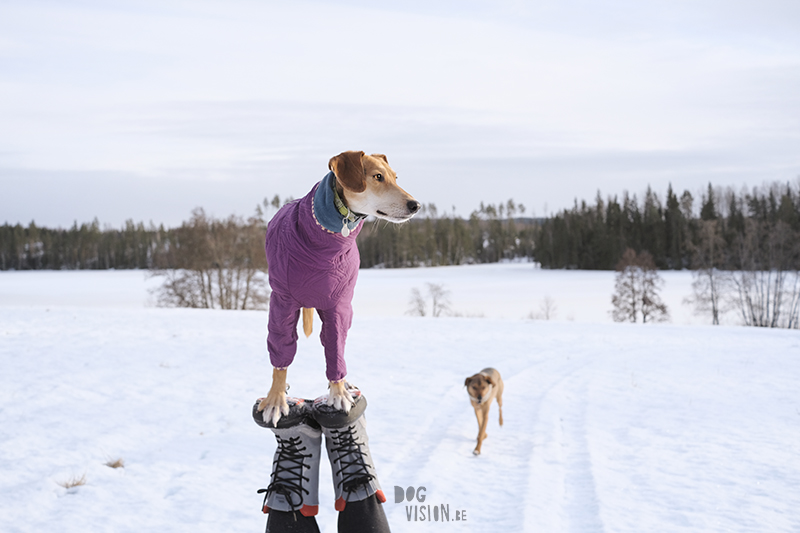 By now, Lizzie probably has as many, if not more, coats than I have. While it's nice if they look good on her, a good size and great materials are the top priority for us as her short coat (made for summers in Greece) barely gives any protection during autumn, winter, and early spring here in Sweden.
This autumn I also added a raincoat for Mogwai since she was still using an old one from Ziggy that was a bit too big for her. She's not easily cold but on those chilly fall days with pouring rain, she arrives home soaked, and since she entered senior age, I want to be prepared to protect her a bit more. I remember from Ziggy and Ravasz that both of them had trouble staying warm when getting older while never in their young life did they need a coat or sweater and they would hike in whatever weather.
All shops that I know allow you to take your dog inside to fit coats or sweaters, and that would be my first choice, but not always possible.
Reasons to order dog gear online:
– Pandemic/lockdown/restrictions. Yes, that's a new reason to stay home.
– Having a reactive/nervous dog. I avoid taking Oona into the shop because she might bark at other dogs and it's just not fun.
– More options online. Often you can see immediately which colors are available, some brands are hard to find in a local shop,…
– Living too far from a shop.
– Having a dog that doesn't fit into standard sizing.
– Wanting something handmade/from a small business.
– …
Brands/types of coats.
A good first indication of what's out there is often social media and the gear that friends have. Dog events and dog shows might also be a good spot to look around what other dogs are wearing and how well it fits. Etsy has a lot of sellers with super fun/cute/cool items but it might be interesting to ask questions about the type of fabric, quality, and thickness.
My personal experience is that it's often worth it to invest a bit more money into a coat by either having it custom-made or by a brand with an excellent reputation. I don't mind Lizzie running around in what should be an attempt to sew a sweater, but when the Nordic winter arrives, I have to be able to trust my gear. Simple as that.
In a shop, we would all touch the fabric and wonder if it's thick or thin enough (we don't want to cause overheating either, right?), strong, water repellent, or warm enough. Online, this is probably the hardest thing to estimate. To get a better idea you can ask friends, check reviews, watch or ask for close-up photos, and read the specifics.
Lizzie has several coats because they all serve a purpose.
Coats/apparel we have:
– Light raincoat from Hurtta that covers well and also protects a bit from the wind.
– Coat with a fleece lining covering the chest and neck from The Hound Project.
– Fleece sweater. For colder but dry days, for camping, and to layer with warmer coats. (made this one myself)
– Winter onesie. Quilted dog coat from Hurtta. This was probably the trickiest to order :D.
– Extreme warmer for the coldest days, also from Hurtta. We also use it as a top layer combined with the Quilted coat. The fabric of this coat is designed for cold, but not so much for rain, so that's important to keep in mind.
– Drying coat from Ruff and Tumble. All 3 dogs have one and it's a game-changer. We might take them when camping (a wet dog in your tent or camper just isn't that much fun), to dry quicker, for after rainy winter walks, or after bath time so they are not shaking around water through the whole house 🙂
– A thin onesie. We got this one in a rush as we noticed her being cold her first autumn here up north.
We have quite some gear from Hurtta and are very happy with all their products so far, but that doesn't mean that other brands can't be as good. It's also a matter of what is available of course. And it's a brand that I know is a good fit for the type of dogs that I have and the climate that I live in. On the website, Hurtta provides not only measuring info but also the thermal range, visibility (reflective hems/patches), body coverage, and weatherproofness- all things that are important to us.
If you live in a warmer place on the planet, there are different factors to keep in mind. First of all, of course, overheating. So a raincoat should be light enough and not keep moist under its surface. Often (but not always), rainwear is made with a plastic layer, and for some dogs that might irritate/scratch their skin when walking.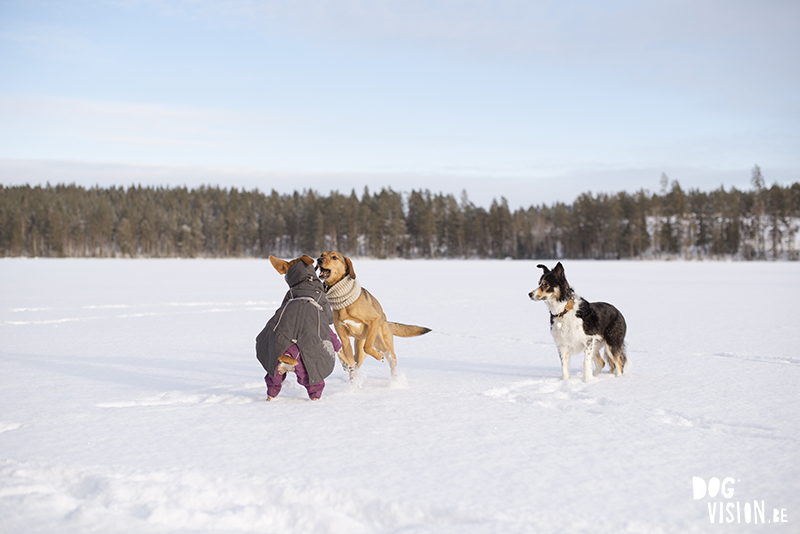 Easy on/Easy off?
Some coats can be a challenge to get on and since Lizzie is sensitive, I prefer clothes that are easy but sometimes function comes first. Straps for the hind legs can be a bit annoying sometimes but with lots of wind and zoomies, they come in handy.
Zippers can be something to avoid if you have a long-haired dog.
Know your dogs' body type.
Mogwai is a Border Collie and while she's more petite, a lot of brands have breed indications that include a Border Collie. When you have an unusual breed or a mutt, it can get a bit more difficult. Lizzie, for example, has a long body, long legs but is slender built. When I'm on the lookout for gear, I often check if there are any images with Greyhounds of other dogs with a similar body type. For Lizzie, many coats have a neck size that is way too big, and that would result in a coat that hangs too low, hinders her movement, doesn't protect, or looks silly. At the same time, if you have a muscular Bulldog, you don't want to squish them into a slim fit.
To have something fitting perfectly, custom-made coats are probably the very best option, but if a coat is adjustable, that might even be better, especially in case your dog is still growing or maturing.
Measure well.
The key to getting a perfect size is to measure accurately. A lot of brands have sizing tables to help you out. If you're unsure, it's often no issue to contact them and ask for help.
Afterthought:
Sometimes you might just be looking for a funny Christmas sweater for the holidays or a raincoat to protect your dog when going outside after surgery. If the item isn't meant to be used often or it just has to cover a basic/short-termed need, you might not have to be as thorough with your research or as demanding as you would be for apparel that has to keep your dear senior dog comfortable as they age.
Wishing you all a warm and cozy winter 🙂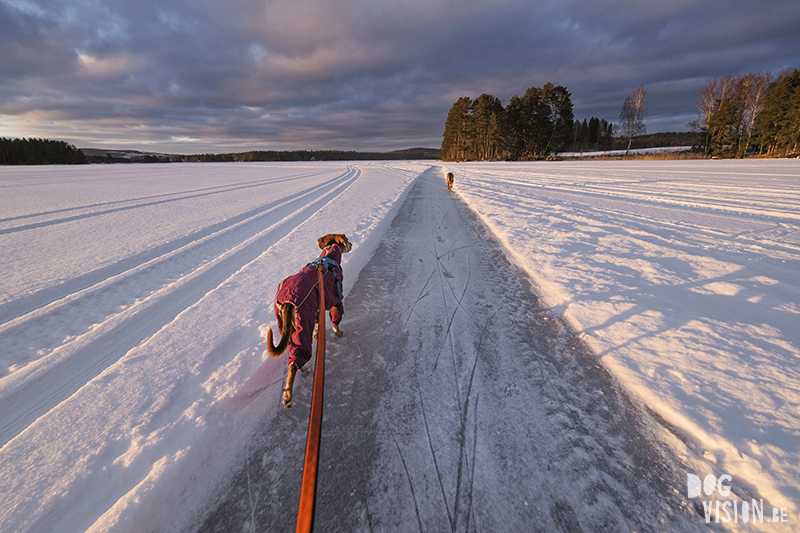 This post contains affiliate links.
If you use these links to buy something we may earn a commission. Thank you!