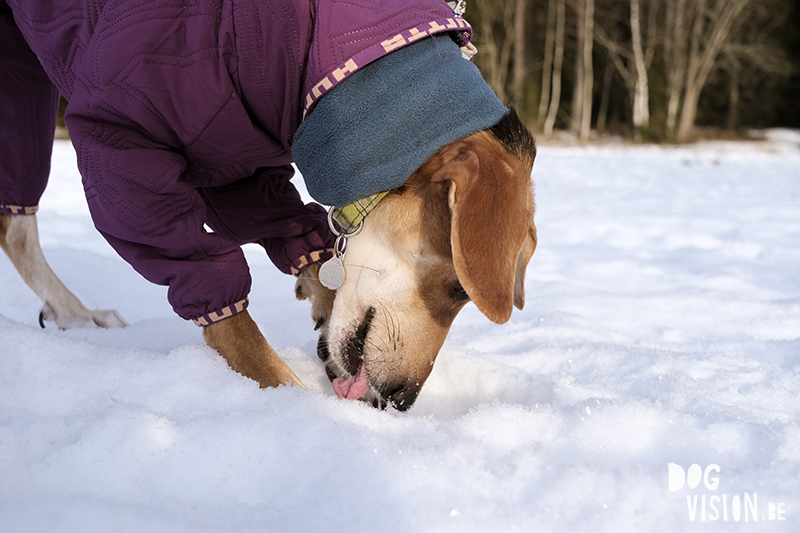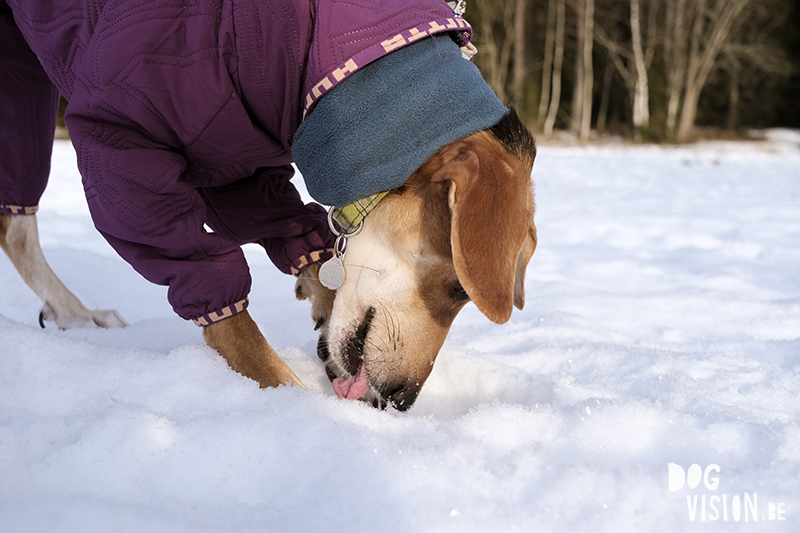 While desperation was chasing me last week (that headache and fatigue), the past week has been one of effervescent energy and new discoveries. There is so much that I want to show you, tell, share, … that I just don't know where to start ? – yeah that happens to me sometimes.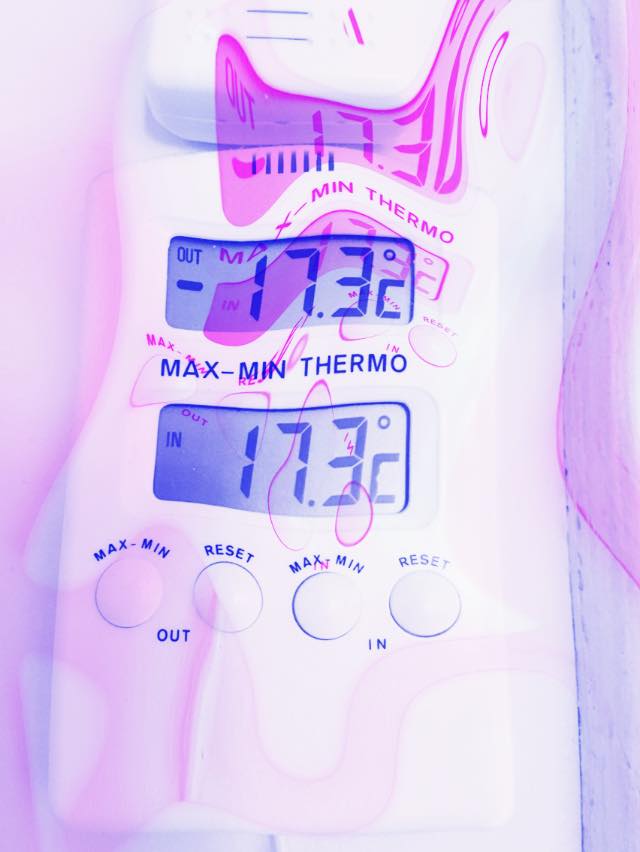 To begin, it was very cold here. Even during the day, we had a few days of -17C degrees! Over the years we learned how to dress for the cold, but there is always that tip of the nose or jaws where the cold pinches viciously and that can be very painful. I can't cover my face as well as Joeri, who doesn't wear glasses, because otherwise, my glasses will fog up completely.
The strange thing is that in Belgium I often had frozen lips that made me talk idiot, and I don't have that here at all. No idea why.
The severe frost and clear air brought unique moments, starting with the freezing of the lakes – the beginning of all euphoria. We are quite careful with ice. We measure, test, look closely at the ice quality, and, above all, do not take any risks. The first plan was, therefore: mow the grass! (lol) The winter edition where we trim the withered grasses on the shallow part of the lake – a challenging winter job, but it gives us a little more time and space towards the summer. For example, last winter we could not go out on the ice and therefore we could not mow, so by the end of summer, despite many mowing sessions in the water, we saw the lake around the dock grow over.
Joeri had also forgotten that he had ski pants: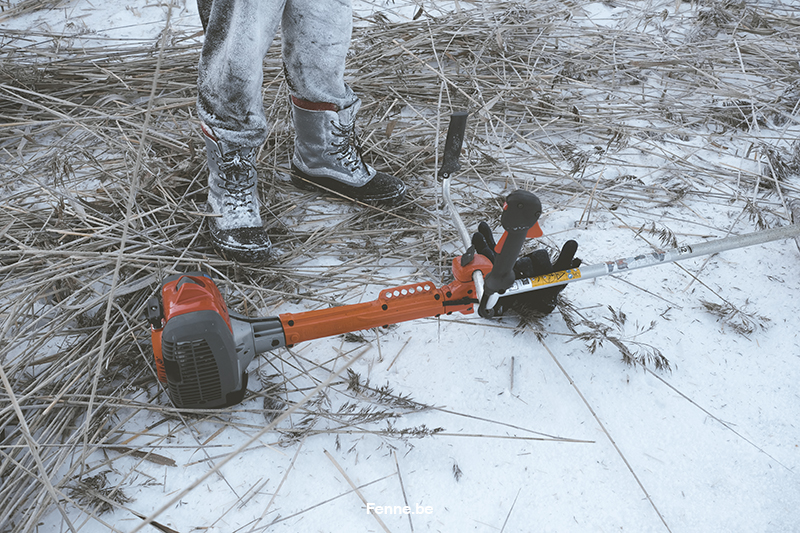 In between all that slogging,  arm in arm we gazed in awe at the open part of the lake (our garden is in a narrow cove) where the sun made the ice shine and ice crystals light up as if someone broke a crystal clear vase into thousands of tiny pieces had splashed. Sometimes you might think that snow is just snow and ice is just ice, but no two days or two places are the same. After we saw people skating and walking on the other side, we decided – very carefully – to go a little further on the ice. And there in the sun, on Bambi's legs, we walked through the crystals that really sounded as if we were shuffling through a layer of superfine glass. The lake creaked and sang loudly in the cold, a magnificent but also exciting sensation.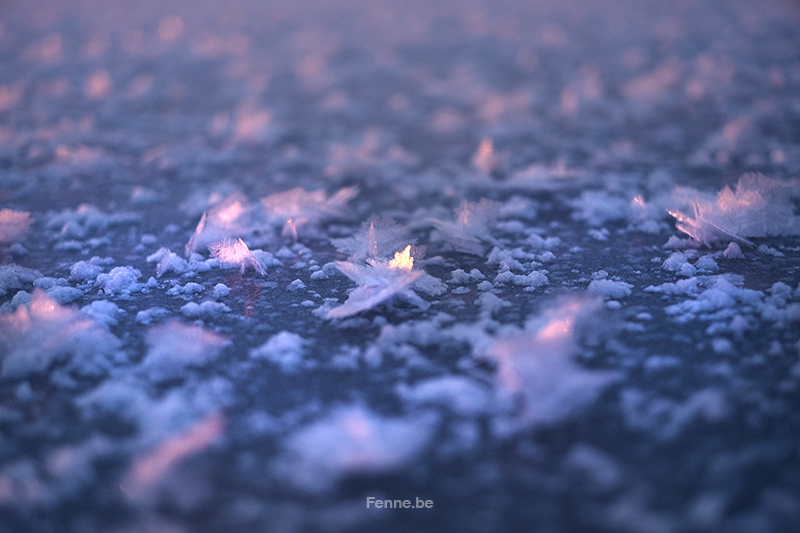 "Hey, Joeri, what if we bring out the spark?" I suggested thinking aloud. A spark is a kind of kick-sled that you can use on (flattened) snow and ice. On most of the roads here up north, no salt is used, but a layer of snow is scraped off so that the underground is flat without being slippery. For example, people sometimes use the spark to slide to the store. A bit like a wheel-less winter bike. But then without gears :-). We had heard that you could also use that thing on ice, but we had not had the chance to do that (last winter it was barely freezing and the winter before we had a lot of snow). Still a little careful and not too far from home, we slid around for the first time on "our" frozen lake. About the place where we quickly take a refreshing dip in between work in the summer. How crazy is that!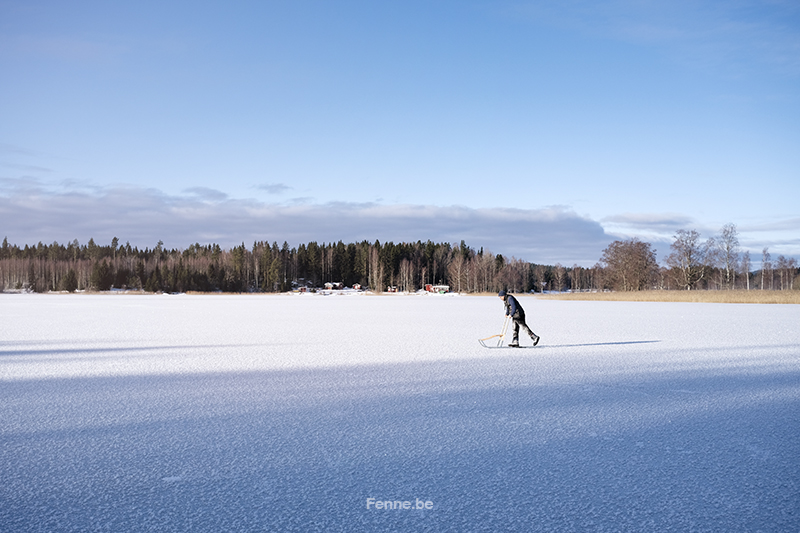 The frozen lakes made us curious about all the places we know and would like to explore. One of these was a village a little further north where a walking path encircled a lake. An extra plus is that the snow is cleared so that you can walk easily. And yes that path was beautiful. Very beautiful actually, swirling underneath fragrant trees and here and there a hut with a fireplace. But the crisp fresh snow on the lake attracted us as the world's strongest magnet. We just couldn't resist any longer. And the doggies are also happy of course because on such a vast plain they can really sprint!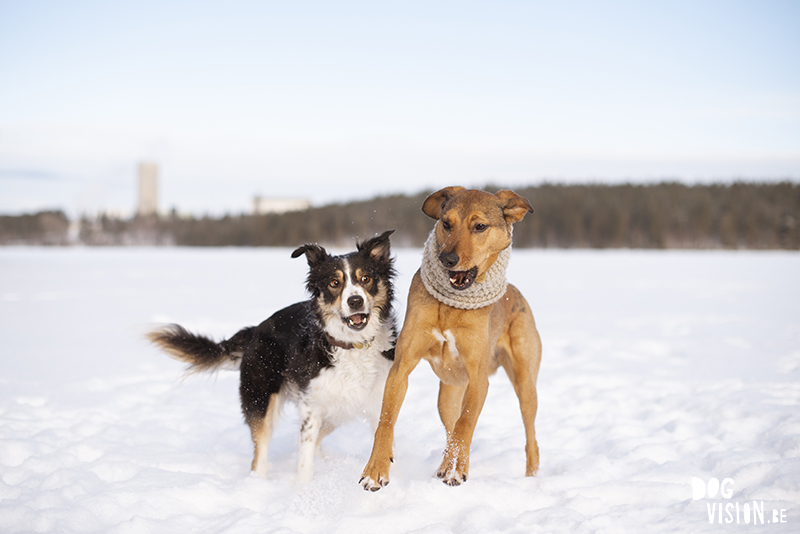 It was freezing cold in here so Lizzie was wearing two coats on top of each other (her fleece sweater waited for laundry). Both are from Hurtta. The gray is the Extreme warmer, the purple is the Quilted overall. Every winter I see discussions online about coats for dogs and my position is simple: as an owner you take care of your dog. That also means buying a jacket when they are cold. And our Greek easily gets cold and her thin coat could use some help. At Hurtta I happened to find several models that fit her slender build. After all, with that long, thin body it is not so easy to find decent material. In cold weather, snow, and ice, it is important that everything fits nicely to avoid "airco holes" or discomfort. And yes, she will of course feel a little bit of resistance from the clothes, but as you can see in the pictures, that in no way stops her.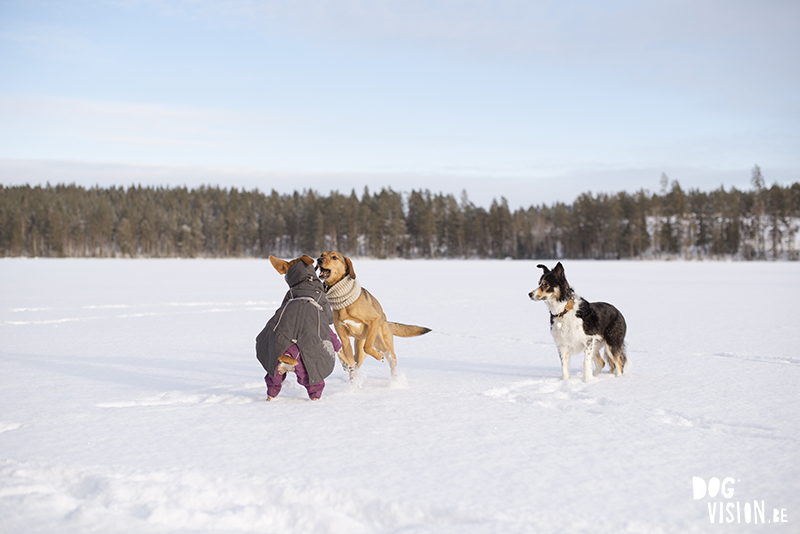 In addition to wandering the lakes, I was also completely absorbed in leatherworking this past week. On the occasion of Valentine's Day I wanted to do something extra for the blog but not a red-and-pink-heart shoot so it became a DIY project. With a lot of love and hearts, but a little different. I chose handmade leather hearts for dog collars. (Mogwai is wearing hers in the photo above). When I got the hang of it a bit (I'm only a beginner of course) I sent a few out into the world as well. Mission accomplished 🙂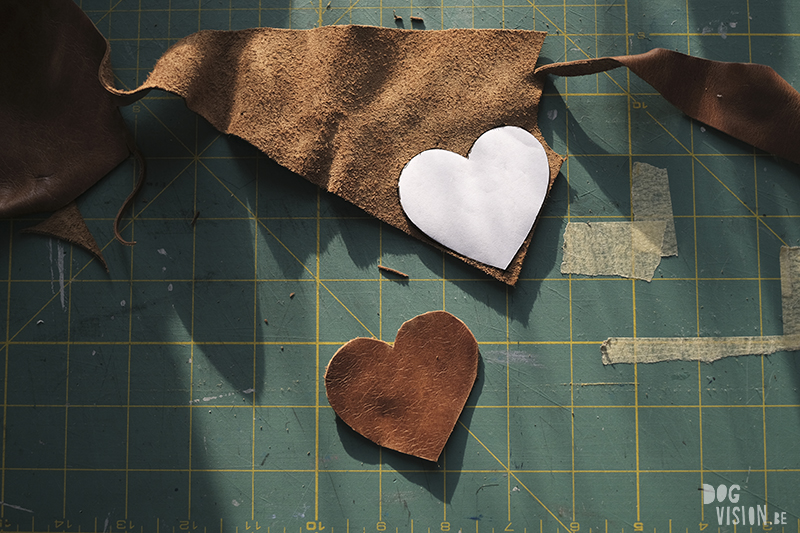 You may remember we had a pretty hard time with the darkness this year. In the fall we had an abnormal amount of rain and in December we had only a few hours of sunlight. That makes your system crash, I can tell you that. On the shortest day the sun set here around 2:30 am, but now in mid-February it is already 4:51 pm! That is just over an hour earlier than in Belgium. The sun, which only woke up around 9 am, is already ready at 7:33 am – which is even earlier than 7:53 am in Belgium. We really feel a difference. It may be colder, but our batteries recharge in all that light.