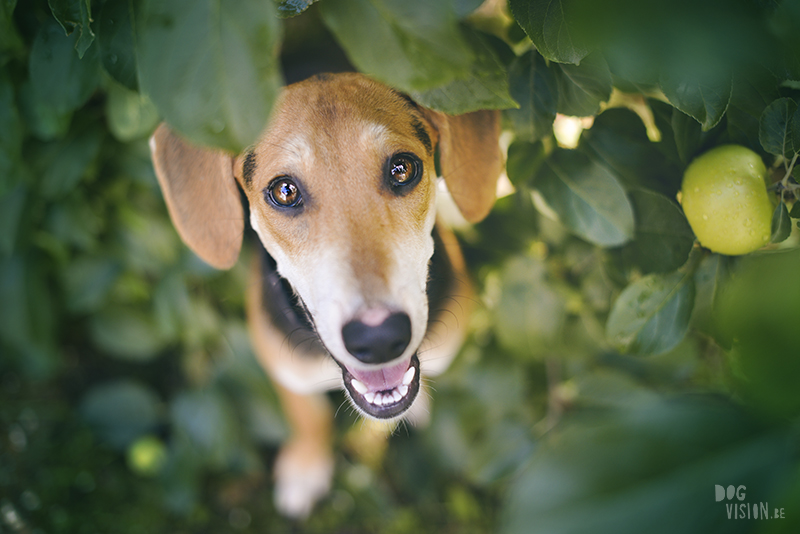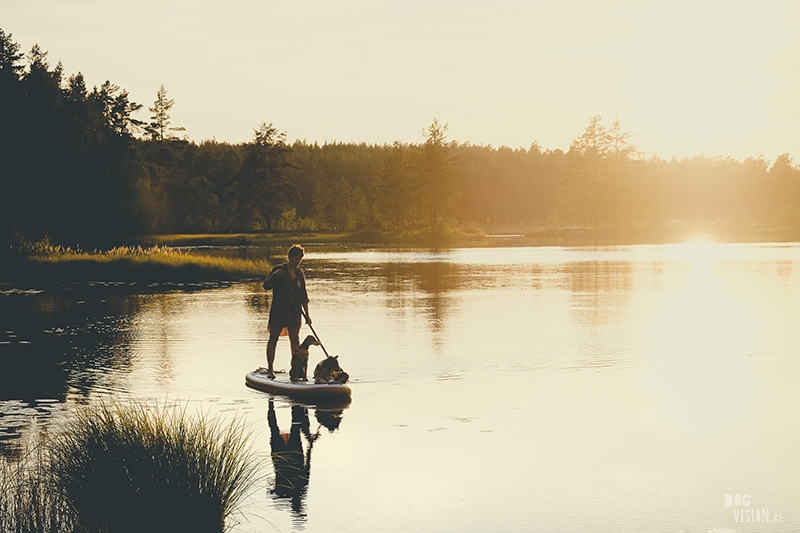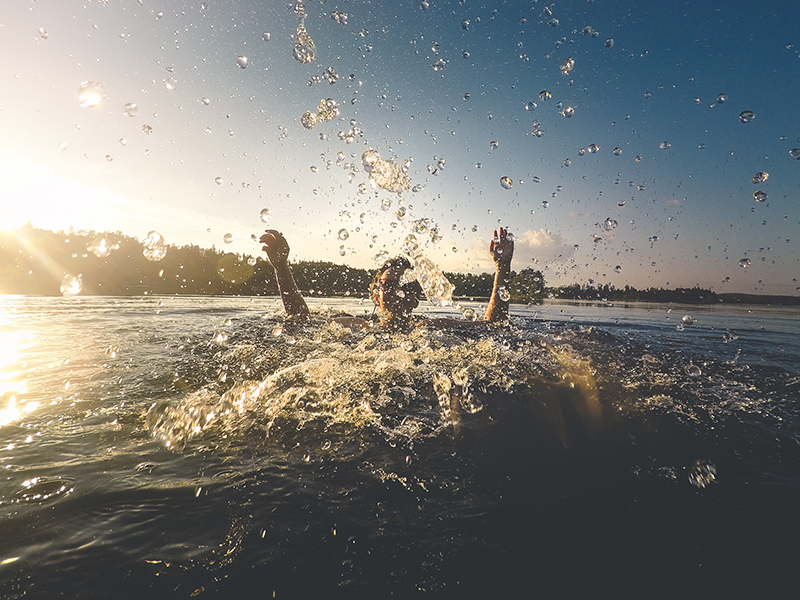 The past week was an intense one, with height of fantastic bubbly moments by the lake but also a few moments of despair.
A few weeks ago I recorded Oona's behavior when we were out. I didn't expect anything special from it as I never find destroyed stuff or anything like that. So what we saw was kinda shocking: Oona barks almost the entire time that we're not home! Our first action steps were giving more exercises (and games) and making sure to provide something to chew on. Didn't work. Then we tried Adaptil, both collar and vaporizer which we bought for Lizzie's first days with us. Besides that we also contacted our vet but had to wait for an appointment. One morning we left Oona at home while we went swimming and when we returned, it was quiet and she was very calm. I got a rush of hope!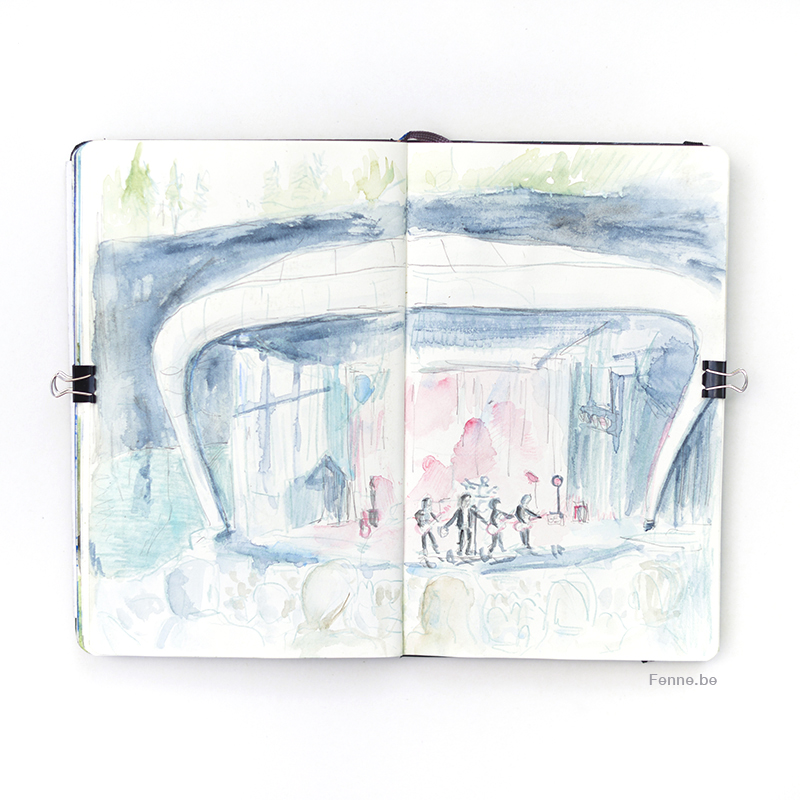 Last week, we had tickets to a concert that was special to me: Lars Winnerbäck at Dalhalla (an old mine) and I was looking forward to finally hear/see him live. Dogs were not allowed on the site and it was too hot to leave them in the car. The woman that could watch our dogs was on holiday so we decided to rely on the Adaptil, a trigger-free room and lots of chewing things. We were a bit nervous to leave them. And we should have. Damn. Not only did Oona bark for hours, her barking was also upsetting to Lizzie who destroyed a plastic bowl into tiny pieces, peed and pooped on her blanket. Exhausted we ran back and forth with toilet paper, cleaning supplies and dog shampoo to get everything clean again.
It was a slight relief that our vet appointment was the next day. As we arrived, Oona barked at another dog at first but after a little while she laid down just like Lizzie. At the vet, she only needed a little command to get on the scale or the examination table and she was giving kisses although all the curious hands on her body were a bit weird to her. When I was explaining her stress and fears, she was quietly resting on the floor. if I wasn't getting desperate, it would have been comical. But luckily the vet took our story seriously and after discussing the situation with some colleagues, she prescribed a sedative as the first step to get through this behavior. In a few weeks we'll discuss what to do next depending on the results.
I've never had a dog that couldn't stay at home alone without perhaps a bit of exercise first or something to chew when I leave so this is new. I certainly hope that this product will help us to train her again to stay at home and be comfortable with it. It's not that she has to be alone often, maybe 2-3 hours a few times a week when we have Swedish classes or when we need to get to a shop that isn't local.
Sunday was the first test with this product. We decided to try it first while still being home to see observe the effect and possible side effects. We gave her a small dose just before our friends arrived because door bells, kids playing, etc also causes a bit of stress- although she's good with people. Except for a few barks while they arrived, she was alert but calm and quiet. No weird effects.
The first test while we will be out will be this evening, so I'm very curious and a bit nervous if it will help her. *fingers  and paws crossed*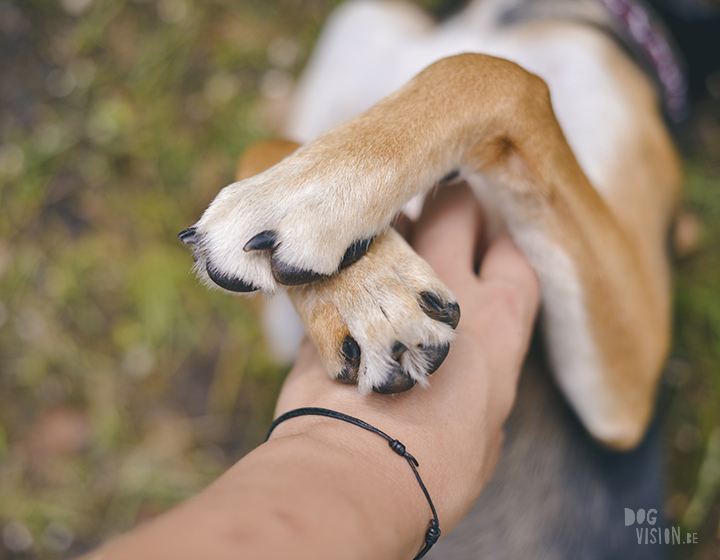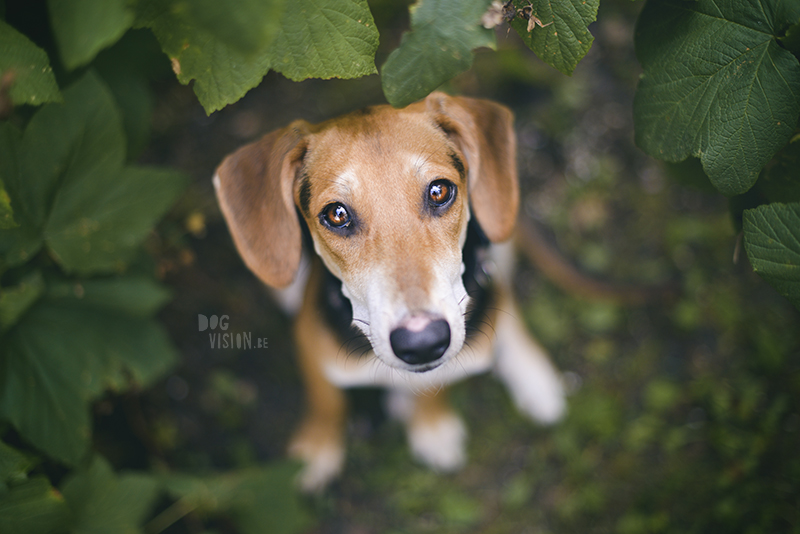 And then finally after months of dry and hot weather and wildfires, the rain arrived with a bang of Thor. Lizzie and I watched the rain, smelled the freshly washed air and listened to the drumming on the roof. We might be Pluviophiles 🙂 (Although I think she likes watching to rain but not being out in it).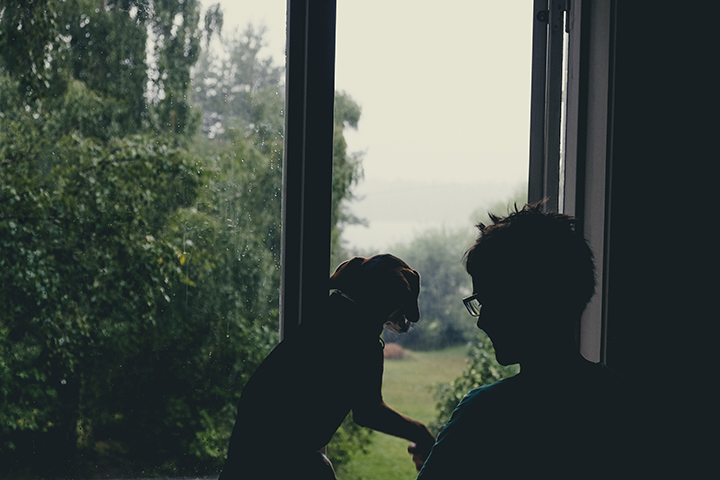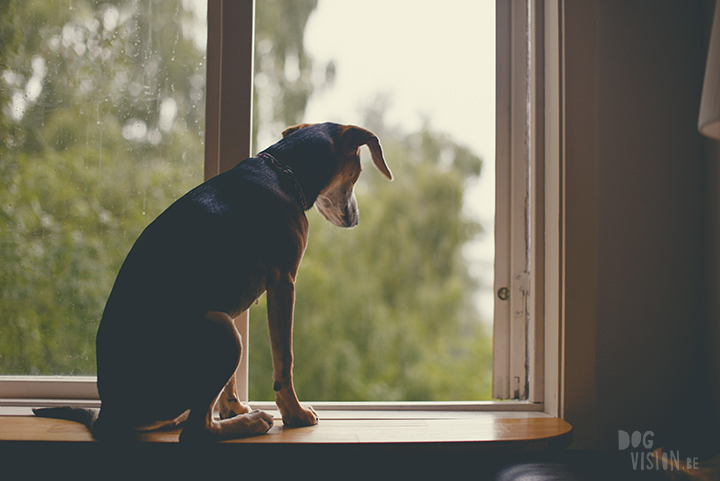 Earlier I got some very excited messages from people that wanted to give the DOGvision photo challenge a try in August. I didn't specifically design it for any month, so that's why it only has 30 days and not 31. In case you want to challenge yourself and get creative in August, you still have today to download or print the file!
That's it for now, until we meet again
x