Why my dogs wear life jackets.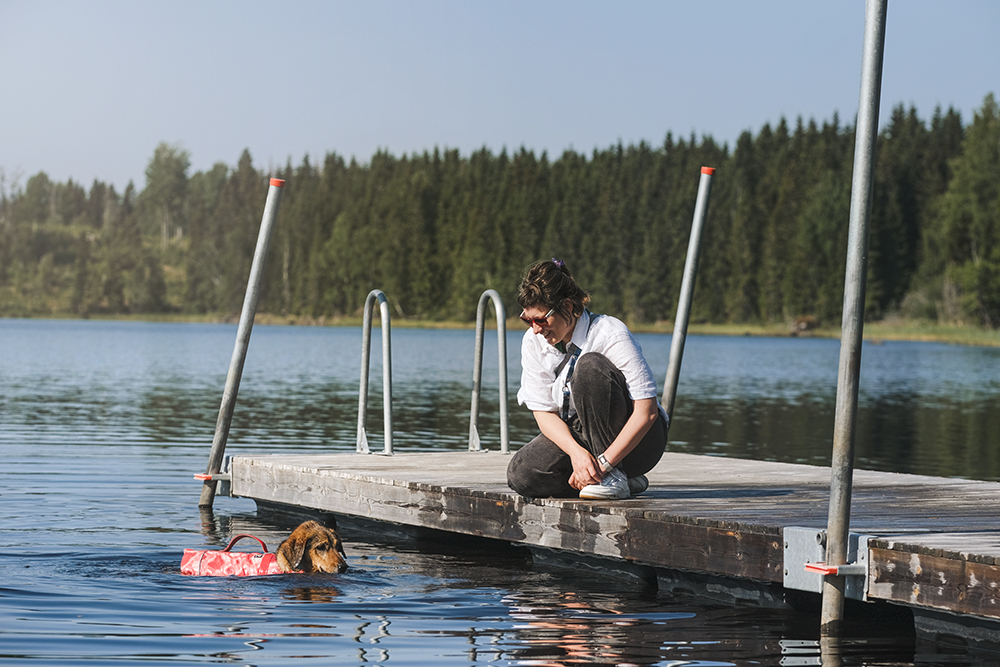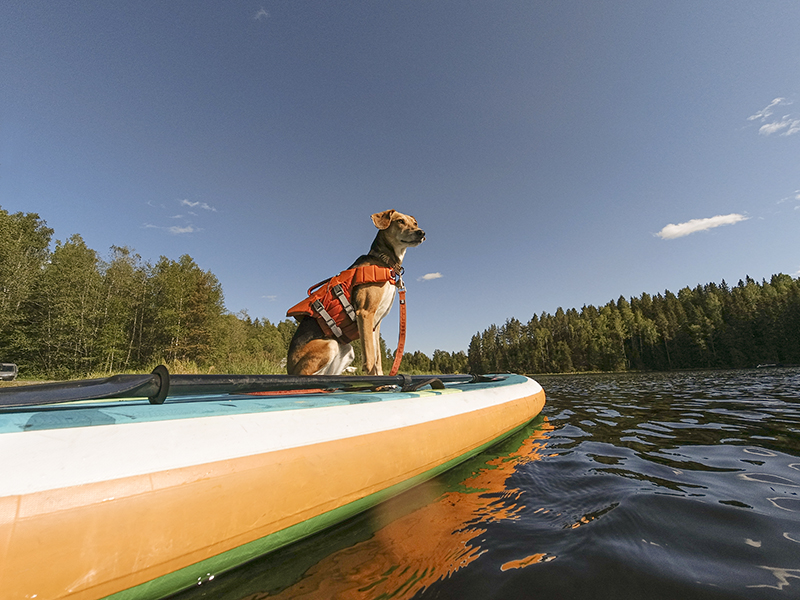 We've been using life jackets for our dogs for years, but since I'm getting more and more questions, this blog post is fully dedicated to the summer flotation gear that my dogs are using.
We, two-legged creatures, are also using life vests, but since we can't do those fantastic wet shakes, it's mostly the dogs in the pictures 🙂
Q: Can your dogs swim?
In short: yes. All 3 of my current dogs, and all of my previous dogs can swim. I think that just as with children, it's an important life skill, so I take my time to practice with them, even if it doesn't come naturally.
Ziggy was a water superstar, she would just get into the water and start swimming just for the fun of it. Others, like Lizzie, can save themself after falling in the water and have zero interest in taking it any further. Oona started her first summer with pure anxiety over the world melting away around her- even the movement of liquid water scared her. Mogwai probably hasn't really noticed the water, she has her eyes on the prize. Ravasz only wanted to save me from drowning. And the retrievers,… well, you probably know about retrievers 🙂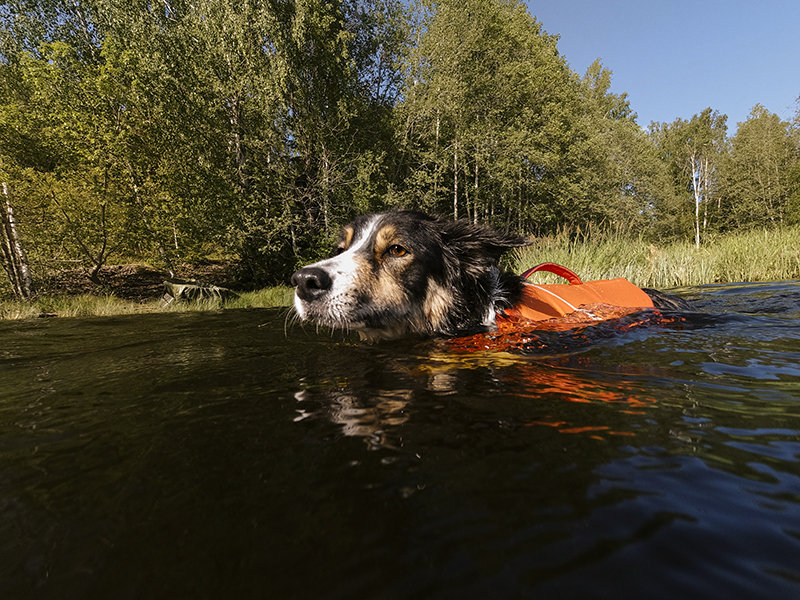 Q: If they can swim, why would you use life jackets?

1) Not all dogs are great swimmers. Earlier this week, Oona was rolling in the grass, didn't see the lake coming closer, and just fell in. A vest gives them support if the elegance is missing.
2) You never know about the water. In less than a month we go from winter to summer, from ice to water. Some lakes are shallow and warm up quickly, others are deeper. Even after some very hot days, the movement of water can mix the layers that have different temperatures.
3) If something happens, they have support/are visible. We'd love to think that we are careful, as most dog owners do. But every year, even during monitored events, dogs drown. I am responsible for my furry friends, so better safe than sorry.
4) When paddling, the handles of the vests make it super easy to pull them on board. Mogwai is mostly just swimming around but Lizzie has a thing with Swedish crocodiles- or at least that's what we call the Unidentified Scary Objects in the water. These USO's are mostly just sticks that stick out or float around, but since she has no claws to climb up in my neck, it has happened that she accidentally ends up in the water. With the vest, there is no vertical panic splashing or other chaotic drama, it's simply pulling the handle to get that wet cat poor pup back on board. And the only one with regrets is Lizzie 🙂
5) Because the vests help them float, they can swim longer which is a great training during the warm winter weeks/months that we hike less.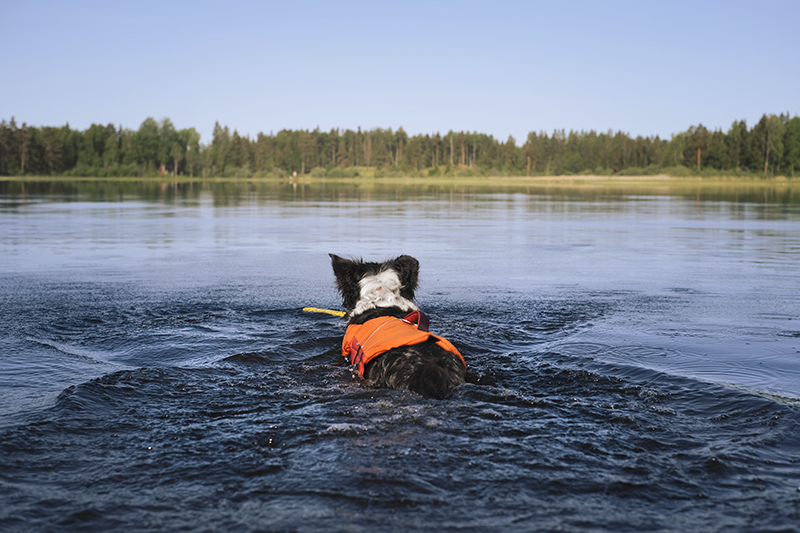 Q: Can they still swim without a life jacket?
Yes, they can. They might get tired sooner, and Oona might be a bit insecure, but they can swim.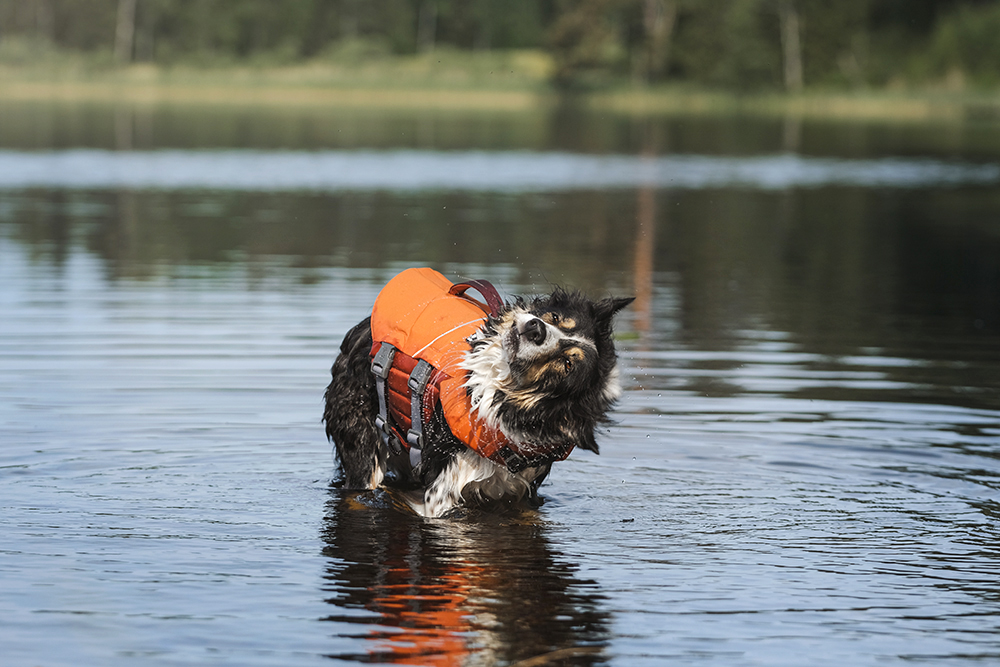 Q: Which jackets do you use and why? (the extra question was why I got different jackets this summer)
We currently have: Hurtta and Ruffwear. Many years ago I got the Ruffwear jackets for Ziggy and Mo (when she was still young) so the sizing isn't perfect for my current dogs- the life jackets are still in great shape though. I keep them for dog visitors that go swimming or paddling.
From Hurtta I have life jackets that I bought myself and some that we got to test since we're a part of the Hurtta Adventurers Team of 2023– that's also why I got the new Cinnamon colored vests this season.
Why these life jackets?
– First and foremost, life jackets need to be safe and reliable, give dogs excellent support, and they need to be highly visible.
– As we also go paddling, we definitely need a strong handle.
– The vest should allow movement and action.
– My dogs don't need a chin rest, but I do want the vest to wrap the chest.
– Adjustable straps for a nice fit.
Q: Do your dogs mind wearing a jacket?
No. They know that fun things happen when wearing life jackets, and they are also used to winter coats and running harnesses.
Let me know if there is anything else you'd like to know!
Happy summer!
x
PS: Lost in translation.
I read that there is a difference in use between 'life vest' and 'life jacket', but I'm not sure how these concepts are applied to dog gear. Life vests are supposed to cover more of the dog's body, provide both buoyancy and visibility, and are recommended for boating and other water activities. Life vests should be ok for dogs that swim in a swimming pool, so I guess these are the lighter versions?